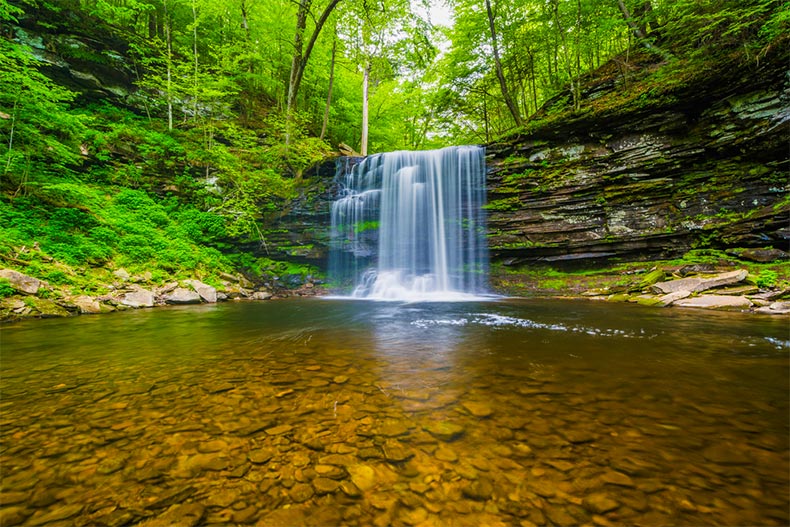 Spelunking in underground caves, golfing at renowned championship golf courses, observing wildlife in their natural habitats—there's no end to the outdoor recreation activities available throughout the state of Pennsylvania. Whether you prefer to fly, hike, camp, ski, or bike solo or with loved ones, there are year-round opportunities for every taste, skill level, and style.
Pennsylvania is a large, mountainous state, and can be broken down into three main regions: Central, Eastern, and Western. Its main geography is highlighted by rolling hills and valleys, with almost half of it covered by forests. Two of its most famous mountain ranges are the Appalachians and Poconos, which are in the center and northeast of the state, respectively. There are more rivers in PA—including the Delaware and the Susquehanna—than in any other state in the country. It even has its own "Grand Canyon of Pennsylvania" (more on that later).
With so many adventures to choose from, how do you know where to start? Right here of course, with our well-thought-out list of Pennsylvania outdoor recreation spots for active adults and their active families.
Pine Creek Gorge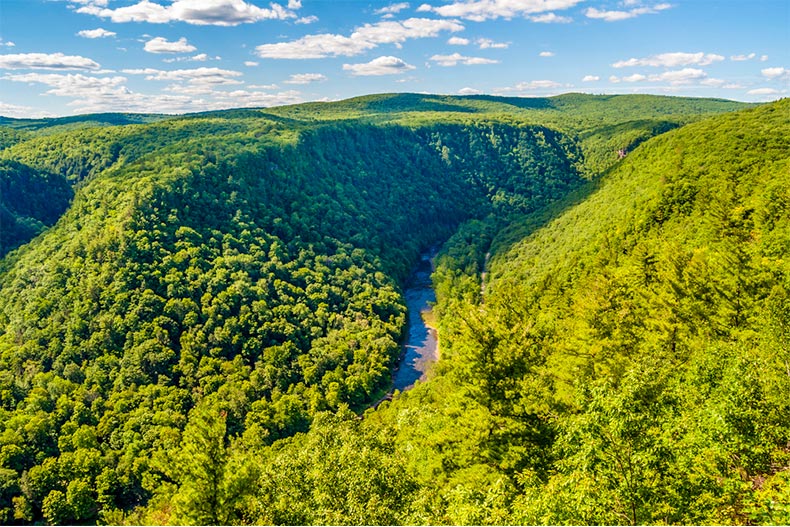 Pennsylvania's Pine Creek Gorge is the East's smaller, but still impressive, version of the Grand Canyon.
The original Grand Canyon might be out west, but Pennsylvania's Pine Creek Gorge provides some pretty stiff competition. At 50 miles long with a maximum depth of 1,450 feet, it offers up views that are nothing short of breathtaking. The canyons were carved out by ancient glaciers, and the gorge has state parks on both sides.
Visitors travel here from all over to enjoy stupendous hiking, stargazing, and picnicking. Leonard Harrison State Park is 585 acres and offers stunning panoramic views of the gorge. Colton Point State Park at 368 acres is a bit more rugged and has views from the opposite side. Pine Creek Gorge is in Tioga County in the northernmost central part of the state.
Blue Mountain
Winter sports rule at all of Pennsylvania's 22 ski resorts, but Blue Mountain is one of its finest. Located in the Pocono Mountains in the eastern portion of central Pennslyvania. It also has warm-weather sports like mountain biking, disc golf, archery, and more. Skiing, snowboarding, and tubing fans can enjoy 39 slopes for all levels, with the highest vertical in the state.
Blue Mountain also hosts group events, like women's retreats, fundraisers, holiday events, and ski-a-thons. On-site dining options include the Slopeside Pub and Grill and the Last Run Lounge. Local bed and breakfasts and hotels like The Lodge at Woodstone Country Club and the Mahoning Inn provide nearby accommodations.
Crystal Cave
This historic, family-friendly tourist attraction in Kutztown has been in operation for 145 years. Crystal Cave is an underground cave that was discovered here in Eastern Pennsylvania's Berks County back in 1871. Guests can partake in an exciting tour that descends 125 feet down for views of crystalline formations plus a movie shown in the Crystal Cave Theater.
There is also an ice cream parlor for hungry explorers to enjoy a treat after visiting the cave. Kutztown is also home to its namesake yearly Folk Festival, which takes place this year from June 29 to July 7.
Delaware Water Gap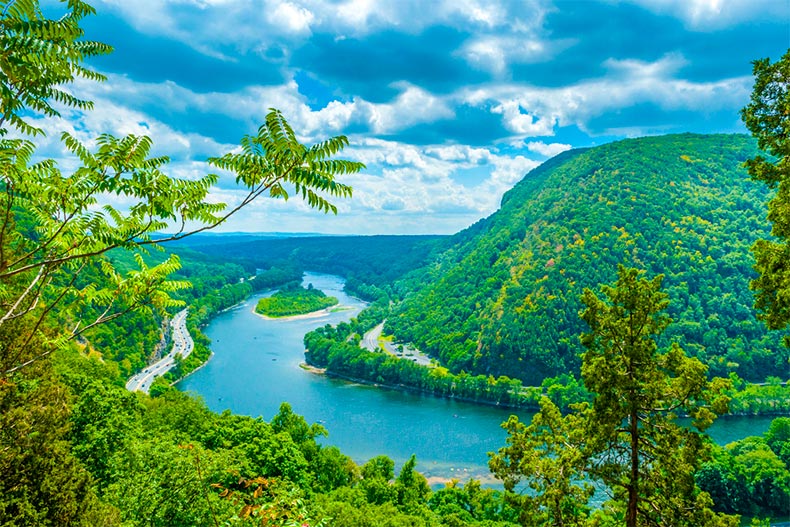 The Delaware Water Gap provides scenic views and plenty of trails.
About two hours north of Philadelphia lies the Delaware Water Gap, a protected National Recreation Area that covers 70,000 acres. It's at the border of New Jersey and Pennsylvania, and it's actually a deep path that goes through part of the Appalachian Mountains.
In addition to hiking the Appalachian Trail, visitors can try out any of the 100 other hiking trails, view wildlife, see historic villages, swim at three beaches along the river, go canoeing and kayaking, fishing, and biking, or enjoy a peaceful, scenic drive. Though the park itself is open year-round, the visitor center is open from May 25 through September 4. Weather conditions can cause closures, so always contact the park first before making your trip.
Golf, Golf, Golf
Pennsylvania has too many public and private golf courses to list here, but there are some that deserve recognition. The private Oakmont Country Club in Pittsburgh was ranked fifth in the county in 2019 by Golf Digest, and is widely recognized as one of the most challenging in the U.S. Philadelphia's Aronimink Golf Club is also private and includes 300 acres of rolling hills and greens. It held the name of the "Platinum Club of the World" from 2015 to 2017.
Foxburg Country Club in Northwestern PA is the oldest golf course in America and is open to the public from April to October. It even has a log clubhouse, which is the site of the American Golf Hall of Fame. The elegant Nemacolin Woodlands in Farmington, (about 60 miles south of Pittsburgh) has two public courses and offers lessons. Nemacolin also has a world-class resort and spa, a casino, and excellent restaurants.
Philadelphia Zoo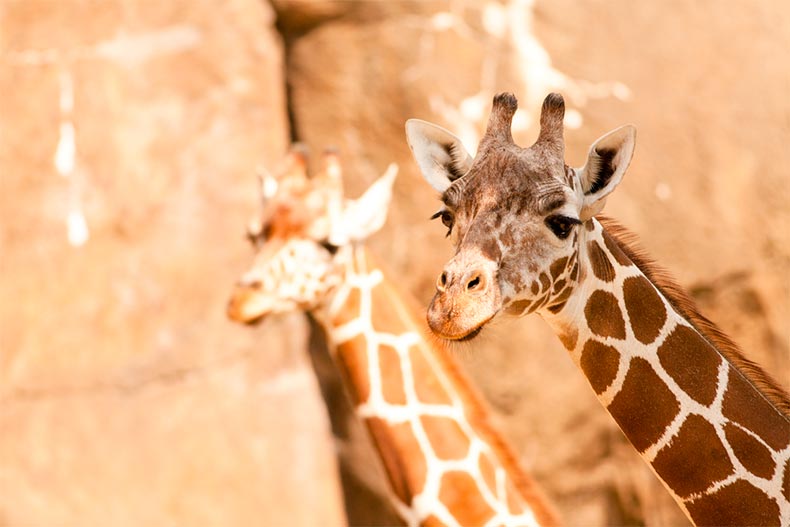 With over 1,300 different animals, interactive exploration trails, over a dozen exhibits, swan boats, a carousel, and an Asian Garden, "America's first zoo" is a worthy destination for active adults and their families. The Philadelphia Zoo is open every day (except for certain holidays) throughout the year, with seasonal hours.
The zoo is home to many endangered species, including the Amur leopard, the Mhorr gazelle, and the Sumatran orangutan. Some of the most popular exhibits include Monkey Junction, KeyBank Big Cat Falls, and Penguin Point. There are six casual eateries plus snack stands on the grounds, and guests may bring their own food. Wheelchair and stroller rentals are available.