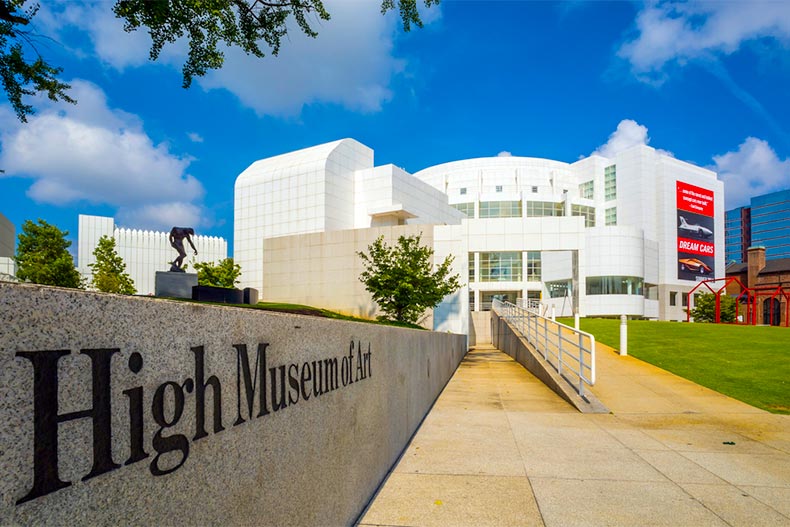 Atlanta is a huge city with a lot to explore. Among its many restaurants, bars, entertainment venues, and sports stadiums, and arenas is a thriving culture bursting at the seams with tons of art, history, and science museums.
Many of them are well-known, but the city is also home to some that are less popular but equally impressive. We've scoped out the best museums that we think are worth checking out while you're in Atlanta. Whether you live in the Big Peach or are just visiting, these museums are well worth the price of admission.
High Museum of Art
The High Museum of Art is Atlanta's premier art museum with more than 15,000 works of art in its permanent collection. These acquisitions range from 19th and 20th century American and decorative art to European paintings and African American art. It also has a growing collection of modern and contemporary art, photography, folk, and African art. Besides its permanent collection, the museum also has diverse rotating exhibits, special classes, live jazz on Jazz Fridays, and its monthly Second Sunday event, when admission is free on the second Sunday of each month from noon to 5 p.m.
The Center for Puppetry Arts
The Center for Puppetry Arts opened in 1978 and is the largest American non-profit organization solely dedicated to the art of puppet theater. When it was unveiled, Jim Henson and Kermit the Frog were on hand to cut the ceremonial ribbon. Since that time, the center has worked to serve the diverse populations of Atlanta and the country at large with a special focus on performance and education.
The center is home to regular puppet performances for adults and children as well as a museum featuring permanent and visiting exhibits, with examples of shadow, rod, marionette, and hand puppets. There's an entire exhibit dedicated to Jim Henson, his Muppet creations, and his career in television and movies. On the second Sunday of each month, admission is free for everyone from noon to 5 p.m.
Atlanta History Center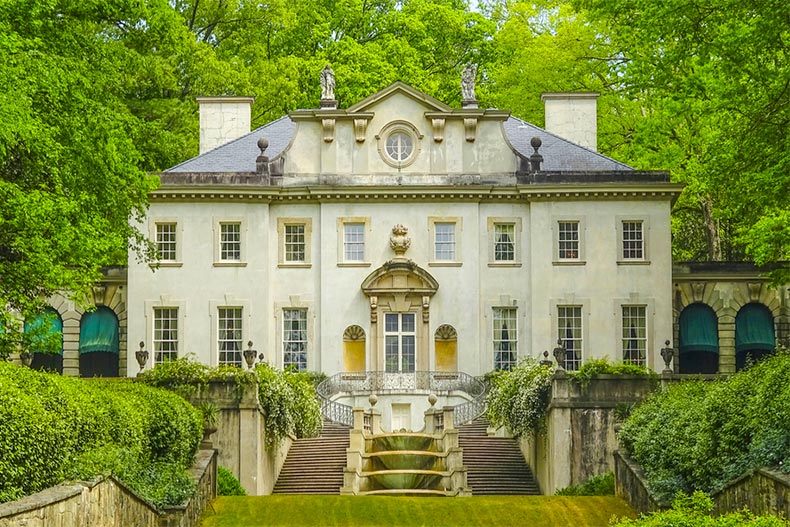 The Swan House is one of several historic houses that can be toured as part of the Atlantic History Center. (Image via Shutterstock.com)
The Atlanta History Center has a wide variety of temporary and traveling exhibitions exploring Atlanta's rich history. Visitors can tour the Swan House, a mansion built in 1928 by Edward and Emily Inman for entertaining guests. The center also operates the Margaret Mitchell House on Crescent Avenue, where visitors can learn all about the famed Gone with the Wind author. Seniors receive a discounted admission rate of $13.
Fernbank Museum of Natural History
The Fernbank Museum of Natural History is a great place for visitors of all ages to learn, especially grandchildren. It's a highly-interactive museum with activities, stories, crafts, and performances, as well as traveling and permanent exhibits featuring dinosaurs and other natural wonders.
For adults, there's Fernbank After Dark, which takes place on the second Friday of each month and offers live music, full bars, tapas menus, science demonstrations, and full evening access to the museum. Don't miss the IMAX theater, which plays 3D movies on a giant screen. Senior discount admission is $19.
Georgia Aquarium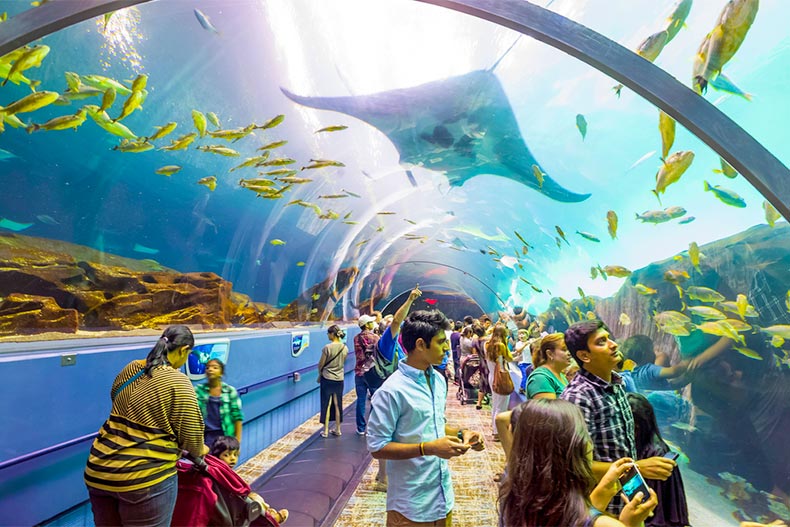 The Georgia Aquarium is one of the most renowned aquariums in the country. (Image via Shutterstock.com)
The Georgia Aquarium is the largest aquarium in the world and is an exciting experience for patrons of any age. Located downtown, this massive attraction is home to sea creatures both large and small, such as whale sharks, manta rays, horseshoe crabs, sea stars, and stingrays. Popular exhibits allow visitors to marvel at playful dolphins, penguins, and sea lions, and otters.
The aquarium also offers special events like Science on Tap, Yoga by the Water, and Shark Week. Georgia residents enjoy a full calendar of classes, camps and volunteer opportunities to take part in and give back to the community. Admission prices vary depending on the day, time of entry, and schedule of events.