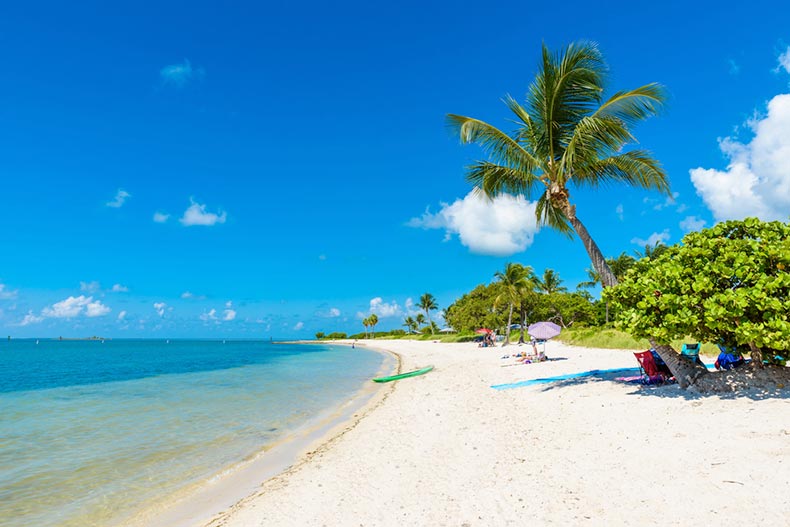 If you're single and looking to retire in Florida, there are plenty of excellent small towns for you. At 55places.com, we looked at over 29,000 areas designated by the most recent census data, focusing specifically on major areas with a population under 20,000. We then broke down each area by how many single or unmarried people made up the total population.
Additionally, we added in a median price-to-income ratio from the census data to target areas where you can reasonably afford a home. From that data, we curated a final list of areas listed on 55places.com.
The result? Here are the 10 best small towns for singles to retire in Florida.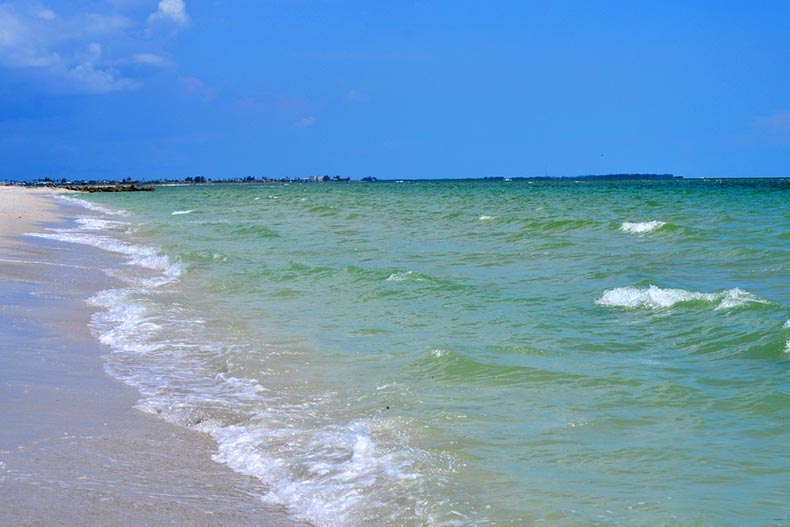 Some of the best 55+ communities in the area include views of the water.
The Gulf of Mexico attracts single people who are interested in outdoor activities like swimming, golfing, fishing, and enjoying umbrella drinks on the sand. In South Pasadena, there are beaches, shops, restaurants, and plenty of ideal first-date locations for active adults who are ready to meet someone.
Just minutes from St. Petersburg and close enough to Tampa, there are plenty of cultural activities, professional sports, and entertainment venues to enjoy. The city is close to airports as well as Interstate 275. Plus, 85 percent of the population is over 45.
Some of the best 55+ communities in the area include views of the water. Check out Bay Island with condominium homes from the mid $100s to the high $400s. Residents enjoy access to the water and some balconies provide a perfect place to watch sunsets over the Intracoastal Waterway. A boat launch, a marina, and fishing docks are provided, and other amenities include a pool, a clubhouse, and a fitness center. These condos offer 540 to 2,600 square feet.
There's also Harbourside Condominiums, with a low-maintenance lifestyle that offers access to a marina, a pool, a clubhouse, a fitness center, and a whirlpool spa. Garage parking and 24-hour security are included, and the condo homes provide 1,145 to 1,915 square feet. They're priced from the mid $300s to the low $500s.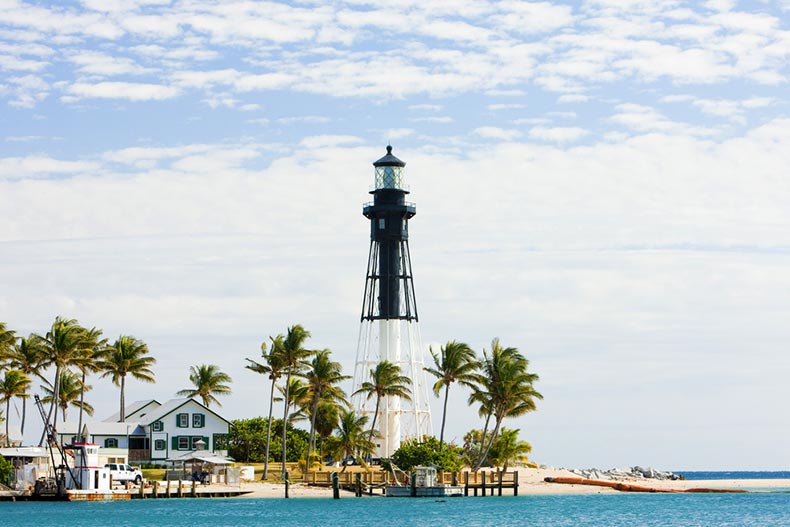 Residents are close to everything Hillsboro Beach has to offer.
Hillsboro Beach is in Broward County, a popular South Florida destination for tourists as well as part-time snowbird residents and full-time active adults thinking about retirement. It's also home to Opal Towers Condominiums, a 55+ community with waterfront views and a lot of social events that singles will love for mingling and getting to know new neighbors. There are regular barbecue nights, poker games, and a complete social committee tasked with organizing new events and activities.
Resale condos are priced from the mid $200s to the high $800s. They have 940 to 2,570 square feet, one to three bedrooms, and one-and-a-half to two bathrooms. Residents are close to everything Hillsboro Beach has to offer, including shops, restaurants, bars, and beaches. A trip to Miami would not be out of the question.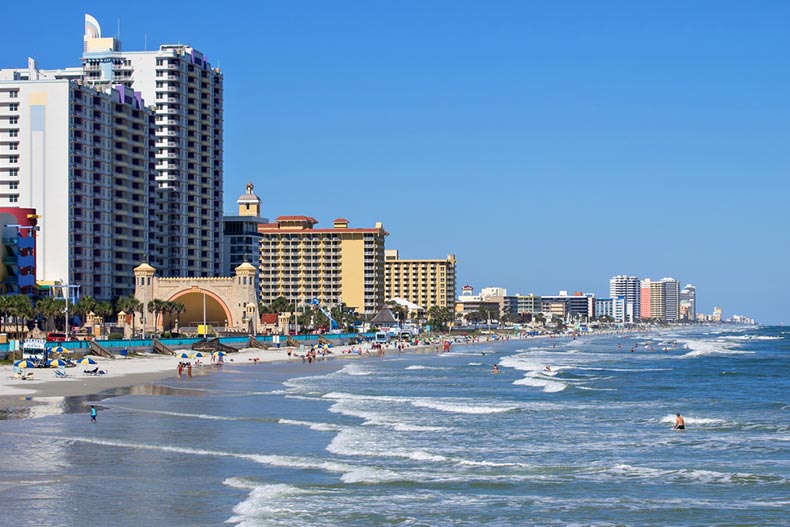 Daytona Beach Shores is close to Daytona Beach but a bit quieter.
Singles looking to downsize, save money, and stay active when they retire will love Daytona Beach Shores, which is on the Central Atlantic Coast. There are beaches, restaurants, outlet shopping, and plenty of parks and greenspaces. It's close to Daytona Beach but a bit quieter, allowing residents to enjoy both ongoing action out in public and peaceful tranquility at home.
Daytona Beach Shores is where you'll find Oceans Cloverleaf North Condominiums, a 55+ community with only 203 condo homes, creating an intimate environment where homeowners can really get to know their neighbors and spend meaningful time in their community. Residents enjoy golfing at the Oceans Golf Club, a community course, and there's also a fitness center, a pool, and a whirlpool spa.
Three condo models are available in prices that range from the low $200s to the mid $300s. The Ashford model has 1,520 square feet, two bedrooms, and two bathrooms. The Bantry and Clare models range from 2,015 to 2,260 and offer three bedrooms and two bathrooms.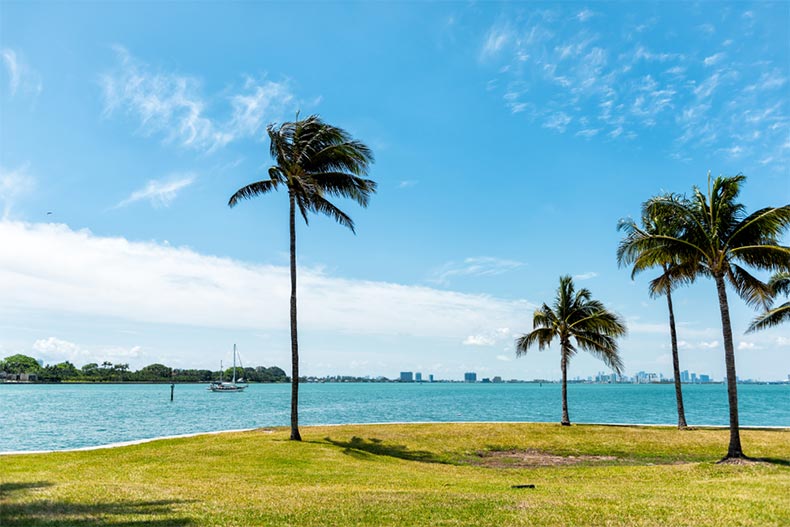 High-rise condos and single-family homes can be found in Bal Harbour, one of the most desirable locations in South Florida. It's great for singles because of the restaurants, bars, nightclubs, and beachfront activities that are part of the area's lifestyle. It's on the northern side of Miami's city limits, offering residents an opportunity to enjoy everything that cultural hotspot has to offer.
White sand beaches make this community an ideal place to swim, sunbathe, and take long walks just in time for sunsets and sunrises. The Bal Harbour shops are always busy, and it's easy to meet up with people for a drink, some shopping, or to enjoy any of the outdoor entertainment that's often available.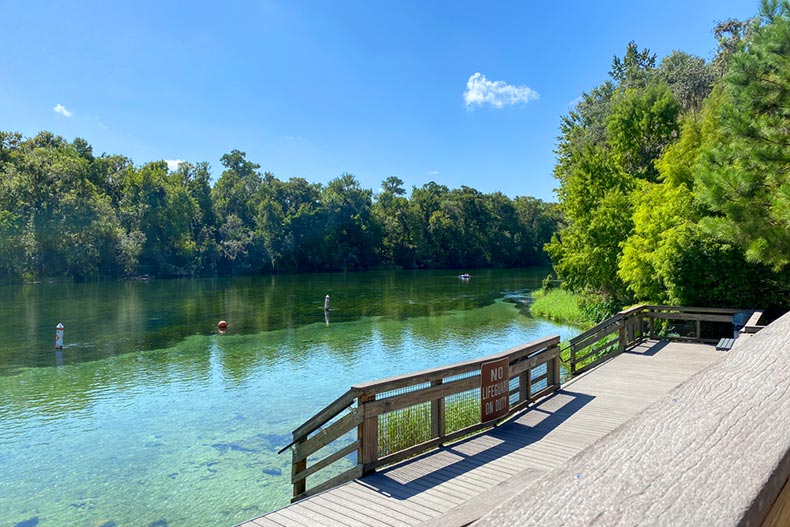 Dunnellon has a lot going for it. The Central Florida city is close to Ocala, which is a huge draw for singles who love outdoor experiences and time in nature. There's ample hiking, biking, kayaking, and horseback riding. Instead of busy strips of beaches and high-rise condos, active adult singles looking at Dunnellon real estate will find green hillsides, acres of horse farms, and easy proximity to Interstate 75 for travel around the state.
One of the most popular 55+ communities in the area is Spruce Creek Preserve, a Del Webb community with over 800 single-family homes. There's a singles club in the community as well as other groups such as drama, prayer club, garden groups, and a cancer support community. There's an 18-hole golf course in the community as well as a modern fitness center, a large clubhouse, and the Sandwedge Restaurant. Residents enjoy tennis, pickleball, and horseshoes.
Homes are available in 15 floor plans, ranging from 820 to 1,968 square feet. Two or three bedrooms, one or two bathrooms, and an attached one- or two-car garage can be found in the $100s.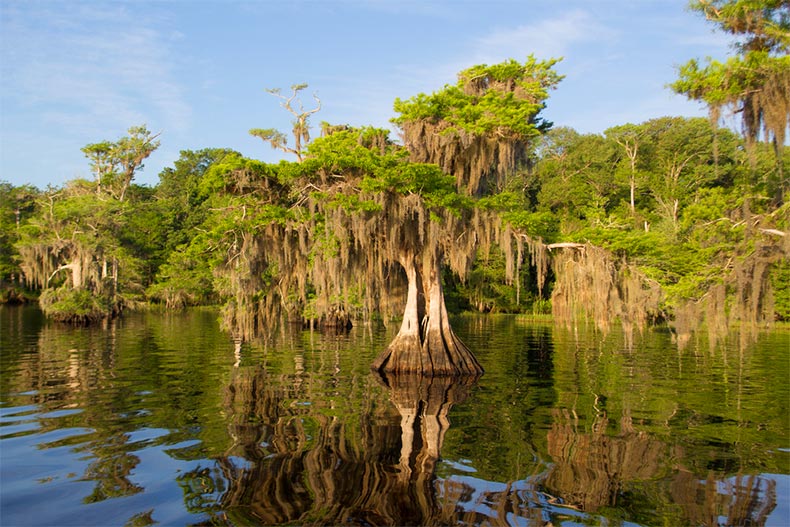 Many condos have a view of the large lake that's in the center of the neighborhood.
Pompano Beach has a lot to offer sunseeker singles, and those who are looking for a 55+ community to call home may want to check out Cypress Lake. Condo homes are affordable for a single income; many are in the mid to high $100s. Many condos have a view of the large lake that's in the center of the neighborhood, and it's a great place for walking, biking, and jogging.
Cypress Lake is close to shopping centers and malls, outstanding restaurants, activity-filled beaches, championship golf, and the newly reconstructed Pompano Beach Pier.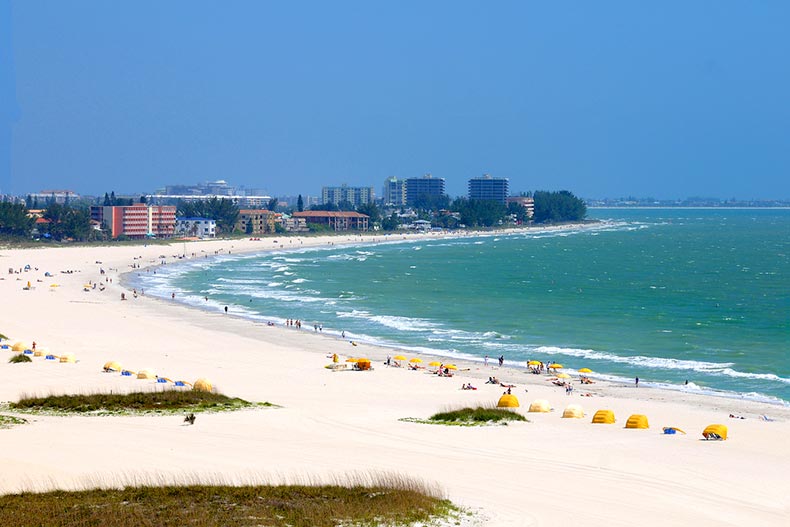 This is an active, engaging community on the water.
Singles in Treasure Island can usually be found on sunny weekends in one of two places. Either they're at Sunset Beach, which is known for its warm Gulf of Mexico waters and its quiet location just outside the busy public beaches, or Johns Pass, a fishing village with restaurants, bars, ice cream shops, and stores. Visitors can even get a psychic reading done or visit baby alligators. This is an active, engaging community on the water that's always hosting seafood festivals, or singles cruises, or catered sunset sails around the Gulf.
Sun Ketch is a 55+ community in Treasure Island that's a short walk from the beach. Golf carts typically replace cars in this neighborhood, where it's just as easy to walk to dinner or the grocery store. Affordable, low-maintenance condo homes and townhouses are available in one and two-bedroom models. They have 800 to 1,854 square feet. There are three outdoor pools and patios throughout the community.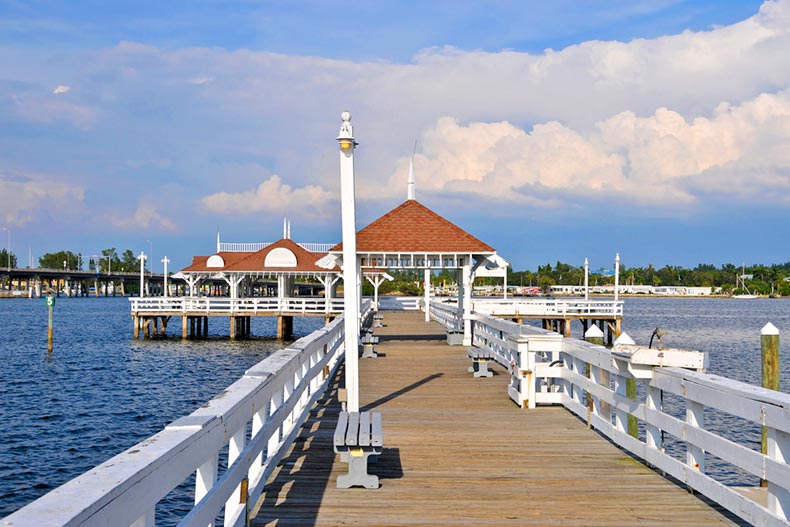 Bradenton Beach is another desirable spot for singles who are choosing a place to retire.
Close to Sarasota and rich in culture and history, Bradenton Beach is another desirable spot for singles who are choosing a place to retire. There's plenty of coastline with warm, white sand beaches such as Coquina Beach, AnnaMaria Island, and Longboat Key. Bridge Street is where people go to grab a drink, eat a meal, and do some shopping.
Looking for homes for sale in Bradenton Beach will likely lead buyers to mid-rise and high-rise condos close to the beach or older, single-family homes in leafy residential neighborhoods. Nearby Bradenton has some great options for anyone who desires the energy and activity of a 55+ community. Some good options close to the beach are: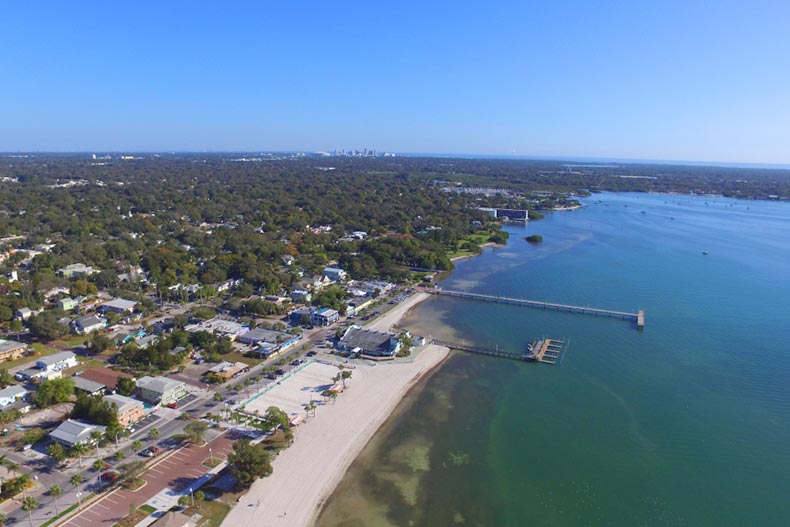 Gulfport homes for sale can be found in several 55+ communities.
Gulfport does an excellent job of attracting residents who love the arts, the beach, and community activities. It's easy to find open mic poetry nights, live music, and yoga classes on the waterfront. It's on the shores of the Gulf of Mexico, just minutes from St. Petersburg, close to Clearwater, and across the bay from Tampa. This community is an excellent option for singles who want to retire in a smaller community, where neighbors know each other and locally owned businesses far outnumber corporate chains.
Gulfport homes for sale can be found in several 55+ communities. Town Shores of Gulfport is a neighborhood of mid-rise condos with homes ranging from the low $100s to the high $400s. Plenty of clubs and activities are available to single residents who want to stay busy. There's a book club, a women's group, a kayaking club, and a jigsaw puzzle group. The community offers a kayak and a boat launch, a large clubhouse with multipurpose rooms, four pools, and tennis and pickleball courts.
Skimmer Point is another good option, and there are no age restrictions. A wide range of new construction and resale homes are available, ranging from the high $100s to the low $3Ms. Residents enjoy boating and tennis together. There are lots of scenic walking trails throughout the community, and it's just next door to Pasadena Yacht and Country Club, which buyers can join for an additional fee.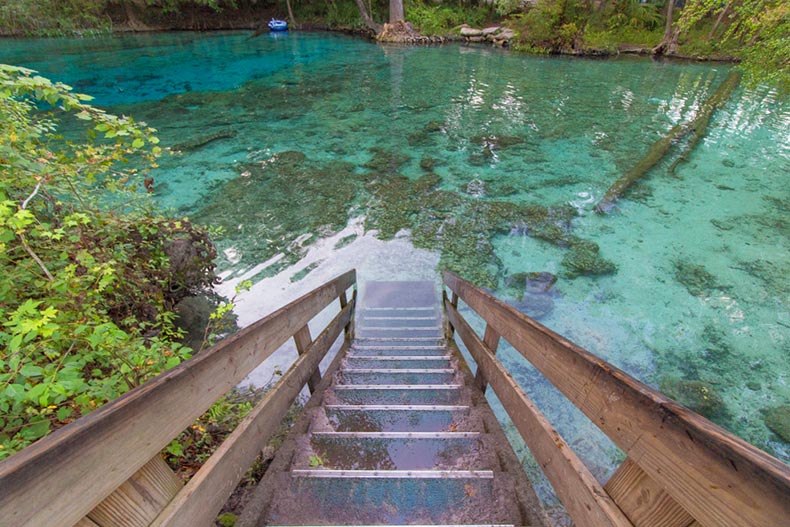 Prepare for scalloping trips in the late summer and maybe a visit with wild manatees at Crystal River National Wildlife Refuge. The Three Sisters Springs Wildlife Refuge offers boardwalks and trails with views of marine mammals and wading birds as well as alligators in the natural springs. Crystal River Archaeological State Park is popular with dogs, humans, and visitors interested in seeing the remains of an early Native American settlement, including ceremonial mounds. This is a great city for singles who enjoy outdoor adventure.
Meadowcrest is an active lifestyle community in the area with single-family and attached homes in five neighborhoods. There are pools, tennis courts, shuffleboard, and bocce courts. Residents enjoy a clubhouse, community garden, and walking trails. The Crystal River homes for sale have 1,082 to 3,599 square feet with one to five bedrooms, one to four bathrooms, and an attached two-car garage. Homes are priced in the mid $100s to the mid $200s.