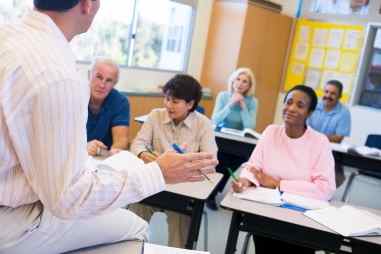 After spending three or four decades as part of the workforce, many retirees are heading back to the classroom. College courses may be used to help retirees launch a second career, or they may be a way to provide mental stimulation during retirement.
For retirees, there's more to life than travel or recreation. Mental stimulation is also important, and it can come from many different sources. Discussion groups, lectures and self-study are all common avenues for lifelong learning. Many retirees also take a more formal approach by enrolling in a variety of classes or going back to college.
Taking College Courses in Retirement
College courses are particularly important for retirees who intend to start a second career. For example, retirees who have degrees in their field may decide to earn the additional education credits needed to become teachers. Classes are also a great option for those who simply want to learn more about a particular area of interest. History, literature, and philosophy are some of the most popular courses for retirees who are looking to expand their minds. Often, college-bound retirees can attend classes without paying hefty tuition costs or even having to complete homework or take tests.
Lifelong Learning in Retirement
Lifelong learning classes, specifically designed for older adults, offer higher education for a minimal fee. More than 100 colleges offer Osher Lifelong Learning Institutes. Additional schools also provide similar programs. Lifelong learning courses may be given at the college or at an off-site location. Many active adult communities offer these programs at their own education centers, such as the Sage Center at Sun City Festival in Arizona.
At many colleges and universities, seniors and retirees can also arrange to audit classes. This option may be open to the general public, or it may be limited to certain people such as college alumni and their spouses. While auditing is not free, the cost is a fraction of the regular tuition. By auditing classes, older adults lend an inter-generational aspect to the course. While undergraduates may be grudgingly taking their required classes, auditing retirees participate for the sheer joy of learning. Because of this, professors often enjoy drawing on auditing retirees' life experience to enrich classroom discussions. In addition to learning the course material, retirees who choose to audit secondary courses or enroll in lifelong learning programs can make new social connections and enjoy lively discussions with their classmates or professors.
By participating in these learning opportunities, retirees can enjoy increased mental stimulation and diverse social experiences. They may even acquire the knowledge needed to begin a second career.