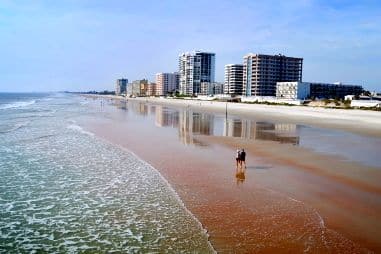 While Southeast Florida is a retirement hot spot, many active adults can't afford to buy a home in popular areas like Palm Beach County. Expanding the search for an ideal retirement location to lesser-known areas turns up more affordable options, including Central Florida's Atlantic Coast gem, the beautiful Treasure Coast.
"Treasure Coast" is a term used to describe the region that lies just north of Palm Beach County. Depending on the source, you may find some variations in the Treasure Coast's specific boundaries. In general, the area stretches from Sebastian in the north to Hobe Sound in the south. Many people also include Jupiter, a town just south of Hobe Sound, as part of the Treasure Coast. The name "Treasure Coast" is derived from a number of ships of Spanish galleons that wrecked off the coast during the 17th and 18th centuries. Artifacts from these ships have been recovered in the past fifty years.
Areas
Some of the Treasure Coast's most popular areas include Port St. Lucie, Vero Beach, Stuart Beach, and Jensen Beach. Throughout the area, retirees and visitors will find pristine beaches and a quiet, relaxed charm. Life is slower-paced than in more southern coastal areas, and there is a great deal of natural beauty. Tranquil attractions include Jonathan Dickinson State Park, an 11,500-acre nature preserve located near Hobe Sound, and Busch Wildlife Sanctuary in Jupiter.
Port St. Lucie is the largest city in the Treasure Coast and has seen tremendous growth over the past decade. Though the city began as a largely residential area, business sectors and recreational attractions soon followed. Throughout all of the development, Port St. Lucie has retained the feeling of a small town. This appeals to many retirees who want to live in a quiet area with many local attractions and conveniences, including a variety of championship golf courses, shopping centers, and charming restaurants.
Attractions
The beautiful, uncrowded beaches are often considered the Treasure Coast's prime attraction. With miles of sandy beaches, retirees can enjoy a wide range of water-based recreations, such as boating, fishing, and swimming. There are many excellent snorkeling areas as well, particularly within the protected swimming areas at Gulfstream Park, Ocean Reef Park on Singer Island, and Coral Cove Park in Tequesta.
The Vero Beach Museum of Art is a cultural jewel of the Treasure Coast. This large facility offers changing exhibits, performances, workshops, studio art classes, seminars, and tours. There is also a sculpture park and garden. Grandkids who come to visit will love taking a trip to The Children's Museum of the Treasure Coast, centrally located in Jensen Beach.
Active Adult Communities
When it comes to housing, the Treasure Coast is home to many affordable active adult communities. Many popular developments are found in the Port St. Lucie area, including The Estates at Tradition, Cascades at St. Lucie West, and Kings Isle.
When looking to retire in a Coastal Florida area, active adults should not overlook the Treasure Coast. This beautiful yet tranquil stretch of shoreline has much to offer, and it may very well be an ideal retirement destination for many active adults.