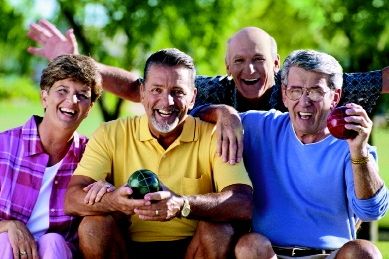 While there was a time when active adult communities needed golf courses to attract active adult homebuyers, today's active adults know that there's more to retirement than golfing. Many resort-style communities offer a wide range of amenities beyond golf and some very popular communities don't have golf courses at all.
Activities for Retirees
Which activities besides golf are popular with retirees? Active adults today understand the importance of a healthy lifestyle. As a result, many popular pastimes involve those that pair physical activity with a social setting. Fitness centers and swimming pools are some of the most common amenities found at age-restricted communities of all sizes. Fitness centers offer cardiovascular and strength training equipment, but many also provide a range of group classes. Water aerobics, cardio dance, tai chi, yoga, and pilates are just a few of the fitness classes that are popular with retirees.
Sports for Retirees
Sports and outdoor recreations also keep retirees active and in great shape. Tennis has long been a favorite retirement activity, but pickleball is rapidly becoming a popular alternative. Pickleball can be played on a converted tennis court or on its own dedicated court. Other recreational sports courts commonly found at active adult communities include those for bocce ball, basketball, softball, horseshoes, and shuffleboard.
Gardening for Retirees
Though many active adult community homes include landscaping and lawn care services, gardening continues to be a popular hobby among retirees. Each community will have its own rules regarding planting on home sites, but most will allow some personal flower gardens. Some communities, such as Del Webb Charleston in South Carolina or Regency at Monroe in New Jersey, also feature community gardens where residents can grow their own flowers, fruits, and vegetables. Gardening clubs, where members can share their successes and setbacks, bring a social element to this classic pastime.
Continuing Education for Retirees
Of course, healthy living involves the mind as well as the body. Lifelong learning is an important goal for many retirees and active adult communities often provide fantastic learning opportunities. On-site classes and lecture series can cover a wide range of topics. Retirees can learn a new skill by taking a class featuring cooking or a particular hobby. More traditional classes cover college subjects such as history, philosophy or literature, but without the homework, exams, and expensive tuition costs.
Although there is more to retirement than golf, there's nothing wrong with retirees taking up the game. Golf courses provide a beautiful setting for many active adult golf communities, and the game itself is a challenging and entertaining pastime for retirees. The bottom line is that today's 55+ communities are happy to offer residents many diverse amenities and activities. With so many popular retirement pastimes, it's easy to see that, at any age, variety continues to be the spice of life.