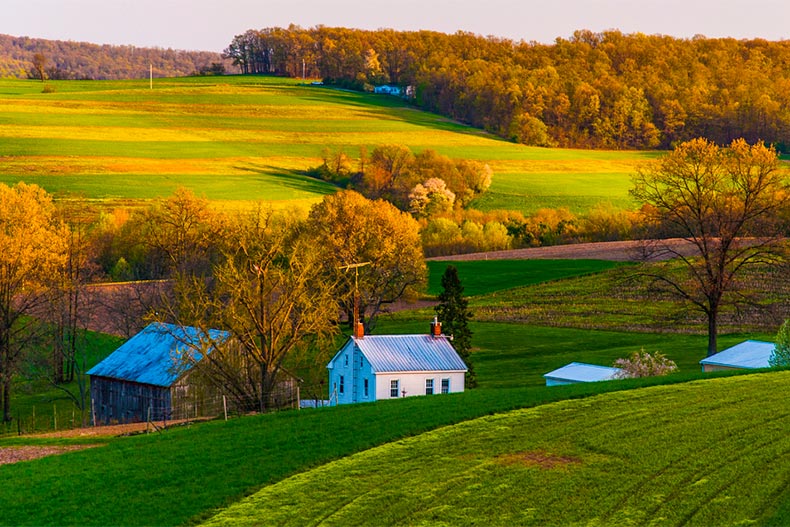 What is the difference between Pennsylvania Amish Country and Pennsylvania Dutch Country?
Not much, as these terms are used interchangeably and generally refer to the same southeast and south-central parts of the state, in Lancaster County. The Amish and Mennonite people fled Europe to avoid religious persecution and settled here in the early 1700s. Around the same time period, large groups of German immigrants came to Pennsylvania for the same reason, and the word "Dutch" evolved from "Deutsch." Deutsch is actually the German word for German. Members of these groups live simple lives without electricity or cars. Much of their culture has remained unchanged for hundreds of years, and many rely on farming and tourism.
The slower pace of life and beautiful countryside has made Pennsylvania's Amish Country a year-round attraction for active adults. Here are some must-dos for visitors to Lancaster County.
Buggy Rides and the Amish Village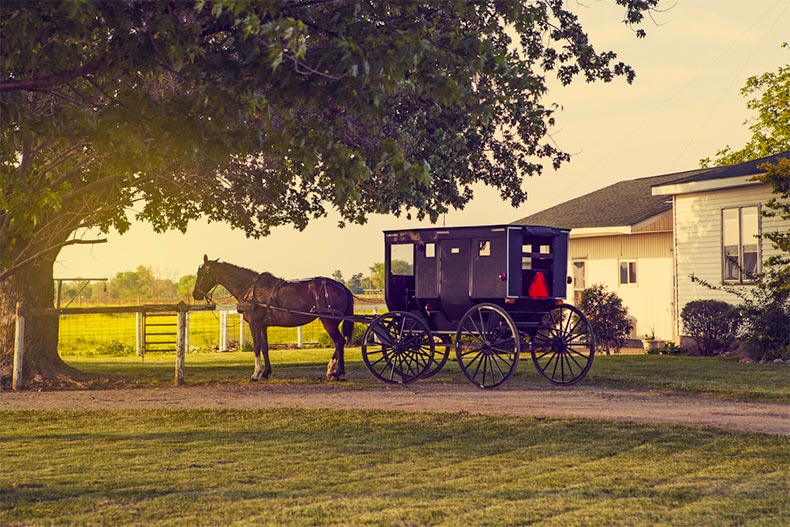 Horse and buggy rides are popular throughout Lancaster County.
Buggy rides are a fun way to learn first-hand about the Amish way of life. There are several small companies that operate these tours on scenic country roads. They are led by local guides, who take guests to area schools, petting zoos, and covered bridges. There are many options available for different sized groups, and distances.
If horse-drawn buggies aren't your thing, stop at Amish Village. It's a 12-acre property that features an authentic Amish schoolhouse, a blacksmith shop, a barn, a windmill and water wheel, and shops. Weather permitting, it is a great place for an outdoor picnic. There is also an Amish market that sells some of their legendary baked goods, like shoofly pie.
Turkey Hill Experience
Get the scoop at Turkey Hill Experience, an interactive way to learn about how ice cream is made. Guests can create their own ice cream flavors at the Taste Lab, milk a mechanical cow, and enjoy other hands-on exhibits. They also sponsor special events, including Ice Cream with Santa, making it a great place for grandkids.
Golf
Lancaster County has dozens of public and private golf courses and many are open year-round. Evergreen Golf in Manheim has a 9-hole "soccer golf" course, an 18-hole executive course, and an 18-hole pitch & putt. At Leisure Bowling and Golfing Center in Lancaster, you can golf or bowl, while there are also quite a few additional driving ranges and mini-golf courses in the area.
Dutch Apple Dinner Theater
Dinner and a show is just the ticket at the Dutch Apple. Ticket holders at this 328-seat venue can enjoy a full buffet dinner, then sit down to enjoy a contemporary production or classic musical. Dinners include a full salad bar, entrees, sides, an ice cream sundae bar, plus a dessert buffet. "A Christmas Carol" runs from mid-November through December 30. Upcoming productions include "Camelot" and "Annie," live concerts, and children's productions.
Smorgasbords!
These are all-you-can-eat buffets, done the PA Dutch way. One of the first of this kind is Millers, a Lancaster mainstay since 1929. Much of the food is sourced locally from Amish farms, with appetizing selections like fried chicken, baked ham, fresh cheesecake, and apple pie. Lighter options include a soup and salad buffet and menu dining.
Covered Bridges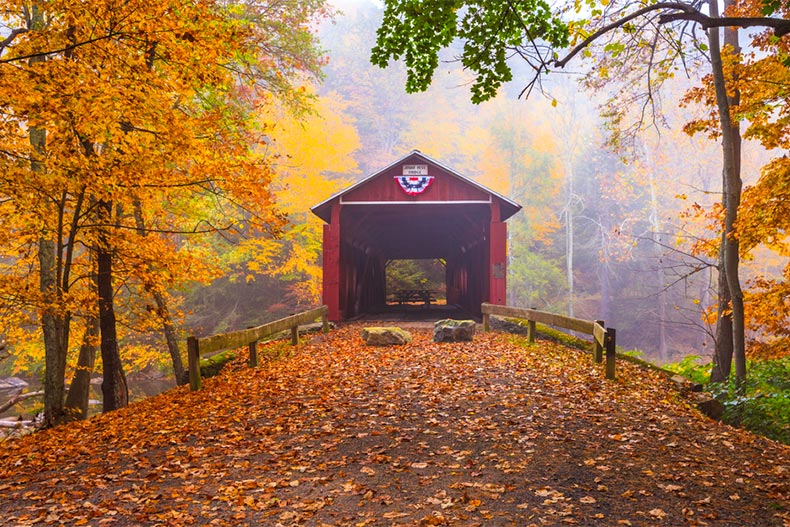 Dutch Country is full of historic covered bridges.
Dutch Country is home to one of the country's first covered bridges and during their heyday from the 1820s to 1900, there were 1,500 in Pennsylvania. There are now 28 left in Lancaster County and they are quite beautiful to behold. Touring companies sponsor covered bridge tours while bicycling groups also hold rides that explore these historical treasures. Many active adults map it out themselves and spend a day visiting the bridges while stopping at local shops and restaurants along the way.
The Amish country has year-round activities, so it's a terrific place to visit around the holidays. If you decide on staying for a night or two, there are many options, including hotels, rentals, and charming Amish Farm bed and breakfasts. If you're planning on flying in, Lancaster Airport is about 12 miles away and Philadelphia International is about 70 miles southeast.