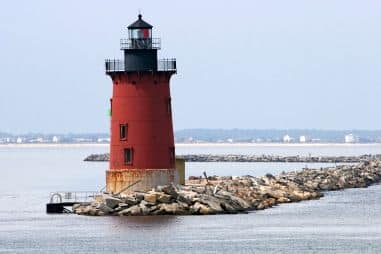 Delaware may be America's second smallest state, but this tiny gem offers many attractive features for active adults. There are historic sites, quaint coastal towns, outlet shopping centers, and amenity-rich active adult communities. Best of all, Delaware is one of the most tax-friendly states in the country.
Geography and Climate
For active adults, Delaware's many appealing benefits begin with its prime East Coast location. Retirees who love the diversity of both quiet living and urban attractions will enjoy living in an area that offers close proximity to many weekend getaways. Whether choosing a coastal destination or a community in a central part of the state, Delaware is within easy access of New York City, Philadelphia, Baltimore, and Washington D.C.
The climate in Delaware is relatively mild but allows retirees to experience all four seasons. Although the state is small, there are noticeable differences between the climate in its northern and southern regions. The weather in the southern portion of the state is milder, however, some snow does fall throughout the entire state.
Attractions
Delaware offers a variety of attractions that will appeal to many different active adults. Its popular coastal cities include the beaches of Dewey, Bethany, and Rehoboth. Lewes and Milton are two historic towns which are also popular with both visitors and relocating retirees.
Throughout the state, residents will find public and private golf courses, museums, shopping centers, restaurants, antique shops, and performing arts centers. State parks celebrate Delaware's natural beauty, and residents have many options for water-based activities like fishing, boating, and swimming.
Tax Laws
While retirees are drawn to Delaware for many reasons, the state's favorable tax laws are often a large part of their decision to relocate. Those living in bordering states may already know that Delaware has no sales tax on most retail items. However, not everyone realizes that Delaware is such a tax-friendly state for retirees.
In addition to having no sales tax, Delaware has low real estate property taxes, no personal property taxes, and no inheritance taxes for most residents. There are no local taxes outside of the City of Wilmington, and no state taxes on social security benefits. Depending on age, there are also limits on the taxes that are applied to pension benefits.
55+ Communities in Delaware
There are several active adult communities located throughout the state of Delaware. In the northern region, retirees will find affordable communities like Spring Arbor in Middleton or Legacy at The Village of Fox Meadow in Newark. Central Delaware includes lovely communities such as Nobles Pond in Dover. More expensive, luxury communities are located throughout the southern region, including Heritage Shores in Bridgeville or Independence in Millsboro.
Active adults who want to retire on the East Coast do not have to move to Florida to find beautiful coastal towns and resort-style active adult communities. With its favorable tax laws and a prime location near several urban centers, Delaware is quickly gaining popularity as a retirement hot spot.