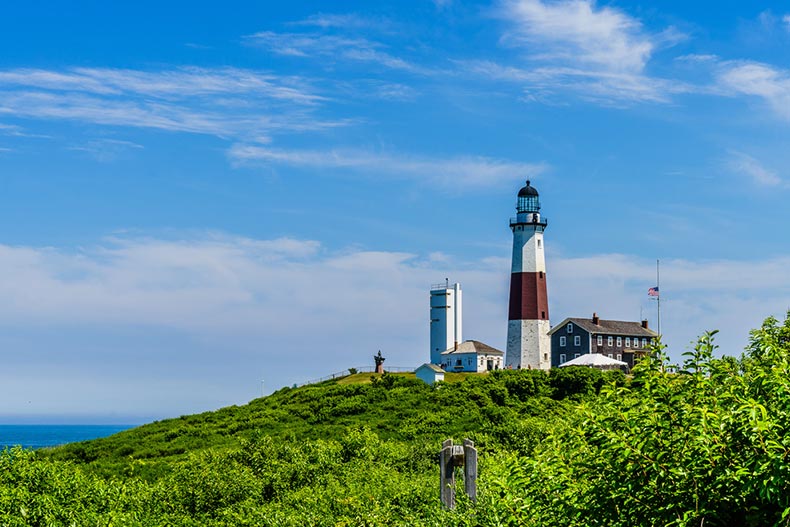 Considered by some to be a playground for the rich and famous, there's much more to Long Island (LI) than yachts and mansions. Its natural beauty, proximity to New York City, and rich historical and cultural heritage make it a magnet for retirees, and its real estate options can be more affordable than you might expect.
Technically, LI is comprised of four counties. From east to west, they are Suffolk, Nassau, Queens, and Brooklyn. The latter two are not amenable to having large numbers of retirement communities, and active adults are more likely to settle in Suffolk and Nassau. For our purposes today, we'll also refer to Suffolk as East Long Island and Nassau as West Long Island. There are pros and cons to living in both regions, and all are worth considering before deciding to retire in this part of New York.
The Basics
From New York Harbor to Montauk Point, LI is 118 miles long, and Suffolk is larger than Nassau, covering the Island's eastern two-thirds. LI's northern shores are bordered by the Long Island Sound and Block Island Sound, while its southern coastline borders the Atlantic Ocean. Since Nassau is closer to New York, it has a more suburban—and urban in some areas—feel. Some of the outlying areas in Suffolk can be thought of as rural, but that's changing as populations increase.
Since it's not very large in terms of overall geography, you can expect fairly consistent weather patterns with cool, wet winters and warm, humid summers. Of course, the closer you get to the beach, the breezier it is, and that's a huge plus during the hot summer months. Another North Shore vs. South Shore difference is that the northern beaches are rugged and rockier. You'll find flatter, sandier beaches along the Atlantic coastline.
Getting There
Since West Long Island is closer to New York City, it's a shorter drive, and this is a big plus for those who have LI vacation homes. For retirees, it may not make as much of a difference. The Long Island MacArthur Airport is pretty much in the center of LI, but it doesn't offer international flights. There are smaller airports on the island as well, including the easternmost one, Montauk Airport.
In Nassau, public transportation is provided by the NICE bus network and the Long Island Rail Road. The Long Island Rail Road also covers Suffolk County, and there's a bus line here as well.
Outdoor and Indoor Pastimes
One of the most distinguishing features of East Long Island is where the Island splits into its North and South Forks. These are actually two long peninsulas, and homes for sale here can run into the millions. Some of the scenery is pretty spectacular, offering views from Montauk Lighthouse Museum and Shelter Island. Farther inland, you'll find picturesque golf courses like Timber Point and Crab Meadow. If you love the beach, some of Suffolk's finest are at Smith Point County Park and Cupsogue Beach County Park.
West Long Island also has beautiful recreational facilities like Eisenhower Park and Garvies Point Museum and Preserve. Cantiague Park has an impressive indoor skating rink, and popular beaches include Jones Beach State Park and the ones in Oyster Bay. One of of the top golf courses here is at North Woodmere; Eisenhower Park also has three 18-hole courses (plus tennis courts, a fitness trail, and an aquatic center).
Both East and West Long Island are also known for their wineries and farmers' markets, but their indoor attractions are worth mentioning too. In Suffolk, you can visit the Southold Indian Museum and the Long Island Science Center. Nassau's cultural treasures include the Baldwin Historical Museum and the African American Museum of Nassau County. As far as dining options go, you have many choices all over the island, and the seafood here just can't be beat.
Practical Matters
Good medical care is always a priority, and you can't go wrong in either county. In Suffolk, you'll find Huntington Hospital, Long Island Community Hospital, Southside Hospital, and others. Nassau has North Shore University Hospital and Long Island Jewish Medical Center.
If you're interested in continuing education, Suffolk County is home to Stony Brook University, Suffolk County Community, and Briarcliffe College. Adelphi University, Hofstra University, and a second Briarcliffe campus can all be found in Nassau. There are endless shopping options also, and you can expect to find everything you need just a short distance away. It might take longer if you live in a more rural area, but it may be worth a little extra effort when you live in a pristine, natural setting.
Cost of Living
Bestplaces.net rates Suffolk County's cost of living at 132 and Nassau's at 162.2, both significantly above the national average of 100 points. It's no secret that LI is one of the highest-priced parts of the country, but what you get is year-round resort-style living, amazing scenery, and quaint towns. Prices for goods and services will naturally go up during summertime, the high season.
However, this doesn't mean that you're shut out from finding an affordable retirement community in either region. In East Long Island (Suffolk), you can find homes for sale under $100k; West Long Island's (Nassau) lowest-priced 55+ community starts in the high $200s.
To narrow down those price points, here's a peek at four Long Island communities. Whether you choose east or west, you're sure to find a comfortable home in a sought-after locale with nice amenities.
East Long Island
Low $200s - High $400s
This East Long Island communitiy offers 701 resale single-family homes, a clubhouse, a swimming pool, sports courts, and a community bus. Learn more information about Leisure Knoll here.
High $300s - High $400s
This gated, 55+ community is comprised of 285 resale attached homes nestled around five scenic ponds. Amenities include a clubhouse, an outdoor pool, and walking trails. Learn more information about Plymouth Estates at Mount Sinai here.
West Long Island
High $200s - Mid $300s
This community in West Long Island offers 95 luxury resale condos in a four-story building that features concierge service, an exercise room, dining areas, and a heated outdoor pool. Learn more information about The Bel Aire at East Meadow here.
Low $400s - Mid $500s
Interested homebuyers should consider this 55+ community with 404 resale condos, an elegant clubhouse with indoor and outdoor pools, and a dog park. Learn more information about The Seasons at East Meadow here.