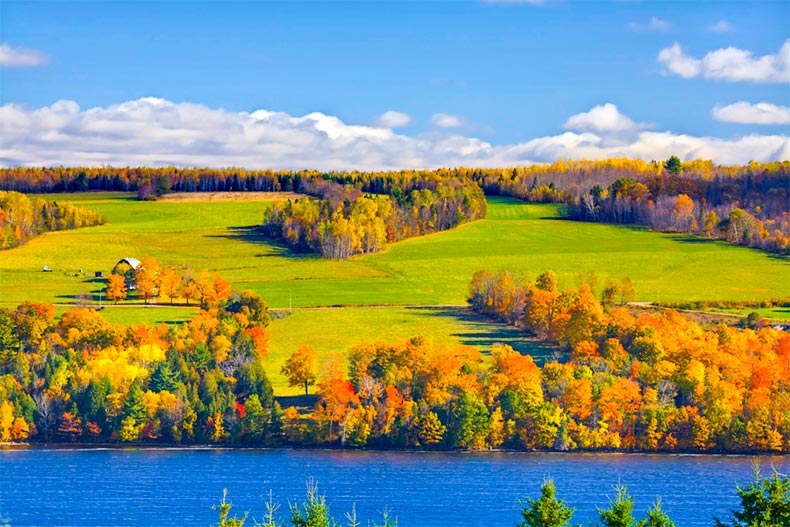 Hearing that the U.S. economy is doing well brings smiles to people's faces, but positive growth can also lead to an increase in housing prices. Generally speaking, these days you probably get somewhat less for your housing dollars, but you might have more money in your pocket. Since the 1960s, home prices have been gradually rising. Back then, the average price of a house was less than $100,000. Nowadays, it is closer to $280.000.
Naturally, this depends on what state you choose to live in, what neighborhood, and the size and condition of the home. New Jersey has a higher cost of living than many states, and its counties that are farther north and closer to New York are amongst its most pricey and desirable. Middlesex County is highly sought-after, because it is an easy commute to both New York City and Philadelphia. Residents also enjoy the best in cultural and recreational options, world-class medical centers, and nearby airports.
Best of all, you can actually find good active adult housing value in Middlesex. There are some 55+ communities that have homes in the $250k price range, with many under that national average price of $280k. Here are some of our favorite picks.
Clearbrook - Monroe
With over 2,000 resale condo, attached, and single family homes, Clearbrook is a gated, active adult community with incredible appeal. Its wide range of floor plans and long list of amenities and activities make it a good place to set down roots.
Attaches and single-family homes come in over 20 models and range from 700 to 1,720 square feet. They have one or two bedrooms, one to two-and-a-half baths, and a carport or a garage. Upgrades may include dens, patios, and walk-in closets.
Clearbrook's large clubhouse features activity and craft rooms, a fitness center, a health center, and a ballroom. Homeowners also spend quality time at the outdoor amphitheater, pool, 9-hole golf course, and sport courts. And if that weren't enough, there is close to 60 activity groups, classes, and clubs.
Whittingham - Monroe
Also in Monroe, Whittingham is smaller than Clearbrook, with 413 resale condo, attached, and single family homes. Whittingham has affordable condos, priced from the mid to high $100s. Floor plans are sized from 1,140 to 1,930 square feet, with two bedrooms, two or two-and-a-half bathrooms, and attached one garages. Some homes include expansive master suites, private gardens, and dens.
Homeowners share a clubhouse with nearby Greenbriar, and it has its own restaurant, indoor pool, exercise studios, and indoor track. There is also an outdoor pool and spa, tennis courts, a 9-hole golf course, RV parking, and a lovely community garden.
Plaza Grande at Old Bridge - Old Bridge
The town of Old Bridge, bordered by the Raritan Bay, is known for magnificent Cheesequake State Park, and is home to the Plaza Grande at Old Bridge. Built by D.R. Horton from 2005 to 2007, it features 279 resale condo homes in nine floor plans ranging from 1,185 up to 2,310 square feet. They have two bedrooms, two bathrooms, and garage parking. Larger models feature stunning master suites, dens, and nine-foot ceilings.
The Grande Club is this neighborhood's center for community activities, with an indoor spa, exercise room, activity rooms, and a library. Folks head outdoors during the warmer months to enjoy the outdoor pool, putting green, and tennis and bocce courts. Special events like holiday parties, karaoke, pool parties, line dancing, and men's club meetings keep the residents busy year round.
The Ponds - Monroe
The Ponds is a gated, active adult neighborhood with 575 resale attached and single-family homes. It was built around a bucolic nature preserve that has meadows, fishing ponds, and a jogging path. Floor plans range from 1,237 to 2,157 square feet, with two bedrooms, two or two-and-a-half bathrooms, and attached garages. Upgrades may include patios, breakfast nooks, and walk-in closets.
The Ponds has an active entertainment committee that manages the many community activities, like a chorus, a singles' club, and continuing education. The large clubhouse has its own indoor pool, exercise room, and activity rooms. There is also a putting green, bocce, tennis, and a sparkling outdoor pool.
Greenbriar - Monroe
Active adults seeking country club lifestyles can find what they are looking for at Greenbriar. This gated community of 1,194 resale attached duplexes and single-family homes was completed in 2001 by U.S. Homes. It is adjacent to Whittingham and shares its amenities, but is a separate community. Homes range from 1,672 to a roomy 2,639 square feet with two bedrooms, two bathrooms, and attached garages.
Some of the shared amenities like the pools, restaurant, and fitness center are in the Towne Center clubhouse. Greenbriar also has lively social clubs for interests like movie nights, body sculpting classes, billiards, drama, gardening, singing, golf, painting, pickleball, and travel, to name a few.