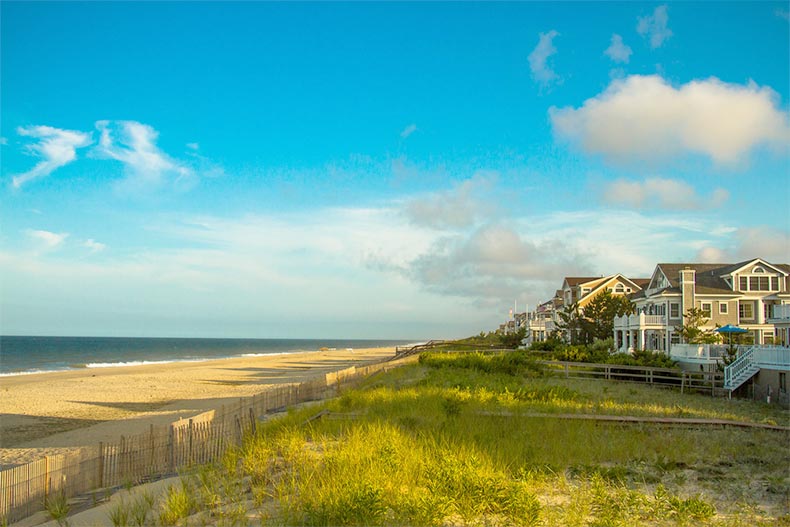 Delaware is known for being a state with great tax benefits. Not only does the state not collect sales tax, but it offers special tax benefits to people over 60 or those collecting retirement income. That, plus the mild climate and easy access to both beaches and big cities make the state a great place for active adults looking for a new home, especially those concerned about what moving might cost.
The average home cost in Delaware is around $240,000, which is higher than the national average but less than nearby Maryland, New Jersey, and the Philadelphia area. Delaware is home to 35 active adult communities, 20 of which list homes between the mid $100s and high $200s.
Here's what active adult homebuyers can get in Delaware for under $300,000.
Northern Delaware, or the area near Wilmington and Newark, is slightly more expensive than other parts of the state. This metro area offers many amenities, including museums, the University of Delaware, and the Brandywine Valley. Residents also have very easy access to Philadelphia and Baltimore, thanks to I-95 and Amtrak trains.
But as with many metro areas, these benefits also make housing costs higher. The communities that list homes under $300K here are generally smaller, but they still have clubhouses and social spaces for residents.
Whispering Woods – Middletown, DE
Whispering Woods is a new community in Middletown, where McKee Builders plans to construct 178 single-family and attached homes. For under $300,000, homebuyers can expect to find a two-bedroom, two-bath attached home. They may include hardwood floors, en-suite master baths with marble countertops, and elegant open floor plans. Residents also have access to a clubhouse with a pool, a fitness center, a catering kitchen, a pickleball court, a bocce ball court, and horseshoe pits.
Village of Red Lion Creek – Bear, DE
Village of Red Lion Creek is an established age-restricted community, built between 2002 and 2005. Located in Bear, the community provides residents easy access to I-95, shopping malls, and Wilmington. Resale homes all list under $300,000. The attached homes include two bedrooms, two to two-and-a-half baths, and attached one- or two-car garages.
The homeowners' association makes life maintenance-free; they take care of trash and snow removal and lawn maintenance. The clubhouse offers social spaces, game rooms, an exercise room, and an outdoor patio.
Central Delaware includes seven 55+ communities around the Dover area. Because the central part of the state is not as heavily populated, home prices are generally lower. In all seven communities, active adult homebuyers should easily be able to find a home under $300,000. These include attached and single-family homes in big and small communities.
Roesville – Felton, DE
Located in Felton, Roesville is a newer community with 470 homes. The single-family homes are currently offered for resale, and the models range from around 1,300 to 2,200 square feet with up to four bedrooms and three baths.
At the under $300,000 price-point, prospective homebuyers can find homes with three bedrooms, two baths, hardwood floors, granite countertops, walk-in closets, and patios or porches. When not enjoying their homes, residents go to the Roesville Club, a clubhouse with a great room, exercise room, and game room.
Village of Eastridge – Smyrna, DE
At Village of Eastridge in Smyrna, prospective homebuyers can find new homes for under $300,000. With options like hardwood floors, vaulted ceilings, and granite countertops, the single-family models in this price range include two bedrooms, two baths, and attached two-car garages.
The community's clubhouse provides an exercise room, card room, and catering kitchen. Outside, residents enjoy taking walks through the neighborhood or playing a game of bocce ball, shuffleboard, or horseshoes.
Many of the Southern Delaware communities offer homes that are just above the $300,000-mark. However, two age-restricted communities a little farther from the beach offer both homes in the low to high $200s, and the amenities that many active adults are looking for.
Heritage Shores - Bridgeville, DE
Heritage Shores in Bridgeville offers a variety of homes under $300,000 alongside the amenities of a large community. Two builders are currently offering new and resale homes, while Lennar models are only offered for resale.
The models vary widely in size and floor plans. Prospective homebuyers can find two- and three-bedroom homes as large as 2,000 square feet in the high $200s. At the 28,000-square-foot clubhouse, residents can participate in clubs, activities, and classes; enjoy a meal or a drink; or lounge at the restaurant, bar, or wine patio. The indoor and outdoor pools, fitness center, and 18-Hole Arthur Hills Golf Course provide many opportunities to stay active.
The Village of Cinderberry - Georgetown, DE
The Village of Cinderberry in Georgetown is farther inland than many of the Sussex county communities, but all of their new and resale homes list under $300K. These models include newly-built three-bedroom, two-bathroom single-family homes and smaller two-bedroom, two-bath attached homes.
Although the community is small, with under 170 homes, residents enjoy the amenities many come to expect in active adult communities. Cinderberry Hall, the 6,500-square-foot clubhouse, provides a multi-purpose room, exercise room, indoor pool, hobby and game room, and library. Outside, residents enjoy playing shuffleboard or horseshoes, while the beach is just half an hour away.