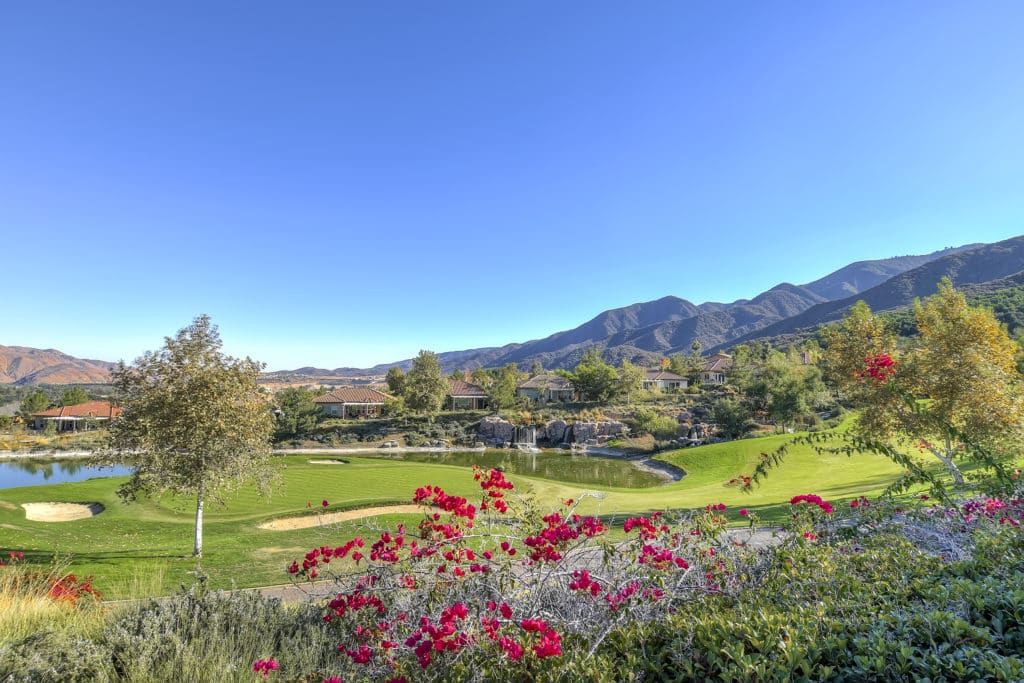 Anticipating the day when you can trade in your desk job for the driving range? Dreaming of Tuesday afternoon cocktails after a round with friends…. just because?
A retirement lifestyle seems to be incomplete without a golf course. Even for retirees who don't play, the sight of rolling fairways and golf carts in the distance epitomizes leisure.
Active adult community developers have known this since Del Webb opened the original 55+ community in 1960. Since then, builders have created jaw-dropping courses to lure the ever-growing 55+ market. Although, there are several truly astonishing golf course communities throughout the county and here are the best of the best.
To say that Hot Springs Village is a big community would be an understatement. It contains 9,500 homes in the beautiful Ouachita Mountains, eight amenity centers, 37 restaurants, and nine – yes, nine – golf courses.
If the majestic mountain scenery doesn't enchant you, then the variety of golf courses will. Throughout the years, the courses here have racked up an enviable number of awards: Balboa Golf Course has been recognized as one of the ten best layouts in the state, the Granada Golf Course was named one of the best in the state by Golf Digest, and Arkansas Business Journal bestowed the Ponce de Leon course with the same recognition.
Hot Springs Village also recently teamed with Troon Golf – an industry leader in creating high-end courses – to make all the courses compatible with their app, allowing for easy access to scorecards, a GPS caddie, and pro tips. Although considering you're golfing in the best recreational area in the state, you won't want to be looking at your phone.
Settled amidst 315 acres in the rugged beauty of the Texas Hill Country, Sun City Texas is a dream for active adults looking south for their retirement. This 55+ community has three 18-hole courses to accommodate the 9,900 households and each one is designed for a specific golfer in mind.
When Del Webb developed Sun City Texas, they wanted the three golf courses to meet one specific requirement: the courses had to be challenging but also senior friendly. Legacy Hills, ranked as one of the best in Texas by the Austin American-Statesman and Dallas Morning News, was designed for accessibility, making it perfect for beginners and more advanced players alike.
White Wing Golf Club, designed by Casper/Nash is seamlessly integrated with the surrounding natural features and 20,000 strategically placed red and white oak trees. Cowan Creek's five sets of tees and ever-changing elevation make it an accessible and naturally stunning place for an afternoon round.
Robson Communities specializes in large, luxurious retirement communities in Arizona and Texas. While all feature golf courses, lavish amenities, and beautiful low-maintenance homes, PebbleCreek offers more golf for your buck than Robson's other communities.
PebbleCreek offers two 18-hole golf courses surrounded by the towering White Tank Mountains, providing a picturesque backdrop for a game with friends. The Eagle's Nest course is considered the friendlier of the two and is renowned for its accessibility for beginners while still allowing for unique challenges, including sparkling lakes and strategically placed bunkers.
Tuscany Falls was the creation of Dick Bailey, a highly regarded golf course architect, who placed his signature on this course. It features spectacular mounding, well-placed bunkers, and sweeping vistas of the surrounding mountains.
Retirees dreaming of teeing off amidst the sleepy shores of South Carolina need look no further than Sun City Hilton Head. Variety, challenge, and dynamic scenery are the name of the game here, where three golf courses provide homeowners with a truly unique golfing experience.
Sun City Hilton Head boasts three 18-hole golf courses. It all starts with the Hidden Cypress Golf Course, a course whose beauty is only matched by its unique challenges. Argent Lakes Golf Course offers an executive-length course but developed in the style of a championship one.
It's also the only premier executive course offered in the area and surprises golfers with strategically placed slopes and sand traps. Hidden Cypress is for the more experienced golfer, requiring a more thoughtful approach in order to navigate its marshy, bunker-heavy greens.
When talking about impressive active adult communities, it's nearly impossible not to mention The Villages. The amenities are too numerous to name, the lifestyle is the stuff of legend, and the golfing is unparalleled.
The golf courses at The Villages are so plentiful that they are referred to as the "Golf Trail" and even has its own Wikipedia page. The Villages offers free golf for life and, with over 40 courses, The Villages ensures that you'll have no shortage of styles to choose from. The community has more holes of golf than any other facility in the world. With events like golf cart parades, several tournaments, and on-site lessons, golf here is less an amenity and more of a lifestyle.
Siena brings luxurious active adult living to Las Vegas, a favorite destination for retirees. Glittering casinos along the Las Vegas strip, world-class restaurants, and terrific weather is a major draw, but Siena's idyllic, dream-like setting makes it a community unlike any other.
What makes Siena's golf course stand out is that it abandons the desert layout common of the area's golf courses, opting instead for a lush, colorful fairway that bursts with character. Designed by Lee Schmidt and Brian Curley, Siena Golf Club's 90 bunkers and abundant water features create a course that is fair but challenging.
The golf course has racked up several awards since opening in 2000, including Best Value by Vegas Golfer Magazine and Nevada Golf Course of the Year 2010 by the National Golf Course Owners Association.