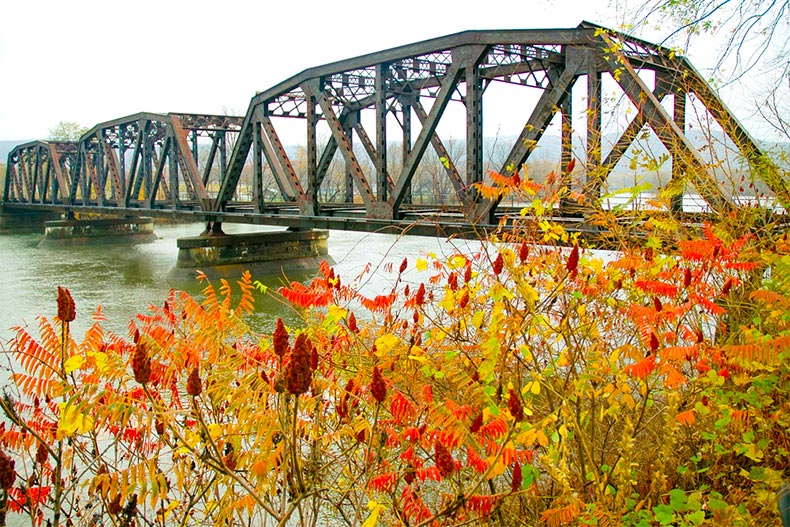 Some of the best towns in Pennsylvania for active adults to retire in are located in its Eastern region. Although its urban centers of Philadelphia, Reading, and Pottstown are filled with historical landmarks, vibrant cultural attractions, and world-class dining and shopping, it has another, more pastoral side.
As you drive out of these cities the countryside opens up, with winding roads, mountains, rivers, streams, and densely forested areas. The cost of living goes down, affording homeowners a higher quality of life and a more relaxed pace. And if at any time you crave big city offerings, Philadelphia, Atlantic City, and New York City are all very drivable.
Another reason why Pennsylvania is retirement-friendly is that it has a flat income tax rate of 3.07 percent. This means that every taxpayer, no matter what their income is, pays this percentage on their taxable income. The state also does not tax retirement income from IRAs, 401Ks, Social Security, or pensions.
Eastern Pennsylvania also has some of the top-performing medical facilities in the country. These include Thomas Jefferson University Hospital in Philadelphia and the University of Pennsylvania hospital system. These are only some of the reasons to make Eastern Pennsylvania your home. Here are four more.
The Village at Maidencreek - Blandon
Located in a suburb 13 miles from Reading, The Village at Maidencreek is a newer, gated active adult community that offers an intimate setting of 110 new and resale townhomes. There are five spacious models sized from 1,494 to 2,367 square feet. They have two to three bedrooms, two or two-and-a-half bathrooms, and attached one-car garages.
Though it is a smaller community, it has a modern clubhouse with a lounge, a business center, an exercise room, a whirlpool spa, plus sauna, steam and massage rooms. Blandon is in Berks County, which also puts it close to Lancaster and Allentown. It is also about five miles from pristine Ontelaunee Lake, a haven for hiking, fishing, and other outdoor pursuits.
Bucktown Crossing - Pottstown
For many active adults, smaller is better; retirees that are looking to downsize at a newer condo in Eastern PA can look no further than Bucktown Crossing. There will be 72 new and resale units here upon completion. The three models are sized from 1,050 to 1,500 square feet with one or two bedrooms and one-and-a-half to two baths.
A private clubhouse includes activity rooms, an exercise room, an outdoor pool, tennis, and shuffleboard. The property also has walking trails and a picnic area. Bucktown Crossing is near the Philadelphia Premium Outlets Shopping Center, several state parks including French Creek, and a multitude of shopping opportunities in downtown Pottstown.
Wildflowers at Hillview - Coatesville
Variety is the big word for Wildflowers at Hillview. This mid-sized, active adult community of 672 single-family and attached resale homes is about 40 miles west of Philly. Built by Orleans Homes, it offers over 20 models for 55+ homebuyers starting with 1,332 square-foot townhomes and going up to the 2,311 square-foot single-family homes. Most models have at least two or more bedrooms and bathrooms, while all come with two-car garages.
Wildflowers is in Chester County, known for landmarks like its covered bridges and Longwood Gardens. However, the variety of activities on site keeps the residents busy, busy, busy. There is a 16,000 square-foot clubhouse with game rooms and a catering kitchen, and a modern fitness center with indoor and outdoor pools. The Lodge provides a computer room and a library. There's also The Cabin, with two large game rooms, horseshoe pits, and bocce, and The Cottage is a charming facility with multi-purpose rooms and a second library.
Heritage Creek - Warwick Township
Heritage Creek is a 55+ community of 517 resale condos and single-family homes built from 2000 through 2004 by Mignatti. This lovely neighborhood has five condo buildings, with a total of 115 units. These come in five floor plans ranging from 1,217 to 1,685 square feet with two bedrooms and bathrooms.
The 402 single-family homes come in seven floor plans, ranging from 1,550 to 2,604 square feet. These have two bedrooms and bathrooms and attached two-car garages. All of these exclusive homes have first-floor master suites; options include lofts and an additional bedroom.
The community's exclusive Marquis Club and Spa have its own indoor pool and spa, saunas, an exercise room, and activity rooms. Warwick Township is in Bucks County, about 30 miles north of Philly, and has three nearby golf courses, including Neshaminy Valley Golf Club, which is open to the public.