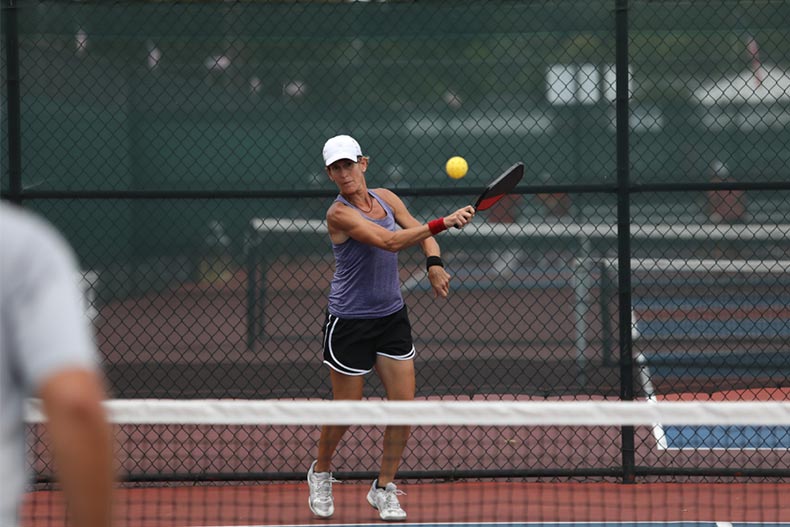 The World Pickleball Open will be held on December 12-15, 2019 at PGA Village Verano in Port St. Lucie. This is an event that any active adult community would be thrilled to host, so why did the privilege go to PGA Village Verano?
One reason might be that they have the facilities to accommodate it.
Florida Retirement Communities Love Pickleball
First, there were tennis courts sweeping active adult communities across both the Sunshine State and the nation. Then, shuffleboard took over. And lately, everyone is crazy about pickleball. It's a trend that's sticking around, thanks to the sport's accessibility to players of all ages and abilities (and it's actually a lot of fun).
"Pickleball is America's fastest-growing sport," said John Manrique, Vice-President of Marketing at Kolter Homes. "Developers are listening, especially in the 55+ communities. There's been this huge buzz around the activity, and we want to provide what consumers are looking for."
He's right. More and more Florida retirement communities are offering pickleball courts to residents who are interested in playing or interested in learning. Almost all of the new construction communities are offering either dedicated pickleball courts or tennis courts that can easily convert to pickleball playing surfaces.
Many community residents who have never played are interested in learning a thing or two about what pickleball is all about. If you've ever played tennis or badminton or even ping pong, the rules and format of the game won't be too unfamiliar. It's just like your favorite racquet sport; it involves a paddle, a ball, and a net.
"This is a sport that's fun and competitive," Manrique explained. "It's gentle on the body, and if you like tennis, the game feels pretty natural. It provides a unique combination of fitness, health, and social benefits."
Courts Aren't Enough: The Rise of Facilities
PGA Village Verano wasn't invited to host the World Pickleball Open because they have a few courts. They've built an entire tournament-ready facility, and it's another trend that's meeting the demand of what 55+ homebuyers are looking for in active adult communities.
Manrique says the PGA Village Verano Pickleball Center will open on November 9, 2019 with a ribbon-cutting ceremony involving the residents and the mayor of Port St. Lucie.
"People are really excited," he said. "There's a pickleball club at PGA Village Verano that has more than 100 members. It's one of the biggest clubs in the community, and that's pretty typical elsewhere. Most communities that have a pickleball club find that it's at least one of the top three clubs in terms of membership and popularity."
The tournament-ready Pickleball Center has 26 courts for league-sanctioned play as well as a championship court for tournament finals. There's plenty of seating and space for viewing matches, and there's also an event lawn with a pavilion area.
The 55+ crowd demands world-class, tournament-ready pickleball facilities. "It's not enough to just have a few courts," Manrique said. "These large facilities that draw tournaments and competitions are a big seller for active adults who are looking for new homes and want to get together for games with neighbors or take lessons or watch matches."
What to Expect at the Pickleball Open
The tournament has attracted more than 170 registrants, according to Manrique, and the entire community is excited to be inaugurating the facility with this event. To play, participants must be members of the USA Pickleball Association. The tournament is organized by Ivan Baron, a former tennis pro. This is a Tier 4 event, which will include clinics and exhibitions. The deadline for entries is November 21, 2019.
Tournament play will include men's and women's singles, doubles, and mixed doubles in pro divisions and skill divisions. There's about $15,000 in prize money available, and the format will be double elimination with a come around, which means it's possible to lose a match and still "come around" to win the designated bracket.
Practice starts on December 11, 2019, and tournament play begins on December 12, 2019.
PGA Village Verano
The Pickleball Center isn't the only thing drawing active adults to PGA Village Verano. Buyers looking for homes for sale in Port St. Lucie have been drawn to its world-class golf facilities and other resort-style amenities. The PGA golf club covers 35 acres, and in addition to 54 holes of golf, there are also 100 full-swing practice stations, a pitching and chipping area, and a pro shop. Residents can also visit the PGA Historical Center Museum and the PGA Center for Golf Learning and Performance.
The active adult community also offers Club Talavera, where residents can find a lounge, a sports bar, a coffee bar, a library, card rooms, and a place for billiards. There's also a demonstration kitchen and a learning center. In the Fitness Center, there's a sauna, an indoor pool, a massage room, and a yoga studio. The outdoor pool includes a patio and a spa, and there are tennis courts, bocce ball courts, and half a basketball court.
The community is comprised of 1,800 single-family homes and attached villas available as resale properties or new construction. They are 1,416 to 3,080 square feet with between two and four bedrooms and two and four bathrooms. Prices start in the low $200s, and the community is not age-restricted.