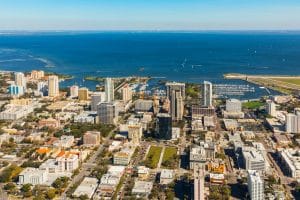 The current trend in active adult communities is pointing towards many non-traditional retirement destinations that are growing, but not established. While that is happening, mainstays like Florida and Arizona remain the top sellers and most likely will for a while. According to 55places.com data, the usual suspects have remained in the top five states for 55-plus home sales. There were some shocks in the list, including Arizona coming in at four below New Jersey and California. Despite all of Arizona's growth, it seems the desert lifestyle still has some catching up to do to traditional population centers. Let's take a look at the states that performed the best in a crowded 55-plus market.
Florida remains the top-selling state for active adult homebuyers and won't likely lose its crown anytime soon. Its warm climate, beaches, wealth of 55-plus communities, and varying regions have long drawn retirees to the state. When looking at moving to Florida, retirees have a variety of lifestyles to choose from, including beachside living in Tampa, the entertainment of Orlando, or the slow-paced suburban lifestyle of Jacksonville. Despite the growth of other states in the 55-plus housing market, Florida remains the prime destination for retirees.
Top-Selling Communities:
Coming in at number two on our list is New Jersey, the only four-season climate to make the top five. New Jersey has long been a hot seller for retirees because of no Social Security tax and low income tax, although that could be offset by higher than average property taxes. The state is home to several of the country's biggest active adult communities which give retirees a wide selection when choosing the perfect community. Many 55-plus homeowners in New Jersey are longtime residents and with so many age-restricted communities, it's easy for active adults to downsize and stay near family.
Top-Selling Communities
In 2017, many active adults looked west to sunny Southern California and to the milder cities of Northern California for their retirement. Retirees can choose between the warmth of Los Angeles, Orange County, and San Diego. Here, homeowners enjoy miles of beaches, world-class entertainment options, and several national forests. Just a few hours north, active adults can enjoy a different kind of retirement in cities like San Francisco, San Jose, and Sacramento. Outdoor lovers flock to the region for natural wonders like Yosemite National Park, Lake Tahoe, and the Redwood National Forest.
Top-Selling Communities
While many people would consider Arizona the country's number two retirement state, it somewhat surprisingly came in at number four. The Phoenix Metropolitan Area is seeing incredible growth, thanks in no small part to the area's age-restricted communities. Phoenix generally sees 211 days of sunshine per year, which makes it a big draw for retirees. Besides warm weather, there are so many golf courses in the area that even the most avid golfers couldn't find time to play them all. Besides Phoenix and its suburbs, Tucson has also grown as a retirement destination. It boasts the same climate as Phoenix, but with a little less hustle and bustle and a focus on the arts and a laid-back retirement.
Top-Selling Communities:
Rounding out the list is one of the newer retirement destination states. North Carolina has a mild climate, several distinct regions, and a growing population of retirees. Charlotte is one of the fastest-growing metropolitan regions in the country currently and that includes several top 55-plus communities. Besides a less extreme climate, Charlotte offers professional sports, great shopping options, and Lake Norman, a hugely popular recreation spot. Besides Charlotte, Asheville – known for its craft beer and scenic views of the Blue Ridge Mountains – is a very popular spot for nature lovers. If neither city excites you, the Research Triangle of Durham, Raleigh, and Chapel Hill has everything an active adult would want. Between several great continuing education programs, recreation spots, and a variety of shopping and dining, the region has everything an active adult could ever need.
Top-Selling Communities: