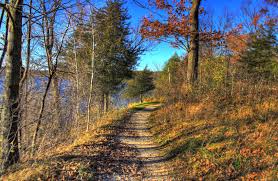 Summer is over, but that doesn't mean that fun in the sun needs to come to an end. In fact, it's easy to argue that autumn is the very best time to enjoy the great outdoors. With the heat of summer behind us, but before the frigid winter cold has settled in, fall is the perfect compromise. Plus, it tends to be a bit drier (and less muddy) than the spring.
If you're looking for some perfect ways to take advantage of fresh air before you'll need to bundle up, here are five fantastic ideas.
Hiking
If you're in foliage country, or anywhere within driving distance of changing leaves, then you likely know that a hike is one of the best ways to fully appreciate the natural beauty of the changing of the seasons. The changes in elevation allow you to observe in a few hours the changes that actually take place over weeks. But even if you don't have changing leaves nearby, you'll still get in great exercise while also taking in stunning views. Choose a trail that's perfect for your experience level, and be sure to follow basic safety precautions, like bringing plenty of fresh water, going with at least one other person, and letting someone know your route. With cooler but still mild temperatures, fall is the perfect time to hit the trails.
Farmers Markets
Autumn is the time of harvest, which means that wherever your local farmers market is, you'll find the very best produce this time of year. It's the perfect time to stock up on the season's favorites, and while Thanksgiving is still several weeks away, it's the perfect time to sample some options for holiday dinners. In addition to enjoying all the flavors of fall, regular visits to the farmers market will help you get to know local farmers, which is the perfect way to learn more about where your food comes from and might introduce you to some new fruits and veggies that you've never heard of.
Apple Picking & Pumpkin Patches
Sometimes getting to know the farmers is not enough, and it's better to experience the farm life firsthand, and there's no better way to do so than to pick a peck of apples or choose the perfect pumpkin straight from the patch. Round out your day with a hay ride or visit a corn maze and you'll be feeling like a kid again.
Football
Fall is football season. If you're a fan of playing, then why not organize a game of touch football? More of a spectator? Then now's the perfect time to go tailgating. And if football isn't your thing, fall still offers plenty of opportunities to enjoy a drink outdoors with friends. It's the perfect time to enjoy a winery tour and Oktoberfest celebrations abound, offering craft beers in festive outdoor celebrations.
Bonfire
Cooler temperatures (but not so much that it's unpleasant to be outside) means it's the perfect time to have a bonfire. Toast marshmallows and warm up with hot apple ciders and enjoy the conviviality that comes from gathering around a fire with family and friends.