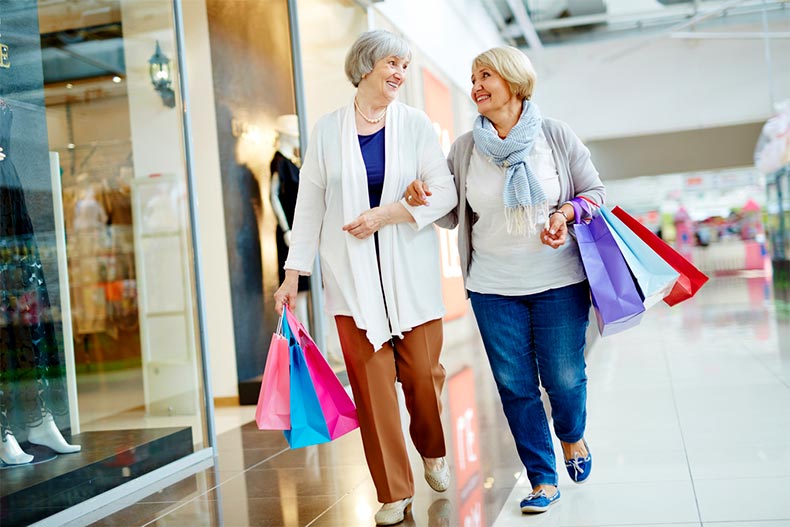 There are only five states in this country that don't have a sales tax: Alaska, New Hampshire, Montana, Oregon, and Delaware. They all attract shoppers from nearby states, and Delaware draws them in from Pennsylvania, New Jersey, and Maryland.
Active adults who choose to live in Pennsylvania near the Delaware border are tax-savvy since they can pop over and save the sales tax on their purchases. Also: Pennsylvania might have higher sales tax (6%), but its income tax rate is 3.7 percent, compared to Delaware's variable rate that can be as much as 6.6%.
Some of the most popular shopping venues in Delaware include Christiana Mall, Concord Mall, and the Tanger Outlets in Rehoboth Beach. The state is also known for its antique shops, boutiques, and many other tax-free shopping spots. So you can live in PA and pay less income tax, and drive to DE and pay no sales tax. This translates into money saved on all kinds of purchases and extra cash for other things you'd rather spend it on.
The closest 55+ communities are west of the Delaware River in Eastern Pennsylvania. The ones we've chosen are all upscale, established communities that have a lot to offer active adults who are interested in Pennsylvania real estate near Delaware.
Traditions at Inniscrone - Avondale
Situated just outside of Inniscrone Golf Club, this gated retirement community has 167 resale single-family homes built from 2000 to 2013. Avondale is a small suburb in Chester County, not far from historic Kennett Square, PA. Other nearby attractions include the gorgeous Longwood Gardens and Loch Naim Golf Club. There's also an ACME Market, Target, and other shops just minutes away.
There are eight floor plans, sized from 1,406 to 2,788 square feet with two to four bedrooms, two to three bathrooms, and attached garages. Some of these beautiful homes have luxury upgrades like custom window treatments, hardwood floors, gourmet kitchens, and patios. A reasonable homeowners' association (HOA) fee provides for lawn and common area maintenance and other items.
The 18-hole golf club is public, and homeowners have the option to purchase memberships. There is also an impressive clubhouse with its own indoor golf practice area, an outdoor pool, an exercise room and sauna, game and media rooms, and a library. Friends and neighbors gather for Friday night socials, holiday parties, field trips, book club, bowling, exercise classes, and golf leagues.
Fox Hill Farm - Glen Mills
Less than 10 miles from Wilmington, DE, the charming town of Glen Mills, PA is home to the welcoming active adult neighborhood of Fox Hill Farm. Completed in 2003, this lovely property offers 491 resale attached and single-family homes with a total of nine floor plans.
The attached carriage homes range from 1,373 and 1,679 square feet with two bedrooms, two or two-and-a-half bathrooms, and one-car garages. Some feature second levels, basements, patios, or decks. The single-family homes have two bedrooms, basements, two or two-and-a-half bathrooms, and attached garages. Some include dens which can be converted into third bedrooms, plus second levels, decks, patios, and extra storage.
Fox Hill Farm has standout amenities, many of which are located in its 14,000-square-foot clubhouse. Here, you'll find an indoor pool, a sauna and spa, an arts and crafts studio, a ballroom, and an outdoor pool. There are also bocce and tennis courts, walking trails, ponds and lakes, and a community bus. There are too many clubs and activities to list here, but rest assured that Fox Hill Farm homeowners are never lacking for something to do!
Foxfield - Garnet Valley
Garnet Valley is around five miles from Delaware, and it's a peaceful suburb with strong appeal for 55+ homebuyers. It's close to some renowned landmarks, including Winterthur Museum and Garden, Brandywine River Museum, and Clayton Park Golf Course.
Built from 2004 through 2013, Foxfield has 520 resale condo, attached, and single-family homes. With 13 floor plans, buyers can afford to be choosy. The condos range from 1,114 to 1,400 square feet with one to two bedrooms, two bathrooms, and a one-car garage on the ground level. The attached models range from 1,708 and 1,836 square feet with one to three bedrooms, one-and-a-half to three bathrooms, and attached one-or two-car garages. And the ranch-style, single-family homes range from 1,586 and 1,831 square feet with two to four bedrooms, two or three bathrooms, and attached two-car garages.
On-site amenities include a 6-hole golf course and putting green, tennis and bocce courts, an RV parking lot, and nature trails. The private clubhouse has activity rooms, an exercise facility, and indoor and outdoor pools. Popular activity groups include yoga, game nights, Friday night socials, computer class, poker, and a well-attended speaker series.
Belmont - Garnet Valley
Also in Garnet Valley, Belmont is a gated active adult neighborhood with 186 resale homes. Built from 2003 to 2011, it has 122 attached and 64 single-family homes. The attached homes range from 1,339 to 2,170 square feet with two or three bedrooms and bathrooms and attached one- or two-car garages. The single-family homes range from 1,614 to 2,658 square feet with two or three bedrooms, one-and-a-half to three bathrooms, eat-in kitchens, gas fireplaces, and attached two-car garages.
Belmont's private clubhouse has its own catering kitchen and meeting room, plus a library and an exercise room. There are also walking and biking trails on the property, and residents enjoy spending time at holiday parties, card games, outings, and other social events.