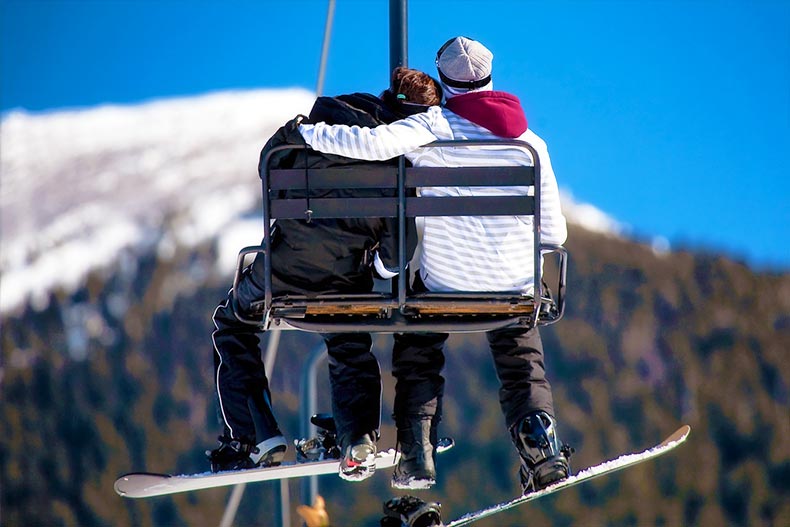 Arizona is known for its warm weather, an abundance of golf courses, and stunning desert landscapes. However, during winter, Arizona offers visitors a much different experience. From skiing to spending the weekend at a cozy lodge, there are many ways to enjoy winter in this southwestern state. Here are five of the best getaways to enjoy this winter in Arizona.
Sedona Is Special in Winter
Sedona is a great place to visit any time of the year, but during winter this beautiful mountain town is even more special. With an average high of about 57 degrees and a low of 32 degrees, winters in Sedona are mild. However, it's chilly enough to occasionally get snowfall. If you're lucky enough to catch Sedona's Red Rock mountains while they're dusted with snow, it's quite the sight.
Since winter isn't harsh in Sedona, visitors can still enjoy all of the great outdoor recreations in the area. Popular hiking spots include Cathedral Rock, Devil's Bridge, and Bell Rock. For travelers who prefer to stay in town, Sedona's downtown area is the perfect place to explore on a crisp winter day. This quaint village-like area is home to many art galleries, boutiques, and charming eateries. Those traveling to Sedona during winter can also take advantage of lower prices for accommodations and fewer crowds.
Find Winter Fun in Flagstaff
Flagstaff is a charming mountain town in Northern Arizona that has its own unique appeal. It's also proof that Arizona can be a winter wonderland. With an average of 100 inches of snow per year, Flagstaff is one of the snowiest cities in the country. Popular activities include exploring historic downtown Flagstaff for dining, shopping, and nightlife. For those who prefer outdoor recreation, Flagstaff's Snow Park is a great option. This local attraction offers snow tubing, sledding, and other snow activities.
Visit Arizona Nordic Village
For outdoor enthusiasts, Arizona Nordic Village is one of the best spots to enjoy Flagstaff's snowiest season. Arizona Nordic Village offers approximately 25 miles of groomed trails for cross-country skiing. There are also separate trails designed for snowshoeing and fat tire biking. The on-site yurts and backcountry cabins allow visitors to have the ultimate winter camping experience.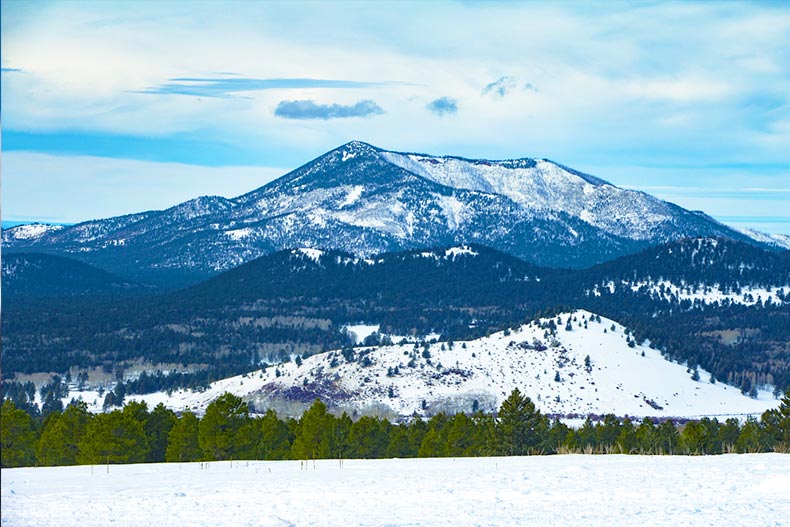 Believe it or not, this is Arizona.
Ski the Arizona Snowbowl
Skiers can hit the slopes at Arizona Snowbowl, which is just two hours away from Phoenix. This high-altitude ski resort reaches an elevation of 9,200 feet and has an average snowfall of 260 inches every year. There are over 700 skiable acres, a vertical drop of 2,300 feet, and a terrain park for freestylers. With 40 trails and diverse terrain, Arizona Snowbowl provides a fun experience for skiers of all skill levels. Nearby lodges that serve the local area make it easy to spend a weekend enjoying the slopes.
Make Some Time for Mormon Lake Lodge
Mormon Lake Lodge is a great winter getaway that provides a rustic ranch experience. At this 300-acre retreat, visitors can stay in cozy log cabins surrounded by ponderosa pine forests. During the day, popular activities include hiking the nearby trails or exploring them on horseback. Mormon Lake Lodge is also known for its historic steakhouse, which has been in operation since 1924. With its beautiful outdoor scenery and rural charm, Mormon Lake Lodge is the perfect winter getaway for some rest and relaxation.