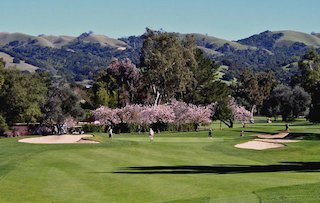 In the foothills of Northern California's Santa Clara County, The Villages Golf & Country Club offers resort-style living in the midst of picturesque natural beauty. This fabulous community was designed for active adults age 55 or better with amenities spread across four clubhouses and over 100 social clubs, committees and organizations. Diverse homes styles, including condos, attached homes, and single-family designs, also make it easy for active adults to find their dream retirement homes.
Residences
The Villages Golf & Country Club opened in 1967 and was completed in 2000 with 2,536 homes, four clubhouses and a variety of outdoor recreations, including an 18-hole golf course, swimming pools and horse stables. Homes within the community are spread across 12 distinct villages, each with their own architectural style. Mature landscaping further enhances the community's scenic beauty. Homes within the villages include 2,309 attached condos or townhomes, as well as 227 single-family homes.
Most homes feature two bedrooms and two bathrooms, although some homes do have three bedrooms. Many villages have a mix of attached homes and single-family designs, and homes throughout the community typically range from 1,233 to just over 2,200 square feet.
Amenities
When it comes to resort-style amenities, residents can enjoy four clubhouses: The Cribari Center, Foothill Center, Montgomery Center, and Vineyard Center. Different centers each offer their own amenities and social activities. These include a well-equipped fitness center, a variety of hobby and game rooms, multipurpose meeting rooms, a spacious social hall, a cozy library, and casually elegant dining at the Villages Clubhouse restaurant.
Outdoor recreations are highlighted by an 18-hole golf course designed by Robert Muir Graves, a 9-hole executive course and a driving range. Residents also enjoy six tennis courts, seven hiking trails, four swimming pools, three picnic areas, and two bocce ball courts. Those who join the Riding Club also have access to the Villages' horse stables and seven bridle trails.
Social Scene
The Villages Golf & Country Club's social calendar offers many activities, clubs, and special events. Arts and crafts studios offer space for creative exploration and a special boutique lets resident artists sell their hand-crafted items. Just a few of the popular clubs in the community include the Amateur Radio Club, the Flower Ladies Arranging Guild, the Music Society, Opera Lovers, and the Recreational Vehicles Club.
For active adults in Northern California's Bay Area, The Villages Golf & Country Club offers beautiful homes, an exciting line-up of activities and impressive, and resort-style amenities. It's an ideal destination for those who want to live in a well-established community with mature landscaping and a full social calendar. For more information on this community click here: The Villages Golf & Country Club - San Jose, CA