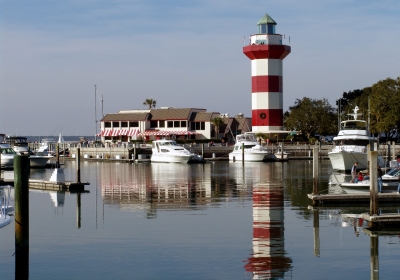 While vacationers often flock to Hilton Head's luxurious beaches, many active adult retirees are happy to call this resort island home. The Hilton Head area has a lot to offer retirees. It has beautiful weather, a prime coastal location, a wide range of indoor and outdoor attractions, and fabulous scenery. There are also several active adult communities in the area which offer residents a healthy, luxurious lifestyle.
Location
Hilton Head is a barrier island found along the coast of South Carolina. It is just 35 miles northeast of Savannah and 95 miles south of Charleston. The island itself is approximately 50 square miles, yet it boasts many shops, beaches, restaurants and cultural attractions. There are also many recreational attractions and active adult communities found throughout the surrounding area.
Climate
The weather in Hilton Head is sunny and warm with hot summers and mild winters. During the summer months, daytime temperatures reach the high 80s or low 90s. Nights are cooler, yet still warm with temperatures in the low 70s. Winter days are mild with highs in the low 60s and nights in the high 30s or low 40s.
Attractions
Hilton Head is a tourist hot spot with many attractions and special events held throughout the year. One of the most well-known events, the Heritage Golf Classic, has been held in Hilton Head for over 40 years. Other popular annual festivals include the Gullah Celebration in February, the St. Patrick's Day Parade in March, HarbourFest each summer and the Kiwanis Club Chili CookOff every October.
Cultural and recreational attractions are available year-round throughout the Hilton Head area. Some popular attractions include the Hilton Head Choral Society, the Hilton Head Symphony Orchestra and the Main Street Youth Theatre. Visitors and locals alike also enjoy the programs, activities and exhibits available through the Coastal Discovery Museum. Often considered a golfer's paradise, Hilton Head offers a variety of world-class courses.
Recreation
The island provides sunny skies, gorgeous scenery and ideal weather for golf any time of year. A few of the more popular area golf courses include Port Royal Golf Club, Hilton Head National, Oyster Reef Golf Club and Palmetto Hall Plantation Club. Some active adult communities in the area also provide spectacular golf courses, as well as beautiful homes and a range of diverse activities.
In nearby Bluffton, Sun City Hilton Head offers one executive and two championship golf courses, as well as a 45-acre Village Center that is packed with amenities. Callawassie Island, an open age community, also provides numerous resort-style amenities including a 27-hole championship golf course. Active adults who enjoy vacationing in Hilton Head may love retiring to the area as well.
With beautiful beaches, spectacular golf courses, diverse cultural attractions and fabulous weather, it's easy to see why Hilton Head is a hit with many active adults.