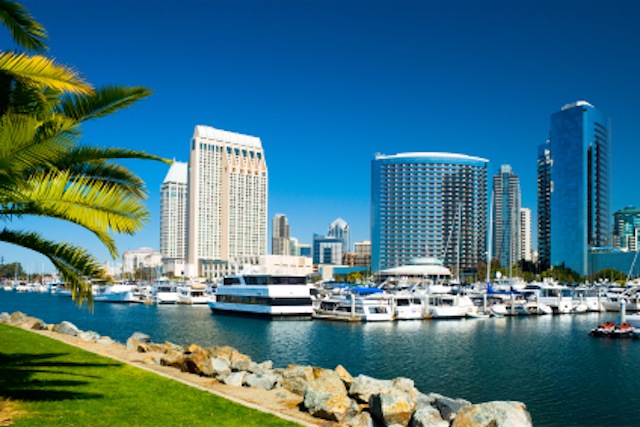 When it comes to a California retirement, many active adults dream of settling down in San Diego. This Southern California destination has some of the best weather in America with sunny summer days and mild winters. With such an inviting climate, outdoor attractions are abundant, including sandy beaches, golf courses, amusement parks and much more.
The weather in San Diego is so beautiful that the Farmer's Almanac lists the area as having one of the top 10 climates in America. Small microclimates throughout the region cause some variations, but the area largely has a temperate climate. Summers are the warmest season with daytime highs in the mid to high 70s. Winters are only slightly cooler with average daytime highs falling to just 65 degrees in December and January.
Located on California's Southern coast, San Diego is less than 20 miles from the Mexican border, just north of Tijuana, Mexico. Following the coast further north from San Diego, active adults will find several other popular retirement destinations, such as Encinitas and Oceanside. The area is also home to the Marine Corps Base Camp Pendleton.
Vacationing in San Diego is a great way to enjoy the gorgeous weather and experience the diverse attractions before planning a retirement relocation. Tourism is a thriving industry in the region, which means you can easily find lodgings ranging from basic hotels to luxurious resorts. There are also bed & breakfast inns, RV parks, campsites and even vacation homes for more extended visits.
San Diego's 70 miles of coastline is certainly one of its biggest draws. Visitors and residents alike can enjoy miles of sandy beaches, rocky cliffs and exotic reefs all stretching beside the clear blue ocean. The region is perfect for water sports such as surfing, boating, swimming and waterskiing. It's also ideal for simply relaxing in the sunshine or strolling along the shore. Just a few of the diverse beaches worth a visit include Cardiff-by-the-Sea, La Jolla, Mission Bay and San Onofre. Point Loma is best if you prefer rocky seaside cliffs, and Torrey Pines has beaches which lead to a lush pine forest nature preserve.
When grandkids come to visit, San Diego's various attractions are sure to keep them happy. Animal lovers can head to the world-famous San Diego Zoo or Sea World San Diego. Little (and grown-up) builders will love a trip to Legoland California, and history buffs can spend a day (or more) taking in all the exhibits at the USS Midway Museum.
Though the weather encourages visitors and residents to stay outside, the area has plenty of other recreations as well. San Diego has award-winning restaurants, a thriving arts community, renowned shopping centers and a variety of sightseeing tours. Grab a tasty lunch along the beach or plan a special dinner out at one of the city's elegant five-star restaurants.
The year-round growing season allows restaurants to use fresh, local produce for fantastic quality and flavor. The abundance of local produce also means that residents can choose their freshest favorites at one of the region's many open air markets, such as the Coronado Farmers Market, the Hillcrest Farmers Market, Little Italy Mercato or the La Jolla Open Aire Market.
Active adults who long to retire in the San Diego area may find that the current housing market has made that dream more affordable. Several fabulous age-restricted communities in nearby areas, like Oceanside and Encinitas, offer affordable homes and resort-style living. There are sprawling golf communities like Ocean Hills Country Club or more intimate neighborhoods like Emerald Lake Village or High Country Villas.
With beautiful sunny weather and a wide range of appealing attractions, San Diego is a fabulous destination for a luxurious vacation or a dream retirement.