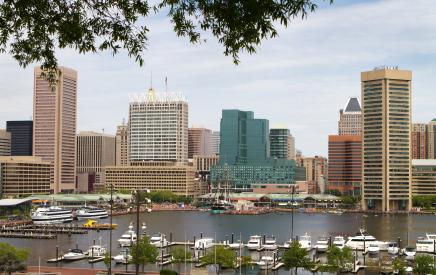 Founded in 1729, Baltimore is a well-known seaport on the East Coast and the largest city in Maryland. This historic city has since developed many distinct areas, such as the Inner Harbor, Fells Point and Downtown Baltimore. Active adults who choose to live near Baltimore can find lovely communities in nearby areas like Annapolis, Laurel and Taneytown.
The city of Baltimore is located in Central Maryland on the shores of the Patapsco River, which empties into the Chesapeake Bay. It lies about one hour northeast of Washington, DC, and two hours southwest of Philadelphia. Those who frequently travel along the East Coast recognize Baltimore as a prominent city along route I-95.
Climate
Weather in Baltimore changes with all four seasons. Daytime temperatures are the highest in mid-summer, when sunny skies help the temperature reach the low-90s or even climb to over 100 degrees. Winters are cold with highs in the low-40s and they bring occasional snowstorms as well as some sleet or freezing rain. The most temperate weather comes in the spring and fall, when residents can enjoy either budding trees or striking fall foliage.
Attractions
Though the city has a rich history, today's visitors most commonly flock to Baltimore's Inner Harbor. This bustling area offers many modern restaurants, shops and attractions. It is the site of the National Aquarium, the Maryland Science Center, and the Harborplace retail district. Inner Harbor visitors can tour the last Civil War vessel afloat, the USS Constellation, or head over for a historic tour of the nearby Fort McHenry.
Sports fans will also love to take in a game at Oriole Park at Camden Yards. In just a few minutes' walk, visitors can move from the bustle of the Inner Harbor to the picturesque charm of Fells Point. This historic waterfront neighborhood features cobblestone streets, quaint shops, and locally-owned restaurants, coffee shops and taverns. Ghost stories are popular in Fells Point, such as the legend that Edgar Allan Poe haunts the Horse You Came In On Saloon, and the neighborhood offers several ghost tours among its list of walking tours.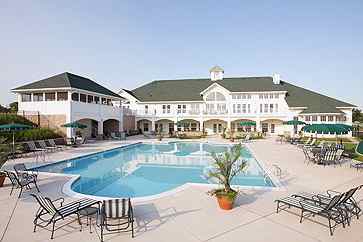 Carroll Vista is a lovely 55+ community by Del Webb within 60 miles of Baltimore, MD and Washington D.C.
Though the Inner Harbor accounts for most of the tourist business, Downtown Baltimore offers its own style with beautiful architecture, museums, performing arts venues, and other urban attractions. Baltimore's City Centre is the historic financial district and the location of most of the city's tallest buildings.
Mt. Vernon, the city's cultural district, contains attractions such as the Baltimore Symphony Orchestra, the Lyric Opera House and a thriving nightlife with varied bars, clubs and lounges. While active adults may find urban homes in areas like Westside Baltimore, Fells Point or Little Italy, they can also opt to live in suburban age-restricted communities.
55+ Communities Nearby
Active adult communities within 30 miles of the city include resort-style developments like Central Parke at Victoria Falls in Laurel and Heritage Harbour in Annapolis. Within an hour, other local age-restricted communities include Carroll Vista in Taneytown and Castlefield in Manchester. Whether you are coming for a visit or looking for a place to retire, the city of Baltimore is well worth the trip. This revitalized historic city has much to offer and its prime location is appealing to many East Coast active adult retirees.