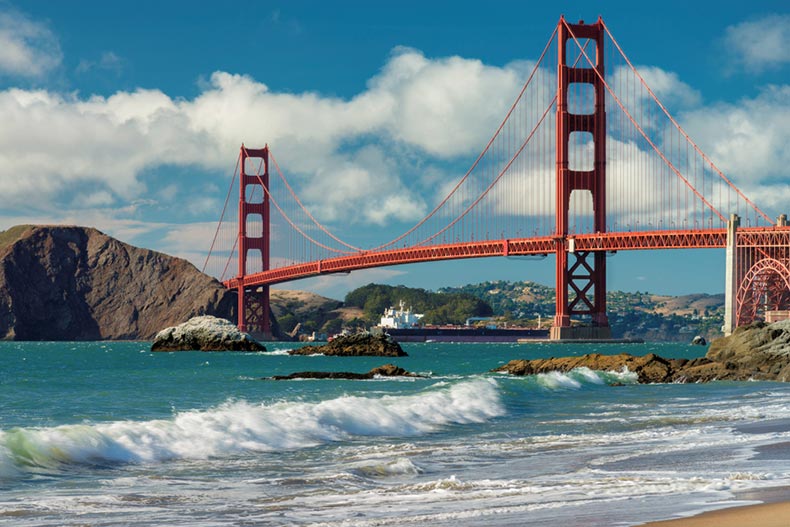 If you think living in California is full of sunshine, beach days, city adventures, and outdoor fun, you're right! Californians are never far from a host of fun day trips, iconic destinations, and outdoor adventures, whether that be a trip to the beach, a hike in the woods, a big-city adventure, or a ski trip in the mountains.
On average, there are 284 sunny days in Los Angeles, a whopping 79 more sunny days than the national average. And while Northern California gets a little more rain and fog than its Southern counterpart, temperatures throughout California remain mild and comfortable year-round. It's no wonder why the Golden State is such a desirable place to live.
Check out all of the fun adventures to be had in the beautiful state of California.
Awe-Inspiring National Parks
Tied with Alaska for having the most national parks, California boasts a total of 8 breathtaking national parks, including Yosemite—which is the most visited National Park in the country. Aside from majestic Yosemite, California is home to the famously scorching Death Valley National Park, the beautiful and remote Channel Islands National Park (off the coast of Santa Barbara), and the unique landscaping of Lassen Volcanic National Park, which is chock full of bubbling hydrothermal sites.
Check out the world's biggest tree in Sequoia National Park, and the majestic redwoods at Redwood National Park along the northern coast. Kings Canyon National Park in California's Sierra Nevada Mountains is known for towering granite canyon walls and giant sequoia trees, while Joshua Tree National Park is famously known for its high density of oddly formed desert trees (the Joshua Tree).
Beach Days
With 840 miles of coastline, California has no shortage of beaches. As one of the most well-known and popular beaches in the state, Coronado Beach in San Diego is home to the historic and iconic Coronado Hotel. Also in San Diego, Torrey Pines State Beach offers beachgoers 1,750 acres of natural reserve, full of trails to explore and pristine beaches to stroll. Venice Beach is known for its eclectic, casual Southern California beach city vibes, and Huntington Beach offers visitors perfect surfing conditions in the original Surf City U.S.A.
A little north in charming Carmel-by-the-Sea, Carmel Beach provides picturesque views. In Big Sur, visitors flock to Pfieffer State Beach, where the hike to see 80-foot McWay Falls pays off in a major way. In San Francisco, city goers enjoy Baker Beach with its breathtaking views of the Golden Gate Bridge.
Farthest north, Glass Beach in Fort Bragg is known for its smattering of polished glass pebbles along the beach (remnants of glass garbage dumped nearby, polished from years of ocean water, salt and sand.) And lastly, the iconic Santa Cruz Beach Boardwalk is a must when visiting Main Beach in Santa Cruz.
Destination Dining
From drive-thru's to white tablecloths and from taquitos to tempura, California's cuisine is as diverse and wide-ranging as its population. Some dining destinations are so iconic and sought-after, that the waiting list is months-long or the drive-thru line a steady 20-cars deep. Here are a few of the most sought-after dining spots in California.
One only needs to glimpse the iconic red palm tree-lined cup to recognize In-N-Out Burger, the California fast-food chain that's garnered a cult following. The menu may be basic, but the burgers, fries, and milkshakes continue to draw crowds for their delicious taste, consistent quality, and affordable prices. On the other end of the dining spectrum, Thomas Keller's iconic Michele-starred The French Laundry in Yountville, the heart of Napa Valley's Wine Country, still commands a months-long waiting list, even 25 years after it first opened.
Visitors from all over the world visit the annual Gilroy Garlic Festival in the "Garlic Capital of the World" to get a taste of the festival's famous culinary oddity—garlic ice cream. Many say it's actually quite good, although just one lick is enough for some. And no trip to the Golden State is complete without trying its delicious local Dungeness Crab, which is in season from November until early December.
In Southern California, Pink's Hot Dogs boast unique, delicious toppings, and they're named after celebrities and local points of interest, like the "Martha Stewart Dog" topped with relish, onions, bacon, tomatoes, sauerkraut, and sour cream. Another SoCal specialty is the fish taco—deliciously battered and fried and usually topped with a creamy sauce, a bit of lime, and shredded cabbage. Serving up some of the best (and original) fish tacos is Rubio's Coastal Grill, with multiple locations throughout the state.
Big-City Adventure
California is home to some of the country's most beloved cities, including San Francisco, a foodie and tech haven, and Los Angeles, the celebrity-spotting and shopping-extravaganza. San Diego offers sun-filled fun, with a world-famous zoo and historic Old Town.
Sacramento, the state's capital, is full of museums and beautiful parks, and San Jose offers residents and visitors diverse cuisine, high-end shopping and plenty of entertainment. Oakland boasts its own share of highly rated restaurants and amusements, including sports venues including the Oakland Arena, home of the celebrated Golden State Warriors.
Reno/Tahoe offers year-round amusements, including gambling, world-class skiing, and of course, gorgeous Lake Tahoe for fishing, boating, waterskiing, hiking, and kayaking. And down south in the Sonoran Desert, Palm Springs draws visitors due to its plentiful resorts, sunny warm weather, abundant outdoor recreation, and thriving shopping and dining scene.
These California destinations and adventures only scratch the surface of what there is to do and see in this beautiful state. There's fun and excitement around every corner, and one could take a lifetime to experience everything this state has to offer. It's truly a breathtaking, diverse, and exciting place to live.