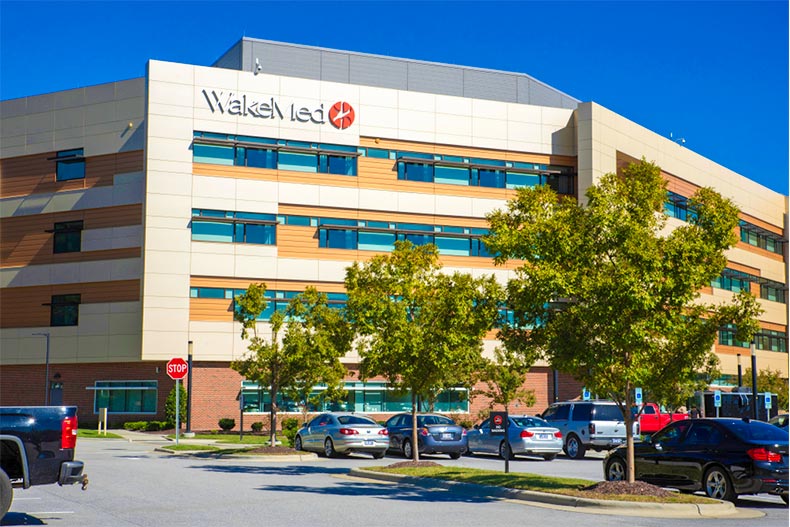 The Research Triangle area of North Carolina is renowned for its research and technology businesses that are leaders in their respective industries. It's also well known for its prestigious colleges—Duke University and the University of North Carolina at Chapel Hill—and their intense sports rivalries.
The area is made up of three metro areas, including Raleigh, Durham, and Chapel Hill. There are many reasons to consider relocating to the Research Triangle area, including its wealth of cultural amenities like performing arts theaters, art galleries, and historic museums, as well as the countless shopping and dining destinations to be found in each city's downtown districts.
Then there are the many health benefits that go along with living in the area that range from having some of the country's top medical facilities and universities nearby to the large amount of outdoor activity options available that make it easy for residents to stay physically fit, active, and healthy.
Nearby Medical Facilities
Wellness and health are a big part of life in the Research Triangle with four major medical facilities within its borders, including Durham's Duke University Hospital—which is consistently ranked as one of the best hospitals in the U.S., Chapel Hill's UNC Medical Center, Hillsborough's UNC Hospital, and the WakeMed Hospital in Raleigh.
Each of the medical centers specialize in different types of care, treatment, and research, covering a wide variety of healthcare needs.
Additionally, there are several wellness centers in the area. The UNC Wellness Center is a 52,000 square-foot center that features two fitness facilities that have more than 100 different pieces of cardiovascular and weight lifting equipment, a five-lane indoor pool, an indoor track, group fitness studios, and an indoor basketball court.
Beyond the extensive amount of workout equipment, there are many wellness services available like physical therapy, health education, personal training, and nutrition services.
The UNC Wellness Center at Northwest Cary is a 60,000 square-foot wellness facility with an expansive list of amenities to help visitors stay healthy. A sampling of amenities includes climbing and bouldering walls, an entire fitness floor with workout equipment, an aquatic area that's home to a seven-lane pool, and exercise studios. The facility's health programs range from health education programs and screenings to personal training and nutrition services.
Many Ways To Stay Fit & Healthy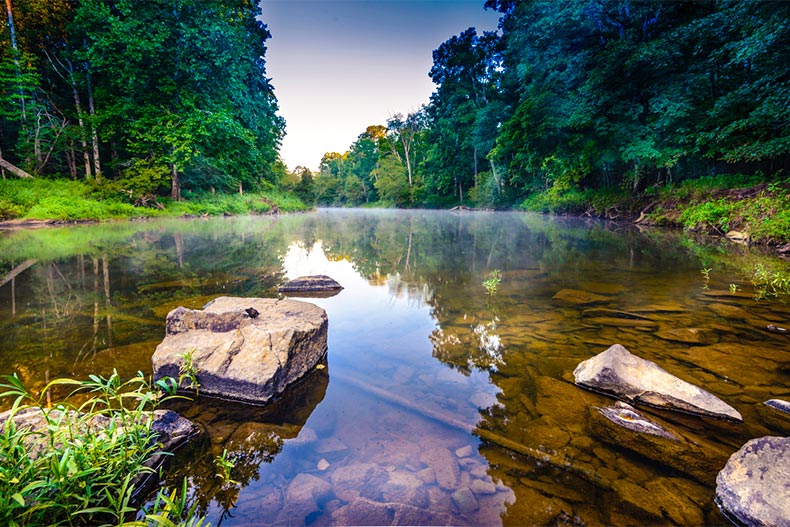 Eno River State Park is just one option when residents want to enjoy nature and stay active.
The area's wide variety of outdoor activities is another prominent wellness benefit that comes along with living in the Research Triangle. When it comes to staying fit and healthy there are countless ways to do so with a myriad of green spaces, exercise paths, plus, a multitude of hiking and biking options.
Here are four of the most popular ways to stay active.
American Tobacco Trail
The American Tobacco Trail is a 23-mile pathway that runs through Durham and cuts through a few of the city's surrounding counties. The trail is mostly paved and takes walkers and bikers on a scenic trip through forests and fields and past tranquil creeks and ponds.
Eno River State Park
Eno River State Park—also located in Durham—has 30 miles of trails that snake through serene forests along the Eno River and past a historic mill and homesites.
William B. Umstead State Park
Located only 15 minutes from Downtown Raleigh is the William B. Umstead State Park. It offers plenty of space to break a sweat and get in some cardio. The 6,000-acre recreation park features 22 miles of walking and hiking trails, 13 miles of mountain biking trails, and three lakes where guests can launch a canoe or rowboat rented from the park's visitor center.
Golf
For an active day out on the links there are a variety of options when it comes to both public and private golf courses for locals to choose from. Just in the Research Triangle alone there are more than a dozen highly-ranked courses.
55+ Communities
For active adults who are considering retiring to the Research Triangle for its many wellness benefits there are several notable 55+ communities to choose from that offer a wide range of housing options, amenities, and more.
In Durham there is the Creekside at Bethpage, Carolina Arbors, and Fendol Farms to consider. Then, there's also Chapel Hill's Encore at Briar Chapel, Chapelwood, and The Villas at Culp Arbor.
On the outskirts of Raleigh heading toward smaller towns there's Auburn Village and The Village at Aversboro both located in the town of Garner, and Carolina Preserve in Cary.