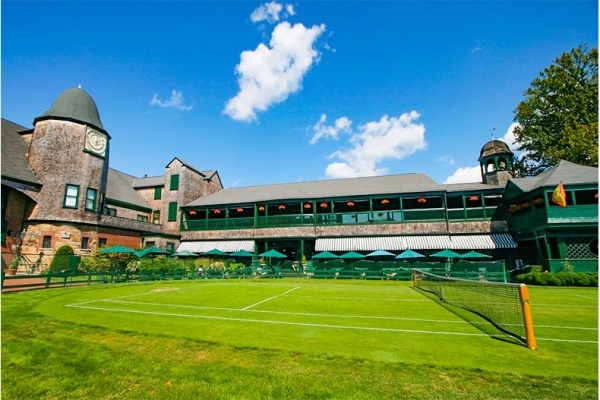 The Hall of Fame Tennis Club in Newport, RI features 13 historic grass courts.
Tennis fans know that we're in the midst of three of four of the sport's biggest tournaments. The French Open finished up a few weeks ago while the US Open begins in August. We're also just a week away from the beginning of The Championships, Wimbledon, one of the most unique Grand Slam event. Held at Britain's most famous tennis complex, Wimbledon is the only major tournament played on grass. While grass courts remain popular in the United Kingdom, the cost of their maintenance has relegated them to a handful of public resorts and private clubs in the United States.
We know that tennis courts are popular in 55+ communities. There are even a variety of styles, including Har-Tru and clay. One thing that's tough to find is a grass court. So, if you're looking for a grass court near your active adult community, where can you go?
Buckskill Tennis Club - East Hampton, NY
Don't let the location in the Hamptons fool you. Buckskill Tennis Club is a relaxed, down-to-earth club that is open to the public. Buckskill features three grass courts as well as six Har-Tru courts, and one DecoTurf court. The club limits membership numbers, which allow more opportunities for the public to live their Wimbledon dreams. Plus, its Long Island location means it's located near many active adult communities.
Nearby Communities
Saddlebrook Resort - Wesley Chapel, FL
Located just north of Tampa, Saddlebrook Resort is a public club that offers golf, dining, and spas. It also features two grass courts as well as two clay courts and dozens of Har-Tru courts. Besides public play, Saddlebrook Resort is home to the Harry Hopman Tennis Academy, open to both long-time players and beginners.
Nearby Communities
JW Marriott Desert Springs Resort - Palm Desert, CA
Known for its spas and golf courses, JW Marriott Desert Springs also hosts several tennis courts. Among them are two grass courts, three clay courts, and 15 hard courts. The courts are open to the public at modest rates. Players can also visit the tennis pro shop, or take in a clinic or lesson hosted by resort staff.
Nearby Communities
Hall of Fame Tennis Club - Newport, RI
Unsurprisingly, the largest selection of grass courts in the country is at the International Tennis Hall of Fame. Located at the Newport Casino athletic complex is the Hall of Fame Tennis Club. The historic club has hosted lawn tennis tournaments going back to 1891. It features 13 grass tennis courts as well as other amenitis for tennis lovers, including the Hall of Fame and several tennis pros on staff.
Nearby Communities
Make sure you're getting more content like this by following 55 Places on Facebook, Twitter, and Instagram.