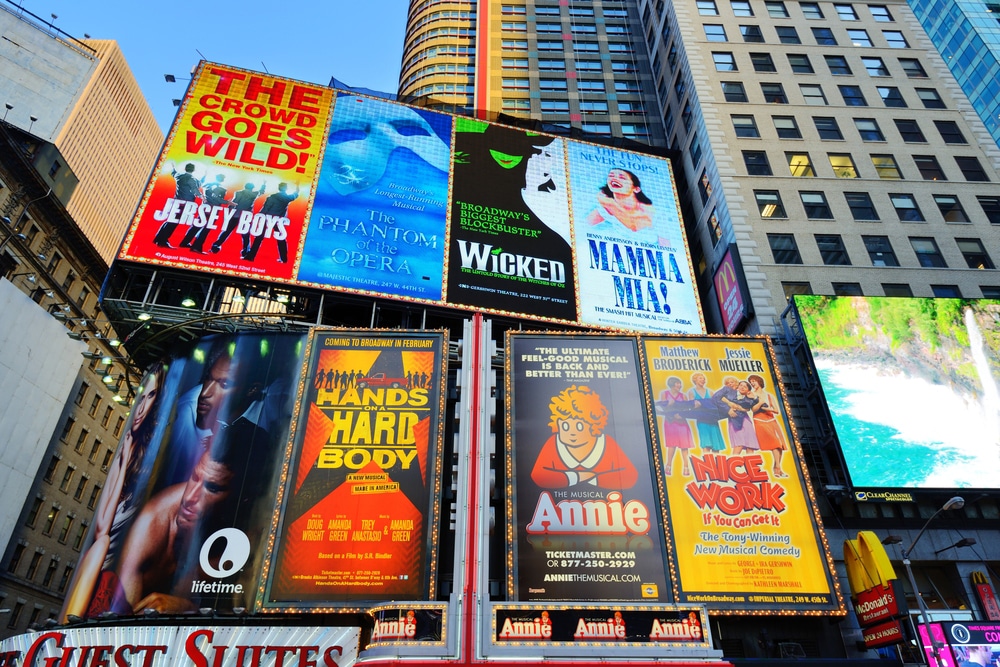 A night spent at the theater is a night spent immersed in a great performance free from the distractions of mobile phones, social media, and TV. It is, unfortunately, an all-too-rare pleasure for most in today's fast-paced, constantly connected world. With retirement comes the precious commodity of free time that allows ample opportunity to take in a show.
While New York City is still the capital of American theater and will likely remain so for the foreseeable future, there are great options available throughout the country, including many of the country's most-desirable retirement destinations. Whether you've tread the boards yourself or are just a devoted fan, you're sure to discover exciting and engaging performances close to home.
New York City, NY
It almost goes without saying that New York has one of the most active and vibrant theater scenes anywhere in the world. From the nearly 40 Broadway theaters clustered around Times Square to the smaller off-Broadway theaters, there can easily be hundreds of performances and events on a busy weekend night.
Long Island offers 55+ homebuyers easy access to the city's cultural attractions with a diverse range of housing from low-maintenance condos to luxurious single-family homes in over 30 communities.
Just across the East River in New Jersey, there is a wide variety of active adult communities. From smaller neighborhoods such as Four Seasons at Cedar Grove to expansive developments like Rossmoor Village, there are communities to suit any budget or taste.
Chicago, IL
The "Second City" is by no means second rate when it comes to the talent of its resident performers, writers, and stage crews. While the Loop's Goodman Theater rightly commands a great deal of respect and attention, other venues like the storied Steppenwolf Theater make Chicago a major player in American stage productions. Stand-up and improv comedy fans will also recognize Chicago as home to Second City and iO, which have been the stomping grounds for generations of famous comedians.
The Chicago-area is a major transportation hub with excellent rail and highway connections, making it easy to enjoy the excitement of the city while enjoying peace and quiet in the suburbs. Sun City Huntley and the Carillon Club in Naperville are just two examples of the many 55+ communities in the area that offer wonderful amenities and locations convenient to both commuter rail service and highways leading toward Chicago.
Atlanta, GA
This sprawling metropolis and surrounding area are home to nearly half a million people, all with diverse tastes and interests, especially when it comes to the arts. Due to generous subsidies for film and TV production companies, Atlanta has a higher-than-average proportion of people involved with the stage and acting business. A lively regional-theater scene has flourished at venues like The Fox Theatre, The Alliance, and the Horizon Theatre Company.
Among the huge variety of active adult communities in the region are large developments like Sun City Peachtree and Village at Deaton Creek, as well as more intimate communities like The Orchards of East Cherokee or Brookhaven of East Cobb.
Minneapolis Area, MN
Minneapolis boasts the second-most theater seats per capita in the country, coming in just behind New York City. This—combined with generous government and individual support of the arts—makes the Twin Cities an exciting, if somewhat unexpected, Midwestern hub of the performing arts.
It is nearly impossible to miss the dramatic Guthrie Theater along the Mississippi River, which serves as the theater community's flagship performance space. Minnesota Fringe Fest welcomes 50,000 theater fans annually with 800 performances over 15 stages that celebrate some of the most unique voices in contemporary theater.
While Minnesota might not be on top of every retirement hotspot list, the rewards of living in this great metropolitan area can easily outweigh a few chilly months every year. Villas at Rush Creek and Cross Croft at Evermoor offer great low-maintenance living, convenient locations, and exceptional value to homebuyers looking in Minnesota.