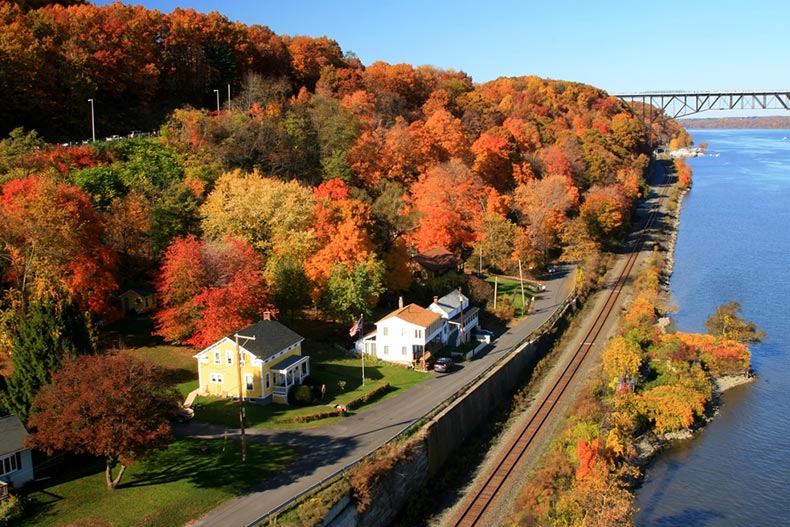 Home to the legendary Hudson River Valley, the Catskill Mountains, and inspiring cities like Albany, Eastern New York offers a world of opportunity for active adults seeking an idyllic retirement. This region is known for its scenic natural beauty, and Congress designated it as a National Heritage Area in 1996. Its 10 counties stretch out 150 miles from Yonkers and New Rochelle up to Troy, and they're filled with spectacular scenery, museums, rivers, restaurants, shopping, and historic landmarks.
New York City is also a mecca for top-tier hospitals, but Eastern New York is no slouch in this regard. U.S. News lists 45 hospitals here, including top-ranking Orange Regional Medical Center in Middletown and Vassar Brothers Medical Center in Poughkeepsie.
Even if you choose to live in the farthest points of Eastern NY, you can still get into New York City in under three hours. Once you leave the Big Apple, the highway opens up and you'll be surrounded by mountains and wide expanses of undeveloped land. This part of the state is less congested and more peaceful, but you'll always have the option of heading into the city to see a show, tour the museums, or spend a long weekend.
Cost of Living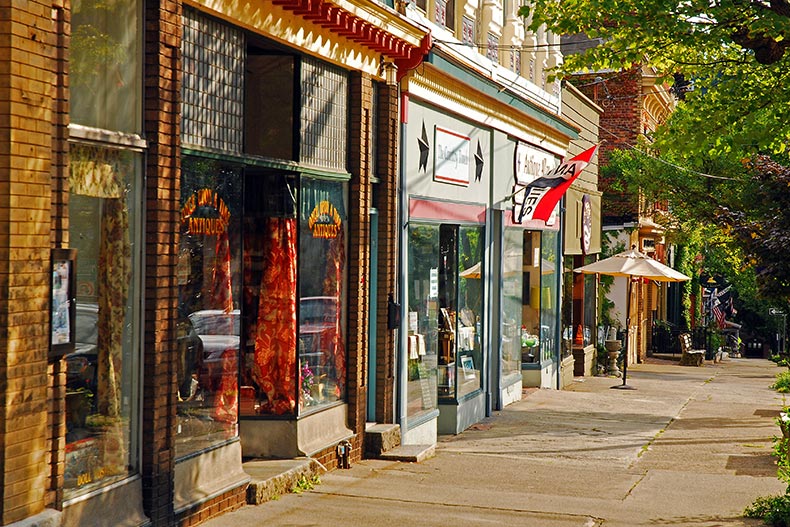 Eastern New York is close to the Big Apple, but you can find affordable 55+ communities with homes for sale. (Image credited to James Kirkikis / Shutterstock.com)
Since NYC is the largest and probably the most expensive city in the country, it drives up the whole state's overall cost of living. Eastern New York is close to the Big Apple, but you can find affordable 55+ communities with homes for sale starting in the mid-$200s. On the opposite end of the spectrum, neighborhoods like Christie Place in Scarsdale have price points ranging from the mid $800s to the high $1Ms. No need to worry though; there are 18 more retirement communities priced somewhere in between.
Property taxes and income taxes generally run higher than the national average in Eastern New York, and the state sales tax is four percent. Retirees do receive some tax breaks though, as the state doesn't tax on:
Social Security
civil service pensions
military pensions
New York State or local pensions
up to $20,000 of qualified pensions for those ages 58 and up
Places to Explore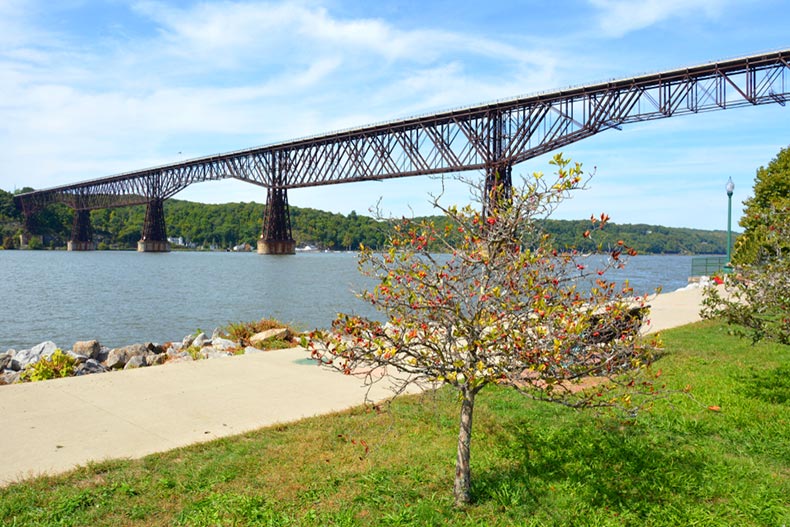 The Hudson Valley is named after Henry Hudson, who sailed the river in 1609. One of the area's best-known landmarks is West Point, the beautiful U.S. Military Academy and museum in Orange County. Other historic points of interest include the Rockefeller family home Kykuit and Stony Point Battlefield Historic Site & Lighthouse.
Eastern New York also has plenty of exciting attractions for active adults to visit. A famous one is the Walkway Over the Hudson, the longest elevated bridge in the world that's designed specifically for pedestrians, cyclists, and people with disabilities. You can also enjoy a minor league baseball game at Palisades Credit Union Park in Pomona, take a cruise on the Hudson River, or visit any of the countless museums, galleries, shopping centers, or parks. And if you appreciate wineries, breweries, and distilleries, check out the Hudson Valley Wine & Craft Beverage Map.
Travel Concerns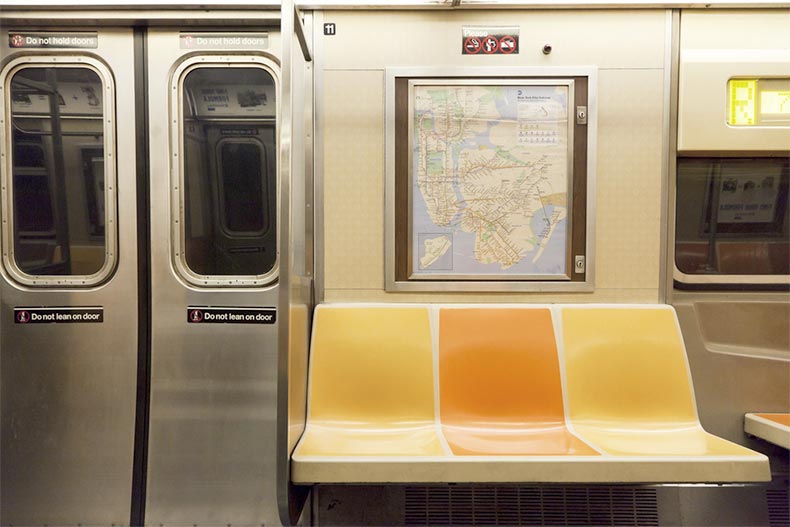 Depending on which 55+ community you pick, you could be close to the New York City area airports. Otherwise, Albany International Airport, Stewart International Airport, and Westchester County Airport are in the region.
Amtrak also provides service from Penn Station in NYC and throughout the Hudson River Valley, making stops in Albany/Rensselaer, Croton, Hudson, Poughkeepsie, and Yonkers. Additional trains are provided by the Metropolitan Transportation Authority (MTA), with 43 stations in the region.
Community Spotlights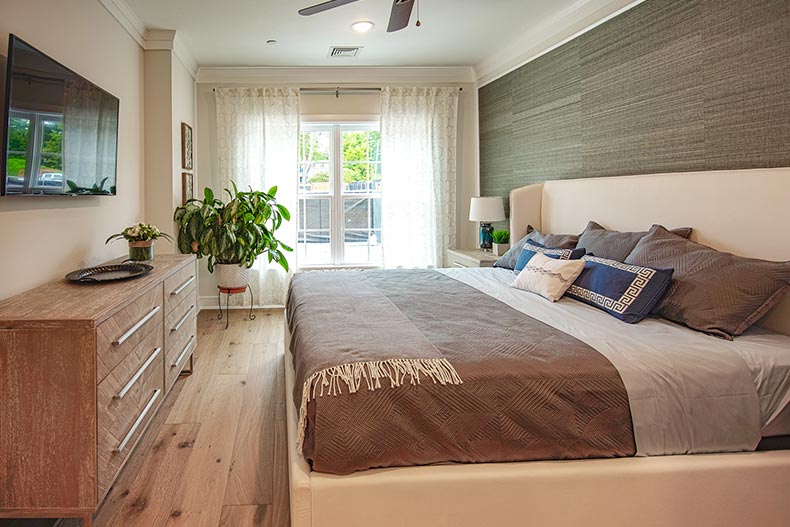 If you think that Eastern NY could hold the key to your happy retirement, now is the time to consider the possibilities. To get you started, here are a few 55+ neighborhoods we think you might like.
High $200s - Low $300s
Located in Putnam County, Stoneleigh Woods at Carmel is a private, gated active adult community that will have 68 attached new and resale homes when completed. The four models range from 1,343 to 1,519 square feet with two bedrooms, two baths, and out-front parking. The welcoming clubhouse has a catering kitchen, a great room, and a fireplace.
Request more information about Stoneleigh Woods at Carmel here.
High $300s - Low $600s
The Residences at Butterfield is also in Putnam County, and it's perfect for downsizing. Plans call for 49 condo homes with 16 floor plans ranging from 905 to 1,415 square feet. These come with one to two bedrooms, one to two bathrooms, balconies or patios, and indoor garage parking. There's no clubhouse, but this gracious community is just outside of the beautiful Hudson Highlands.
Request more information about The Residences at Butterfield here.
Low $200s - Mid $200s
Brandle Meadows is also on the smaller side, with 72 resale condo homes built near Albany from 2008 to 2012. These comfortable units range from 1,320 to 1,896 square feet, with two or three bedrooms, two bathrooms, and covered parking. Homeowners have use of the community clubhouse, which has an exercise room and gathering area. Outside, you can find the heated outdoor pool, community gardens, a putting green, and a nature trail.