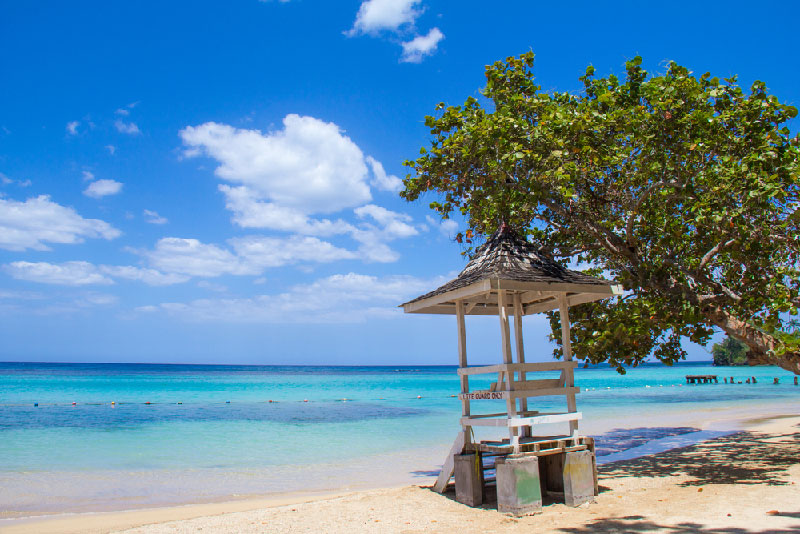 While active adults may love children, they don't necessarily want them around on their vacation. Whether planning a romantic vacation for two or a fun vacation for a group of adult friends, adult-only resorts will let you enjoy your time away without listening to crying toddlers or the pitter-patter of little feet. If that sounds like your idea of paradise, you may want to try one of these great adult-only travel destinations.
Riviera Maya - Mexico
The Riviera Maya refers to a coastal resort area that stretches along the eastern edge of the Yucatan Peninsula. This area runs from the city of Playa del Carmen south to the village of Tulum, although the Cancun area is included by some. Offering spectacular beaches along miles of azure sea, the Riviera Maya draws millions of tourists each year. There are many adult-only boutique resorts within the Riviera Maya including the all-inclusive El Dorado Seaside Suites. This luxury resort offers jacuzzi suites and gourmet restaurants and bars, including three swim-up bars. Live shows and many activities are available daily, as are amenities such as shops and a full-service spa.
Ocho Rios - Jamaica
The beautiful town of Ocho Rios lies on the north coast of Jamaica. As a popular port of call for cruise ships, Ocho Rios caters to visiting tourists. The famous Dunn's River Falls in Ocho Rios is one of Jamaica's natural treasures, as is Fern Gully, a four-mile long rocky gorge which is home to over 500 species of ferns. Built in the 1950s, Sandals Royal Plantation continues to be one of Ocho Rios most exquisite adult-only resorts. This amazing resort sits on a bluff 25 feet above the Caribbean offering breathtaking ocean views from each suite. A plethora of activities and restaurants complete the luxury resort experience.
Punta Cana - Dominican Republic
As the easternmost province of the Dominican Republic, Punta Cana is known for its spectacular beaches which face both the Caribbean and the Atlantic Ocean. These world-famous beaches boast many luxury resorts, including the adult-only paradise Iberostar Grand Bavaro. This all-inclusive getaway lets vacationers participate in its many activities or spend their days relaxing in peace. Entertainment includes a thriving nightlife, gourmet dining, swimming pools with swim-up bars, beach volleyball, and a full-service spa. The variety of all-inclusive options allows guests to enjoy their vacation their way.
Galley Bay - Antigua
The luxurious Galley Bay Resort sprawls across 40 acres of Antigua's lush west coast. Surrounded by dense tropical forest and a three-quarter mile long beach, this all-inclusive resort blends seamlessly with its exotic environment, becoming a world of its own. Euro-Caribbean cuisine is featured in the gourmet restaurants, and a full menu of indulgences is offered through the full-service spa. An array of activities are available, such as snorkeling, kayaking, biking, tennis, hiking, and beach volleyball. Vacationers can also take in the sights with a stroll around the bird sanctuary lagoon or a swim near the waterfall in Galley Bay's freshwater pool.
Malabar Beach - St. Lucia
Located northwest of Barbados and south of Martinique, St. Lucia's sunny tropical climate and beautiful beaches draw tourists from around the world. Active adults will find that Malabar Beach strikes a comfortable balance between St. Lucia's more secluded beaches and the other bustling beaches found throughout the Caribbean. Malabar Beach Club is an adult-only, couples-only luxury resort designed for romantics. While the staff at some adult-only hotels can be intrusive with their efforts to encourage fun, guests at Malabar Beach Club are afforded the privacy to relax and enjoy their time together, whether over a candlelit dinner or a moonlit stroll along the beach.