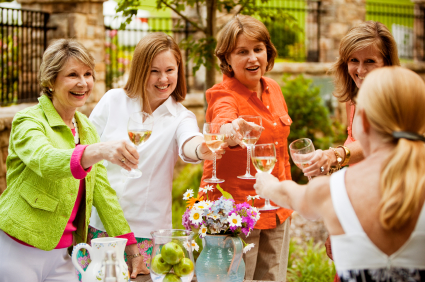 While many active adult communities feature fun and challenging golf courses, there's a lot more to retirement than spending a day on the links. Moving to an active adult community makes it easy for residents to get to know their neighbors through a wide variety of classes, clubs, parties and special events.
Here are just a few of the popular activities found at active adult communities across the country:
Brunches and dinners
Planned breakfasts, luncheons and dinners are a common occurrence in many communities. These might include regular Sunday brunches, afternoon teas or potluck dinners. They may be open to the whole community or organized by different social groups.
Movie nights
Communities which have their own theaters, or media rooms with big screen TVs, often arrange community movie nights. Some fun ideas are to schedule weekly movies with a monthly theme or let residents vote for which movies to screen.
Special-interest clubs
There's no end to the variety of special-interest clubs available in active adult communities. Just a few popular club topics include book discussion, wine tasting, walking, card games, billiards, travel, arts and crafts, performing arts, political discussion and volunteering.
Group fitness classes
Working out is more fun with a buddy or regular group classes. Active adult communities often feature fitness classes designed to appeal to many residents. Popular classes include water aerobics, yoga, Pilates, Zumba and tai chi.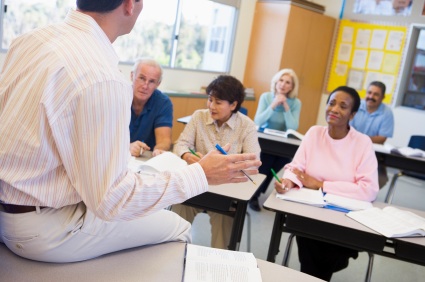 Many active adult communities support continued education with seminars, classes and workshops.
Educational classes
Healthy living includes exercising the mind as well as the body. Many communities offer on-site lectures series, workshops and lifelong learning classes. Residents may learn a new hobby, like photography or painting, or enhance their lifestyle with a class on healthy cooking or personal finance.
Picnics and barbecues
Warm, sunny days are the perfect time for community picnics or barbecues. Many communities offer spacious clubhouse patios, covered pavilions or large event lawns where picnickers can gather. Poolside parties can also be a hit during warm summer months.
Group travel and outings
Community travel clubs offer a great way to find companions for weekend getaways, cruises, extended vacations or overseas adventures. Closer to home, residents can also plan group outings to concerts, plays, movies, amusement parks, outlet malls or other local attractions.
Games and tournaments
Friendly competition can be a lot more fun with an organized tournament or weekly game. Popular activities include bridge, poker, mah jongg, bingo, dominos, billiards, ping pong and bocce ball. Sports courts also provide space for tennis and pickleball matches, basketball games and more.
Seasonal parties
When holidays roll around, parties are a great way for residents to celebrate and get to know their neighbors. Parties can celebrate big holidays, like Christmas, New Year's Eve and the Fourth of July, as well as other seasonal events like spring concerts or harvest festivals.
Community management
Residents who like to be more involved in their communities may want to help with its management. They can run for a position on the homeowners' association board, head up a community committee or volunteer to organize special events or activities. There's no "right way" to enjoy an active adult lifestyle. Resort-style communities offer a wide range of classes, clubs and activities, stretching far beyond the joys of golf.