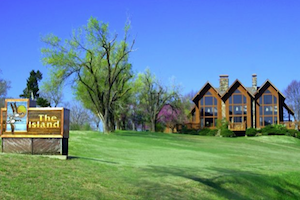 Located in Northern Arkansas, Holiday Island is open to residents of all ages, but perfect for active adult retirees. This scenic community offers resort-style living with an amenity-rich recreation center, as well as the Holiday Island Country Club. Residents can enjoy golf, fishing, boating, tennis, pickleball, shuffleboard and much more.
Holiday Island opened in 1970 with plans for approximately 5,000 homes. The community is set alongside the 53,000-acre Table Rock Lake, in an area featuring wooded hills and rocky shores. Its location puts residents within minutes of Eureka Springs, Arkansas, and within an hour of Branson, Missouri. The area is a popular vacation destination, as well as a beautiful place to enjoy a tranquil retirement.
Home-styles at Holiday Island
Upon completion, the Holiday Island community will include attached homes and single-family designs in styles created by multiple builders. These residences range from secluded cabins to spacious waterfront homes, yet floor plans and exterior designs vary widely throughout the community. Homesites throughout Holiday Island showcase the community's scenic beauty.
Lots may overlook bluffs, water or the lush golf course. Some homes even have quiet, island settings. Homes at Holiday Island are designed by multiple builders, including Rockwood Homes, B-Squared Construction and Ozark Mountain & Lake Log Homes. Floor plans typically feature two or three bedrooms, and two or three bathrooms, while some homes also come with garages.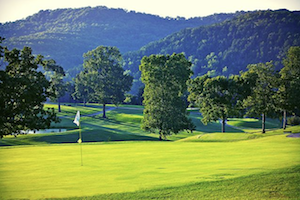 Breathtaking views create a beautiful backdrop for exciting golf at the Holiday Island Country Club courses.
Social and recreational amenities are largely settled around the Holiday Island Recreation Center. The facility has a fitness center, a spacious multi-purpose room and plenty of space for special-interest group meetings. Social clubs and activities cover many topics, including arts and crafts, cards, gardening, genealogy, hiking, line dancing, photography, quilting, tai chi, and tennis.
Outdoor activities are a popular aspect of life at Holiday Island. The community features two swimming pools, a picnic pavilion, fishing lakes, a boat launch, a playground for visiting grandkids, parks and natural areas, parking for boats and R.V.s. Sports courts also let residents enjoy competitive activities such as tennis, pickleball, basketball, shuffleboard, softball, and miniature golf.
The Holiday Island Country Club focuses more on golf, featuring an 18-hole championship golf course and a 9-hole executive course. There are also practice facilities, including a driving range, a golf pro shop, two multi-purpose rooms and a spacious ballroom.
Residents can also mingle with neighbors or share a meal at the Holiday Island Grill. For community parties and events, Holiday Island offers The Barn as well. This rustic facility features a large multi-purpose room and a catering kitchen, providing the ideal space for many different community activities.
Active adults who want vacation-style living in a mountain retreat will love the scenic beauty of Northern Arkansas' Holiday Island. For more information on this community click here: Holiday Island - Holiday Island, AR