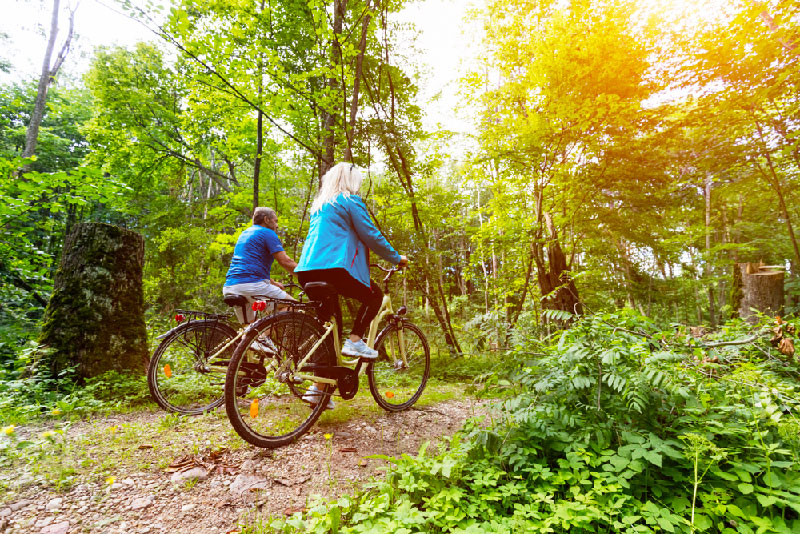 Northwest Arkansas has recently turned into a biker's haven.
When you think of the places in America where cycling has taken off as a way to commute or just get around, you usually think of big, urban cities. However, you might be surprised to find out that Northwest Arkansas, has become a haven for those who want to cycle everywhere they go.
Turns out, you can thank Walmart.
Federal Grants
Per a recent report by CityLab, this regional biking boom is thanks to a collection of federal grants as well as resources provided by the Walton Family Foundation, which is led by the children and grandchildren of the founders of Walmart, whose headquarters is located in Bentonville. Thanks to $74 million worth of investments in local trails, the region now boasts almost 350 miles of shared-use and mountain trails as well as over 130 miles of paved paths.
According to a trail usage report from the Walton Foundation, the average number of cyclists that use these paths during the week increased 32 percent between 2015 and 2017. They also estimate that the average number of bicyclists who used these trails each year grew from roughly 67,700 to 83,700. If true, that's a denser cycling volume than some big cities (though the overall number of cyclists is still much lower).
Cycling has taken off so much here that Northwest Arkansas now has two officially recognized Bicycle Friendly Communities, Fayetteville and the region of Benton and Washington counties.
Active Lifestyle Communities
Active adults who want the opportunity to get on their bikes and explore these areas might want to consider checking out Arbors at Deer Crossing in Bentonville and Arbors at Pinnacle Ridge in Rogers.
Both active lifestyle communities are around a 20-minute bike ride to the Razorback Regional Greenway, a 36-mile stretch of trails that connects many of the local towns, their arts and entertainment districts, the University of Arkansas campus, and more.
Even if you don't want to hop on your bike every day, both communities feature clubhouses with exercise rooms as well as outdoor pools and sports courts, so you'll be able to stay active and have fun no matter what.