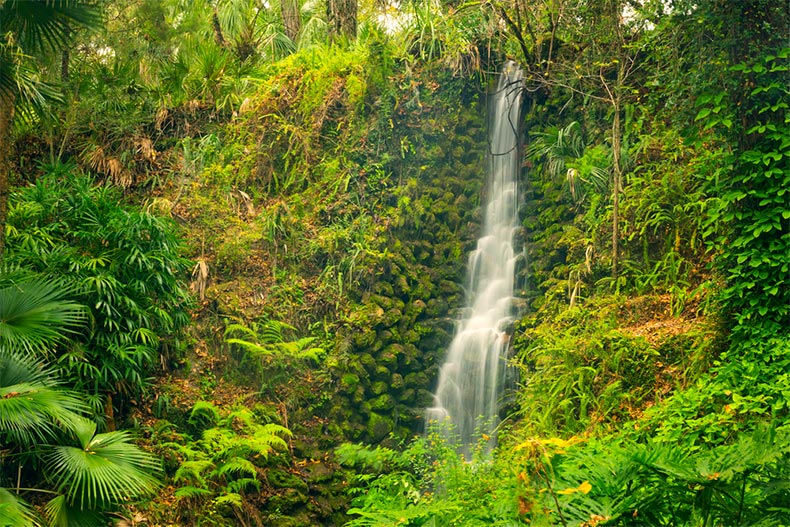 Those who flock to the Florida coasts have their reasons but not everyone is a beach person. If you prefer nature and wildlife, small towns and emerging cities, and you don't want to give up year-round sunshine, Central Florida may be the perfect place to call home. Quite a few fun, affordable 55+ communities can be found from Ocala to Sebring, including Spruce Creek Country Club in elegant Summerfield and Lakes of Mount Dora in picturesque Mount Dora.
In Central Florida, you're never more than an hour from both the Gulf Coast and the Atlantic Ocean. Outdoor recreational opportunities abound when you stay inland, too. Take advantage of the sunshine and the landscape with these ideas for staying active.
Highland's Hammock: One of Florida's Oldest State Parks
Just west of Sebring, Highland's Hammock offers enough recreation to keep visitors busy for weeks. This is one of the earliest projects of the Civilian Conservation Corps, and the land was purchased by local environmentalists in the late 1920s who were concerned that it would be turned into farmland. The park provides an opportunity to see what Florida looked like before highways, real estate, and a stunning population explosion.
At the park, you can hike one of the nine nature trails, bike, camp, ride horses, go birding, or take a tram ride through the dramatic and diverse ecosystem. There are plenty of opportunities for wildlife viewing and nature photography. There's a good chance of spotting a black bear and perhaps a Florida panther. Visitors can walk on a boardwalk over a cypress swamp, identify ferns and wildflowers, and then stand in wonder at the foot of a 1,000-year-old cypress tree.
Outdoor Orlando: More Than Theme Parks
For most people, Orlando is synonymous with theme parks like the Magic Kingdom, Epcot, and Universal Studios. Those are fun and should certainly be visited, but there's more to Orlando than meets the mouse ear.
Visit Leu Gardens for a taste of Florida's botanical genius. Each garden focuses on different types of plants and flowers, and there are often outdoor concerts and movie nights. For outdoor festivals, fairs, and parades check out Lake Eola in Downtown Orlando. There's always something going on at the park, and you can rent a swan boat to paddle around the lake. In nearby Kissimmee, you can watch the Houston Astros play their spring training games. At Orlando Wetlands Park in Christmas, you can hike the Egret Trail or stroll down Bobcat Way.
Horsing Around in Ocala
Ocala is horse country, and while a drive along the rolling horse farms is pretty enough, you'll soon want to saddle up yourself. Schedule a horseback riding tour that's self-guided or led by a professional. You can gallop through an open field, stick to a scenic trail, or map your own course with the help of equestrian experts.
Also in the neighborhood is Ocala National Forest, the country's southernmost forest and the world's largest pine scrub habitat. It's an excellent place to hike, kayak, canoe, snorkel, ride horses, and camp. Four of the wilderness areas in the forest are protected and inaccessible, but the visitor's center will provide maps of trails, springs, and campsites that you are welcome to use.
Soak up Some Springs
If your idea of outdoor recreation is tubing down a river, get yourself to Rainbow Springs in Dunnellon. You can also paddleboard, kayak, canoe, and even swim and snorkel in the natural springs that empty into the Rainbow River.
Nearby Apopka also has a natural spring that invites swimming, snorkeling, and soaking. Wekiwa Springs is not far from Orlando, and there are also opportunities for fishing and boating in the Wekiwa River. Hiking trails circle the springs so be prepared to share your swimming hole with herons and egrets.
Athletics at Any Age
Active adults who enjoy golf, tennis, shuffleboard and other sports will be pleased with the availability of athletics in Central Florida. The Club at Eaglebrooke in Lakeland is great for golf if you don't mind a challenging course, and Highlands Reserve in Davenport offers a pristine course that's not far from Del Webb Orlando, one of the most desirable 55+ communities in central Florida.
Play some shuffleboard at Lake Parker Park in Lakeland, and while you're there, take a walk along the water, where you'll see migrating waterfowl and the pretty purple gallinule. Just around the corner is Joker Marchant Stadium, where the Detroit Tigers spend their springs.