Another summer means it's another chance for 55places to find the best 55+ communities in the country. Every year, we look at the communities generating the most buzz, selling the most homes, or providing the most value, but what happens when we combine those all together?
This year, to find the 55 best 55+ communities in the country, we looked at more data than ever to find out where home seekers are looking and buying, what long-term homeowners think about their community, what the surrounding area provides, and what each community offers in terms of homes, amenities, and lifestyle.
To do this, we looked at hundreds of 55+ communities across the country for their median home price, amount of homes sold in the last 12 months, the variety of home styles offered, the number of amenities offered, and how many clubs, classes, and events they host. On top of that, we looked at the surrounding area of each community and what they offered, including analyzing Gallup's Wellbeing Index.
Besides an updated methodology, this year's list features a good mix of long-standing favorites, up-and-comers, and some big risers compared to last year's list. As the ever-changing world of 55+ communities continues to grow and evolve, it's always a good idea to step back and take stock of where we are and where we're going.
Here are the 55 best 55+ communities of 2020.
Below $100k – Low $400s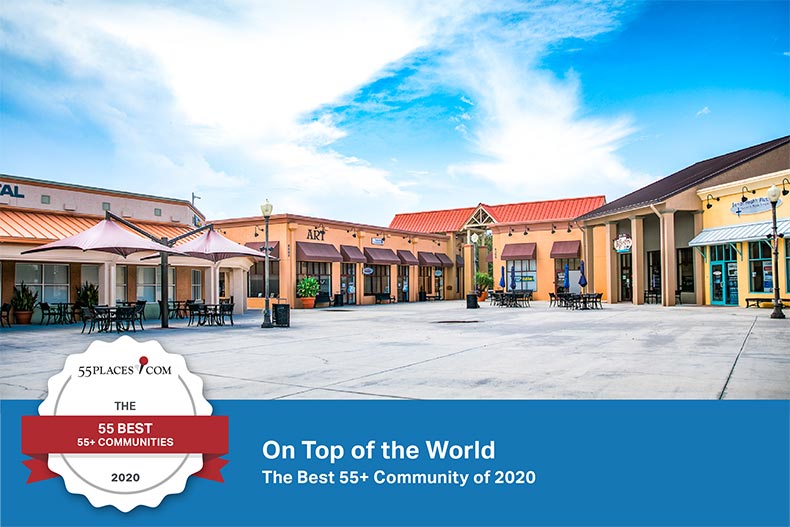 If you've been following along with past awards by 55places, this should be no surprise. Over the last several years, On Top of the World has been consistently considered the best 55+ community in the world. It topped out at No. 1 on last year's 55 Best 55+ Communities list, sold the most homes for 2019's best-selling list, and claimed our Community of the Year award in 2019.
There are several reasons for On Top of the World's continued success, including a wide variety of home styles, affordable home prices, a low cost of living in Ocala, a varied selection of amenities, and the constant attempts to improve. The last few years have seen major renovations to the community's golf facilities and the Arbor Fitness Club.
Click here to request more information about On Top of the World.
High 100s – High $1Ms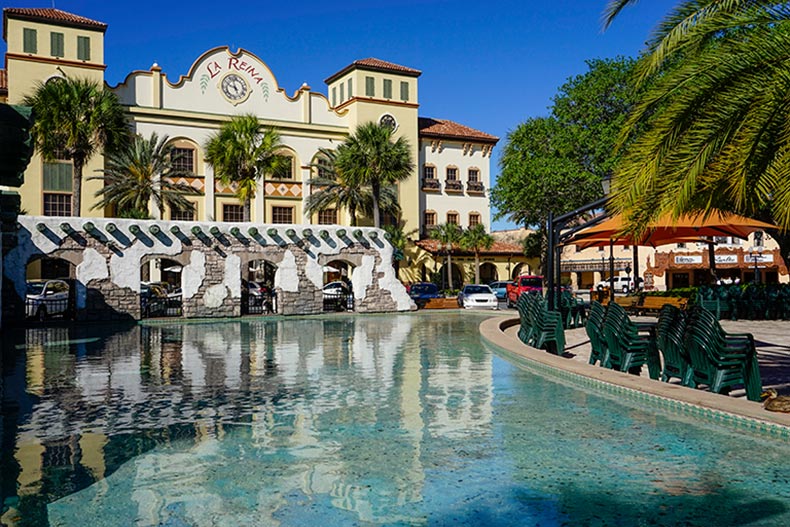 Even if you're not familiar with 55+ communities, you've likely heard of The Villages. While not everything you hear about The Villages is good, there are plenty of myths and rumors that can be busted about the popular community. As the largest 55+ community in the country, The Villages operates more like its own large town than a traditional community.
Also, there's no need to drive a car to visit the hundreds of restaurants, shops, and other entertainment options. The Villages is one of, if not the most, golf-cart friendly towns in the country. Your only issue here is deciding each day how you want to spend it.
Click here to request more information about The Villages.
Mid $100s – Mid $500s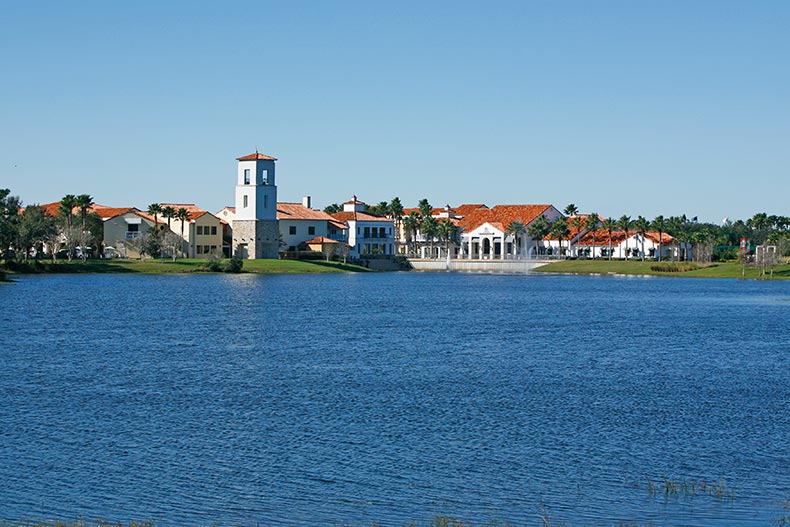 Solivita is a perennial top 10 finisher among 55places awards, but this year, it's really making waves. Nestled on the outskirts of Kissimmee, Solivita is surrounded by protected natural areas, parks, and lakes, but it's still just a short drive away from downtown Orlando, making it a great option for those who have grandkids visiting frequently or who just enjoy a night out.
It's distinctly the largest 55+ community in the Orlando area, with several amenity complexes and plans for 5,900 attached and single-family homes upon completion. In a single day, Solivita homeowners can get in a game of pickleball, relax by one of the many pools, enjoy a cooking demonstration, then grab a meal at The Grille at Stonegate in the Stonegate Golf Club. Even with Orlando's many great 55+ communities, Solivita remains the premier community in the area.
Click here to request more information about Solvita.
Low $200s – Low $500s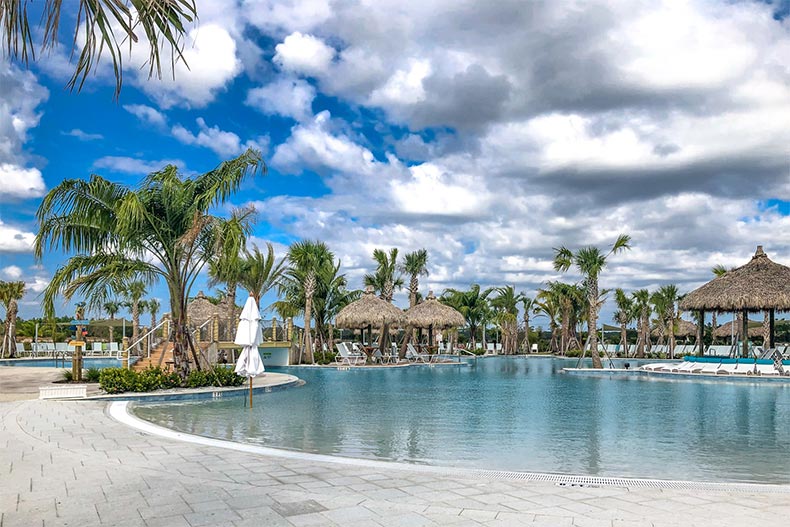 Rounding out the Florida communities in the top five is none other than Latitude Margaritaville. Since it was first announced in 2017, Latitude Margaritaville has changed what we know about 55+ communities. Inspired by the music and lifestyle of Jimmy Buffett, the community doesn't just offer residents a new home, it offers a lifestyle like none other.
Three years on from the announcement, the community has seen its first amenities open up in the last 12 months, including the Town Square which features a restaurant, bar, fitness center, resort-style pool, bandshell, and more. The community is also making headway on its private beach house, which will soon allow for homeowners to be shuttled to their own private section of the Atlantic Ocean shore.
Click here to request more information about Latitude Margaritaville.
Low $200s – Low $1Ms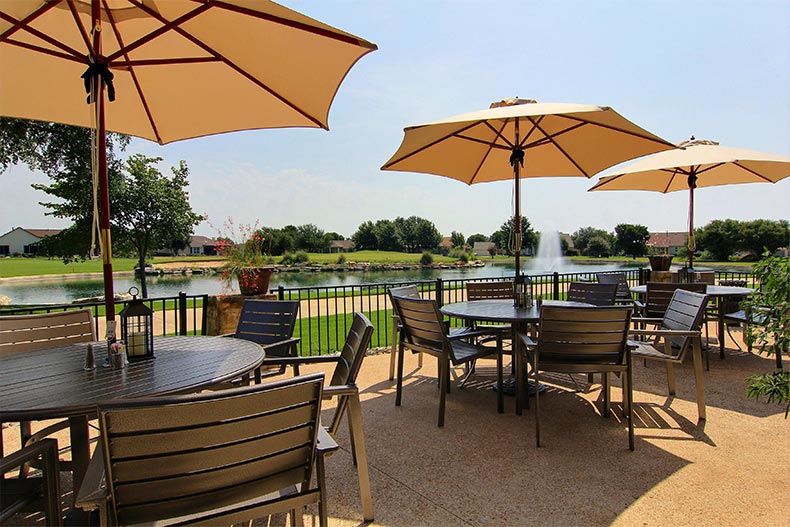 The first non-Floridian community to make this year's list is Sun City Texas. Why wouldn't the largest 55+ community in a state where everything is bigger be the best? Located north of Austin, Sun City Texas offers a prime location and resort-style amenities. The community has several dozen attached and single-family floor plans as well as a wide price range, making it easy for buyers to find their ideal place.
There are two large amenity complexes in the community, both of them offering almost endless activities. This includes three 18-hole golf courses, four outdoor pools, nine miles of trails, six pickleball courts, gardening plots, a dog park, and so much more. That's not to mention two of Texas' most popular cities are just a drive away. What more could you need?
Click here to request more information about Sun City Texas.
Mid $100s – High $500s