The history of Major League Baseball spring training actually begins in Arkansas, if you can believe it. The modern version of what we consider spring training began in 1914 when the Chicago Cubs and Cleveland Indians decided to spend their training period in Florida before the regular season. Pretty soon, all the other MLB teams followed.
That is until former Cleveland Indians owner Bill Veeck decided to train his squad in Tucson, Arizona in 1946. The New York Giants soon followed and the Cactus League was officially born.
In 1952, the Chicago Cubs became the third team to play their preseason in Arizona when they moved to Mesa's Rendezvous Park. It was the start of spring training in Mesa, a tradition that hasn't abated yet. Many teams and multiple stadiums have come and gone but today you'll find two of each to enjoy every February and March before the regular season rolls around.
Hohokam Stadium - Mesa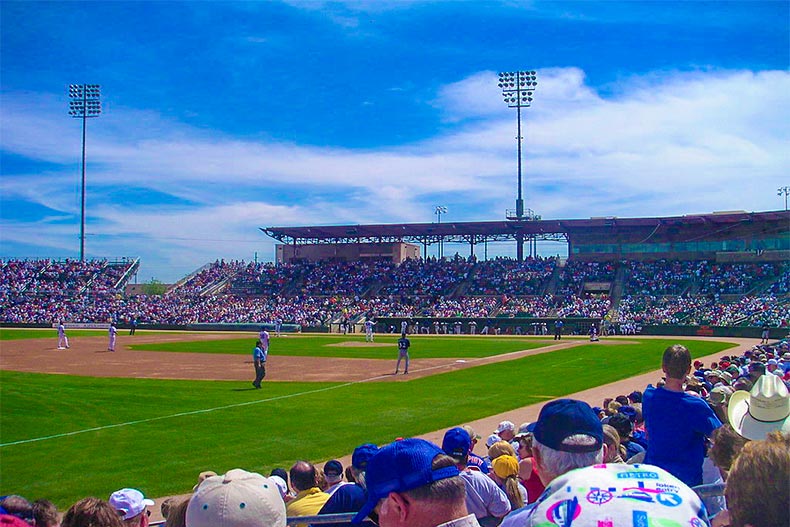 The A's have been playing in Hohokam Stadium since1997. (Image via Wikipedia)
This Hohokam Stadium is actually different from the one that was here back in 1976. The original field was built in 1976, just east of the site of today's version. Built in 1997, the new Hohokam Stadium, which also goes by Dwight W. Patterson Field, has spent time as the spring training home of both the Oakland Athletics and Chicago Cubs. The Cubs called the stadium home from 1997 to 2014 and the A's, who had previously played in the original Hohokam Stadium, moved in during the 2014 season and remain the main attraction today.
Today, the 10,500-seat stadium not only boasts great views of the surrounding mountain ranges but also includes the largest scoreboard in the Cactus League. And given the green and gold colors are strewn throughout, there's no denying that this is the home of the A's, at least for a few months a year.
Game Schedule
Hohokam Stadium is the site of the first game of the 2019 Cactus League season as the A's host the Seattle Mariners on February 21. In total, the A's will play 12 times in Mesa during spring training between then and March 13. Some of those games are split squad, which means one half of the team will play there while another half may be playing elsewhere or traveling. The A's also visit the Cubs at Sloan Park in Mesa on February 28. From March 17-21, the A's will visit Japan as well.
How Do I Get There?
You'll find Hohokam Stadium in a residential section of Mesa off Center Street, across from the Mesa Cemetary. If you're coming from Phoenix, you can get there by taking Loop 202 east to the McKellips Road exit and then turning right on North Center Street.
If you're coming from the south, such as Chandler or Tucson, take Highway 60 to the Country Club Drive exit. Head north on Country Club Drive for 3.4 miles and then turn right on Brown Road. Head towards North Center Street towards the stadium.
If you'd rather take public transportation, the Mesa Downtown Buzz runs a continuous loop that stops at the stadium on gamedays. It also connects to the Valley Metro light rail. The 120 route bus also has a stop at Center and Brown streets, a six-minute walk from the stadium.
There is bike parking outside of Gate D, though you'll want to make sure you lock it securely as the stadium is not responsible for theft or damage.
How Much Are Tickets?
Planning on going to every Oakland A's game in spring training? It's a no-brainer to get the Spring Training Pass. For just $49.99, you get a ticket to every game in Hohokam Stadium. You can even buy up to four passes together, perfect for couples and small groups of friends. It just requires that you download the MLB Ballpark app and purchase the pass through that.
As for individual tickets, they range from $10 to $39 each, depending on the section. The closer the section to the field of play, the more expensive the ticket will be. The most expensive section will be the Infield Box, which is Sections 100-114. The Infield Box Gold will be the top of the line, as they're the first four rows. The cheapest tickets will be in the outfield berm where you can sit on the lawn.
Children under the age of two are admitted for free and do not need a ticket. There are discounts available for active duty and reserve military members as well as retirees. Discounted tickets are also available for groups of 15 or more.
What Else Do I Need To Know Before I Go?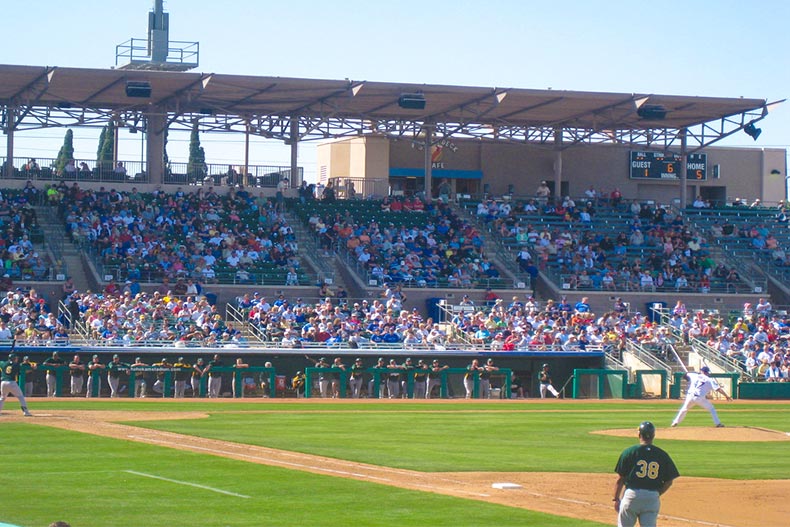 There is plenty of parking available for $5 and you've got 3,000 spaces to choose from. The paved lot is for season ticket holders while other fans can park in the grass fields. If you want to save a couple bucks and don't mind walking a little bit more, look for people in the surrounding neighborhood offering to park on their property. You can sometimes find a spot for $3 or $4 and it makes exiting after the game much easier.
Stadium gates open two hours before game time. Those who want to get there early for autographs would be wise to get a spot behind the tarp near their dugout in section 113. Sections 115 and 117 also offer prime autograph space. You can also return here after the game for more opportunities or head outside to the team's clubhouse exit at the end of the first base grandstand. If you're looking for autographs from visiting players, head to right field and hang out near the fence where players pass by en route to their bus.
If you're going to bring things with you, make sure you stick with backpacks, bags, or purses that are no bigger than 16 x 16 x 8. Hard coolers and larger bags are prohibited from the stadium.
If it's important for you to find a seat in the shade, which is certainly a good consideration in Arizona, you'll find plenty of choices here. Sections 200-207, 209, 211, and 213 are all entirely shaded while most of the seats in sections 208, 210, 212, and 214 are also covered. All games start at 1:05 p.m. and as the day goes on the shade moves to cover the 100-level seats directly behind home plate and along third base.
If you're looking for special seating or a VIP experience, you've got some options. Hyatt Place Patio, located along the third base side, offers various food options and lounge furniture. The Right Field Lounge doesn't have great views but does offer a catered experience, patio games, and shade.
Fun Ballpark Fare
Since this is an Oakland A's ballpark, you'll find plenty of Oakland-inspired concessions to choose from. Look for the Oakland Links concession stand where you can get an Oakland Dog (topped with green chili mac & cheese and bacon bits) or a California Dog (topped with guacamole, tomatoes, and jack cheese).
Ike's Place, a Bay Area institution, has a stand in the stadium where they offer themed sandwiches such as the Barry Bonds (bacon, Swiss cheese, and turkey), Matt Cain (Godfather sauce, provolone, roast beef, salami, turkey), and Go A's (roast beef, Godfather sauce, and jack cheese).
Not everything is Oakland-centric when it comes to stadium fare here. You can also get some NY-style pizza and even Chick-fil-A. There is also a beer list that runs the gamut of the usual (Bud, Coors Light) and the crafty (Kona Brewing, New Belgium).
What To Do Before & After Games
The immediate area surrounding the stadium doesn't offer much but you're only five minutes away from Main Street in Downtown Mesa. A great way to complete your baseball experience is to visit the Arizona Spring Training Experience and Cactus League Hall of Fame.
Those looking for wider art and museum experiences have plenty of options to choose from, including the Arizona Museum of Natural History, i.d.e.a. Museum, and Mesa Arts Center. Organ Stop Pizza is a Mesa institution where you can enjoy music from their Wurlitzer pipe organ while enjoying a slice. Beer lovers will appreciate the many craft spots here, including Desert Eagle, Lochiel Brewing, and Oro Brewing.
Nearby Away Game Destinations
If you're looking to switch things up without going very far, you can just head ten minutes west to Sloan Park, spring home of the Chicago Cubs. Twenty minutes away from Hohokam, you'll find Scottsdale Stadium, where the San Francisco Giants play their home games. It's also not that much further to Paradise Valley and Tempe to see a few other teams in their spring training homes.
55+ Communities Close By
The Phoenix Area has 60 active adult communities worth considering but there are ten just here in Mesa, making it an ideal spot to take in some spring training while also scouring nearby communities to find out if there's a match for you. You may find the idea of living just down the road from Hohokam Stadium in retirement sounds appealing,
Las Alegres is an 84-home community for those 55 and older just 15 minutes away from the stadium. The gated community of Verde Groves isn't that much farther away while Greenfield Glen offers close proximity to the stadium as well as a very affordable lifestyle.
Those who want to try and take advantage of a "stay and play" package for a weekend should look to Robson Ranch in Eloy, Trilogy at Verde River in Rio Verde, or Trilogy at Vistancia in Peoria.
Sloan Park - Mesa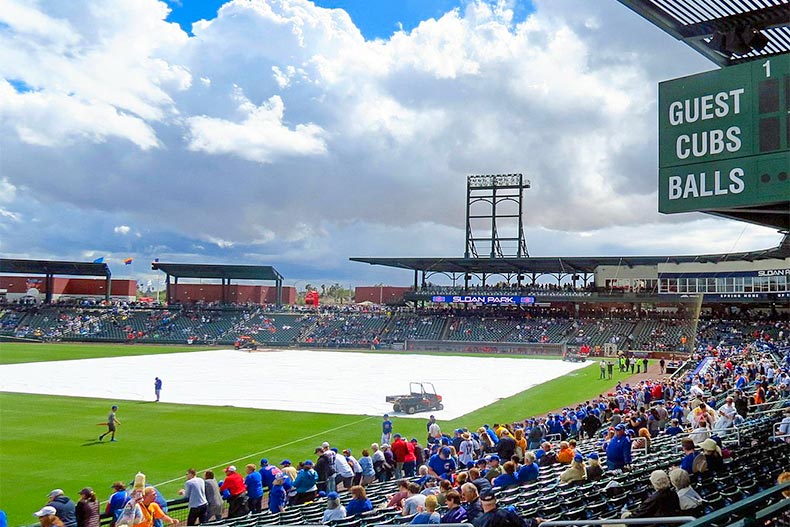 Up until 2014, the Chicago Cubs called Hohokam Stadium home in the spring. That changed when Cubs Park opened in 2014. Meant to mirror the look and feel of Wrigley Field in Chicago, this 15,000-seat stadium is located close to the Red Mountain Freeway and Pima Freeway, a stark contrast to the residential confines of their previous home. In 2015, Sloan Valve Company bought the naming rights to the ballpark, hence Sloan Park.
Game Schedule
The Cubs kick off spring training 2019 on February 23 when they host the Milwaukee Brewers. That's the first of 18 games to be played in Sloan Park. Fans have the chance to take advantage of a few split-squad doubleheaders, including February 25, March 9, and March 19.
How Do I Get There?
If you're driving from either east or west of Mesa, you'll want to take Loop 202/Red Mountain Freeway to the Dobson Road exit. Then, head south and right onto West Rio Salado Parkway where you'll see the stadium up ahead on the right. If you're coming from north or south of Mesa, take Loop 101/Pima Freeway to the Rio Salado Parkway exit. Head east and you'll see the stadium pretty soon.
For those who want to take public transit to and from the game, take Valley Metro Rail to the Sycamore/Main St. station and connect with bus route 96, which will drop you three-quarters of a mile from the park.
Those using a rideshare service can use the drop-off and pick-up location just outside of Right Field Gate across Sheffield Avenue.
How Much Are Tickets?
Single-game tickets range between $14 and $47 depending on the section and game. Infield Reserved Seats and Infield Box seats are among the most expensive while the general admission lawn in the outfield berm is the cheapest. Children under two get into the game for free.
What Else Do I Need To Know Before I Go?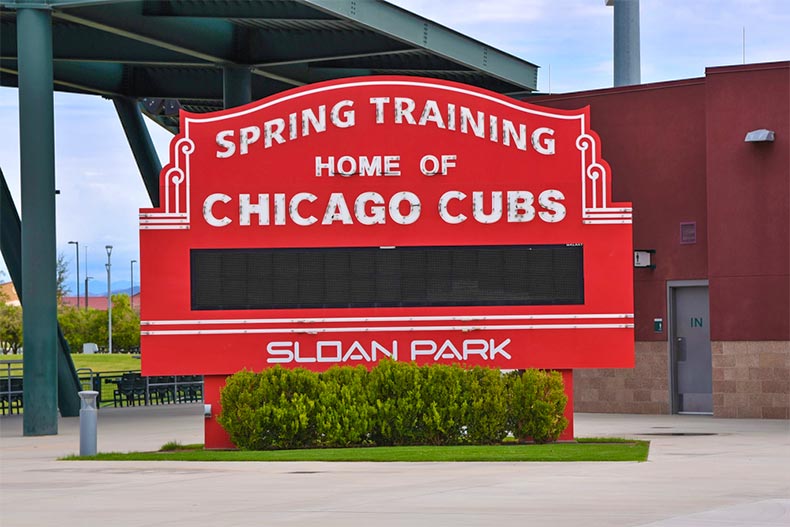 Parking at Sloan Park will run you $10 for a reserved spot and $5 for general parking. If you're driving an RV you'll have to pay $14. Non-reserved spots are available first-come, first-serve and lots open four hours before first pitch. There's also a shuttle for handicap parking and those who need assistance.
Games begin at 1:05 p.m. and gates open at 11:30 a.m. You can bring a bag with you but it can't be bigger than 16 x 16 x 8. You can also bring one sealed plastic bottle of water in per person. What you can't bring into the stadium includes glass containers, folding chairs, hard coolers, beach balls, and umbrellas.
If you're looking to collect some autographs, you'll want to make for the "autograph path" walkway located outside the Home Plate Gate. That's where players and coaches tend to gather about 30 to 60 minutes before each game. Return there after games to catch them leaving the clubhouse.
If you're concerned about sitting in the sun, there are certain sections you'll want to try to sit. All of the seats in sections 110 through 116 will be shaded for the entire game and most of the seats behind the Cubs dugout will be shaded by the time the game started. An hour and a half into the game, all of the seats from Section 102 to Section 116 will be in the shade.
For those looking for special seating, there are covered party decks along the first and third base lines. You'll need at least 20 people in your group to use them but they include multiple food stations. There is also a separate party deck called the Budweiser Rooftop in left field but it's not private.
Fun Ballpark Fare
If there's one thing Sloan Park has plenty of, it's food and beverage options. Since it's the home of the Chicago Cubs, you'll find plenty of Windy City favorites here. Chicago-style hot dogs, deep dish pizza, and Italian beef sandwiches are available at the "Taste of Chicago" stands.
A special bonus of the ballpark experience here is that it's the first spring training stadium to include a dedicated food truck area. The offerings vary each game, so make you stop by each time you're there to see what's new.
While there's plenty of Anheuser-Busch beers available here, you'll also be able to find Old Style if you look hard enough. It just wouldn't be a Cubs game without the classic Chicago beer.
What To Do Before & After Games
The good news about Sloan Park is that, unlike the Cubs' previous spring home, it's close to plenty of action and easy to get around the region. The stadium itself is part of Riverside Park, a large greenspace with a playground, fishing pond, and softball complex.
It's also across the road from Mesa Riverview shopping center, which is full of the top retail and restaurant picks. A short drive away you'll find Tempe Marketplace, another massive shopping and restaurant center. You'll even find a Portillo's in there if you're craving more Chicago eats.
The great thing about the location is that you're basically right in between the downtowns of Mesa and Tempe, which means you can head to Mesa's Main Street or Tempe's Mill Avenue district for pre-game sightseeing or post-game entertainment.
Nearby Away Game Destinations
If you head ten minutes east, you'll be at Hohokam Stadium, home of the Oakland A's. Fifteen minutes away from Sloan, you'll find Scottsdale Stadium, where the San Francisco Giants play their home games. It's also not that much further to Paradise Valley and Tempe to see a few other teams in their spring training homes.
55+ Communities Close By
Your options here are basically the same as Hohokam Stadium, although you're a few minutes farther away from Las Alegres, Verde Groves, and Greenfield Glen.
Tempe Diablo Stadium - Tempe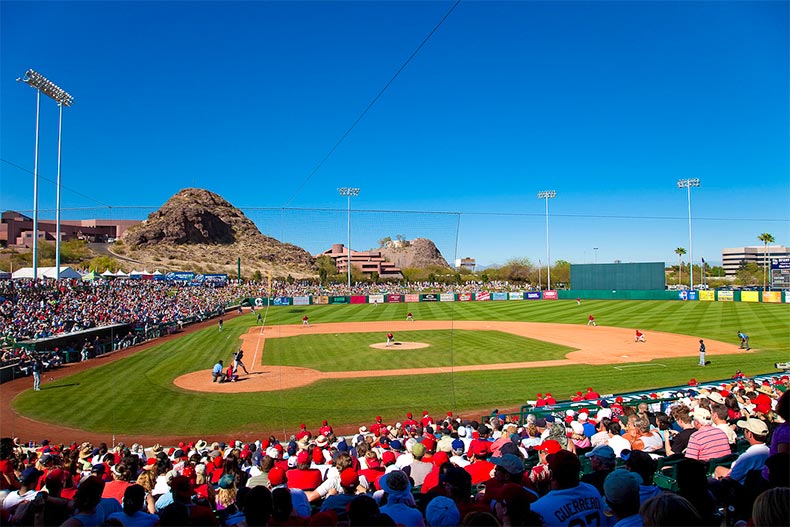 Tempe Diablo Stadium boasts some of the best views in the Cactus League. (Image via Dave Nakayama)
Built in 1968, Tempe Diablo Stadium was originally the home of the Seattle Pilots (who became the Milwaukee Brewers). The Seattle Mariners moved in during the late 70s and called it home until 1993. That's when the Los Angeles Angels moved in and they've been here ever since. In fact, they'll be sticking around for a least a little while longer. In 2006, the stadium underwent a $20 million renovation with the caveat that the Angels extend their lease through 2025.
Game Schedule
The Angels' 2019 spring training schedule begins February 23 when the San Francisco Giants visit Tempe Diablo Stadium. The Angels will host 15 games in the stadium through March 22 before returning to Anaheim to finish out spring training. Most games start at 1:10 p.m., except for two 6:10 p.m. starts. The team will also play multiple split squad (ss) doubleheaders, including those on February 24, March 7, March 9, March 15, and March 22.
How Do I Get There?
Tempe Diablo Stadium is located close to two major highways (I-10 and Highway 60) which makes it easy to get to. No matter the direction you're coming from, you'll want to get on the I-10 and take it to the Broadway Road exit. Head west on Broadway until you turn left at 48th Street. Head a little over half-a-mile towards Alameda Drive and turn left. The stadium will be ahead on your left.
Public transit is also available as you can take the 52, 56, and 61 lines close to the stadium. Bike racks are located on the south side of the stadium near the ticket office.
How Much Are Tickets?
Single-game tickets run as low as $15 for lawn seats in the outfield up to $100 for "Home Plate MVP" seats right behind the batters. There is also an Upper Pavilion package for $53 which includes food and non-alcoholic beverages. Children three and under get in free and do not require a ticket.
What Else Do I Need To Know Before I Go?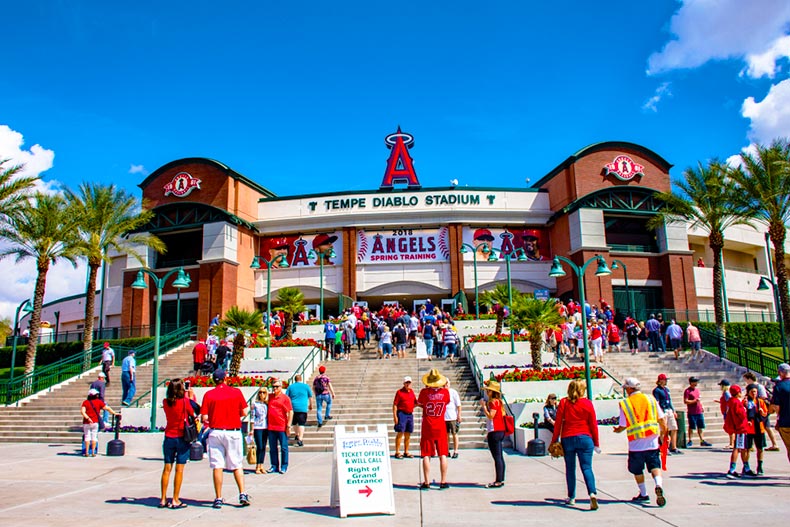 It's $5 to park in the stadium lots, which open around two hours before the start of games. Any vehicle that exceeds 20 feet in length will be charged an additional fee. Tailgaters can use gas or propane grills but alcohol consumption outside of the stadium is illegal. Disabled parking spaces are on the west side of the stadium.
Gates open 90 minutes before each game. Bags are allowed inside so long as they are below the 16 x 16 x 8 size restriction. For those who want to get some autographs, head towards the railing between the dugout and the foul pole around 45 minutes before each game. Sections 3, 22, and 23 are considered the best ones for staking out players. Fans can also visit the stadium from 9 a.m. to 1 p.m. during non-game days to see if they can catch players then as well.
If you're concerned about sitting in the shade, the best bet is to shoot for the back rows in sections 10-12 and 13-22. The sun will set at the day goes on and shade creeps forward, so as long as you're toward the rear of most lower-level sections, you'll get some shade eventually.
If you're looking for a unique game-watching experience, consider the Bud Patio Upper Pavilion. This section offers the chance to watch the game from patio furniture and standing room while enjoying a buffet and beverage package.
Fun Ballpark Fare
Along with the usual ballpark fare, there are some unique food and beverage offers in Diablo Stadium as well. Head down the left field line along the concourse and you'll come across plenty of food tents. There, you'll be able to order items such as street tacos, barbeque beef, or rib tips. Head behind home plate for the stadium's tap room, where you'll be able to try four different beers from Four Peaks, a local brewery. There are also some varied beer choices found throughout the stadium.
What To Do Before & After Games
There are a decent number of things to see and do close to the stadium. Tempe's Twin Buttes are located just outside, which make for good photo ops. 48th Street has a bunch of well-known restaurants and casual dining spots if you really need a food fix. The stadium is a 15-minute drive from Downtown Tempe and all the fun to be had there. Stop by Tempe Beach Park to cool off in the splash playground, go boating, or just walk around.
If you've got the grandkids with you, Diablo Stadium is just north on the I-10 from the LEGOLAND Discovery Center for pre- or post-game fun. There's also Halle Heart Children's Museum just down the road from the stadium as well.
Nearby Away Game Destinations
If you're looking to follow the Angels on away games or just want a change of pace, you've got plenty of options. It's 15 minutes by car from Diablo to Sloan Park where the Cubs play and just a few minutes more to Hohokam Stadium where the A's play. You're also 20 minutes from Scottsdale Stadium, home of the Giants. It's also 20 minutes to Encanto Park, home of the Brewers.
55+ Communities Close By
While there aren't any active adult communities in Tempe, you do have some great options for places to live that are just a short drive away.
Ahwatukee Retirement Village offers 1,686 homes and a low-maintenance lifestyle in the Ahwatukee Foothills. It's also just a ten-minute drive up the I-10 to Tempe Diablo Stadium.
The stadium also isn't very far from the trio of active adult communities in Mesa, Las Alegres, Verde Groves, and Greenfield Glen.
Those interested in condo living might want to consider The Cays at Ocotillo. Located just 20 minutes from the stadium in Chandler, this upscale condo community boasts a luxury clubhouse, fitness center, and heated outdoor pool, amongst other amenities.