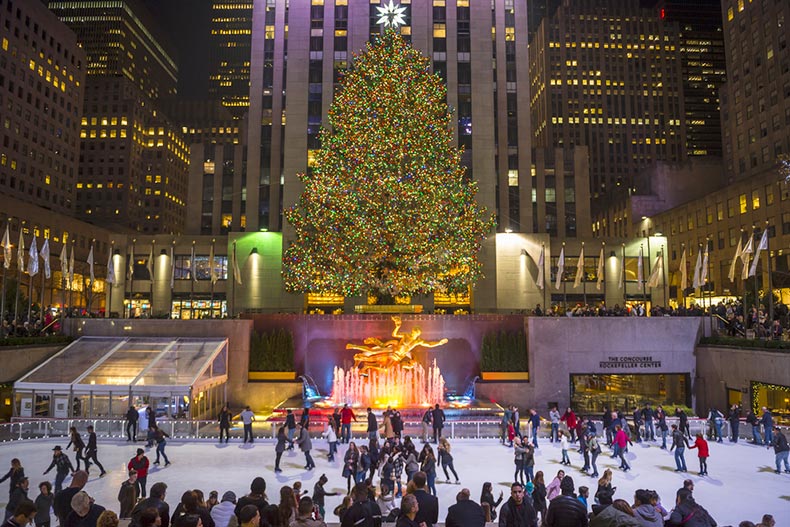 The holiday season is such a wonderful, festive time to visit New York. Throughout the state, there are special events like family-friendly productions, Christmas Tree lightings, Hanukkah menorah lightings, holiday markets, and more. And if you're lucky enough, your visit will coincide with a bit of snow, which makes all the sights even more spectacular. Helping the needy is also an important part of the season, and there are ample opportunities for this as well.
To get started, we've broken the events and activities into regions to help make the most of your time. Let's start with New York City since it has some of the most iconic holiday attractions in the world.
New York City
1. The Christmas Tree at Rockefeller Center
The Big Apple turns into a winter wonderland every year and draws in millions of visitors. It's best to visit during the week, and if possible, buy all your tickets well in advance. One of the best known holiday attractions is the Christmas Tree at Rockefeller Center, located at Rockefeller Plaza. It was lit on December 4 and remains on display until January 17 this year.
2. The Largest Hanukkah Menorahs in the World
If you want to see some of the largest Hanukkah Menorahs in the world, there will be two on display from December 22-30. One will be across the street from The Plaza Hotel in Manhattan while the second will be in Prospect Park in Brooklyn. The latter will have music and potato pancakes every night of the holiday.
3. Radio City Christmas Spectacular
Another can't miss event is the Radio City Christmas Spectacular starring the world-famous Rockettes. The show lasts about 90 minutes and features over 140 performers, dance numbers, and holiday music. It runs until December 31 with ticket prices averaging around $100 each.
4. The Lights Display at the Bronx Zoo
You and your family will also love the lights display at the Bronx Zoo, which is underway now through December 31 and January 3-5 (excluding December 24 and 25). Hours are Sunday to Thursday from 5 p.m. to 9 p.m. and Friday and Saturday from 5 p.m. to 10 p.m. In addition to the sparkling lights, you can see animated sculptures and other colorful designs. Tickets cost around $30.
5. Masbia: A Soup Kitchen Network and Food Pantry
You can also make the holidays especially meaningful by donating or volunteering your time. There are hundreds of opportunities across the five boroughs, but if you want to really connect, you can contact Masbia, a soup kitchen network and food pantry. Volunteers are needed for kitchen prep, serving and bussing tables, publicity, maintenance, cleaning, and administrative work.
Long Island
1. See a Holiday Show
The holiday season wouldn't be the same without seeing "The Nutcracker," and Ballet Long Island's annual performance is always highly anticipated. The production takes place on December 22 and 23 at the CM Performing Arts Center in Oakdale. Tickets are priced at $40.
The Argyle Theatre's production of Miracle on 34th Street is running now through December 29 with matinee and evening shows. The historic theatre was renovated last year, and it's located in the Village of Babylon, NY. All performers are professional stage actors who belong to the Actors Equity Association. Ticket prices range from $50 to $80.
2. The Annual HJC Hanukkah Happening
Designed for all ages, the Huntington Jewish Center's annual Hanukkah Happening will be held on December 8 from 11 a.m. to 1 p.m. There will be raffles, a silent auction, a gift fair, children's crafts, and food available for purchase.
3. The Long Island Volunteer Center
The Long Island Volunteer Center provides many ways to give back to the community this holiday season. In addition to food and toy drives, they're sponsoring opportunities to work with the homeless and an Adopt-a-Family Holiday Party on December 9.
The Hudson Valley
1. Westchester Winter Wonderland
This region of the state stretches from Albany down to Westchester County, along the Hudson River. A popular holiday event is its Westchester Winter Wonderland, held now through January 4 (closed Christmas Eve and Christmas Day). There's plenty of food, ice skating, rides, and entertainment. They also sponsor an Active Duty & Veteran's Appreciation Day on December 20 (discounted admission) and a New Year's Eve Ball Drop with fireworks.
2. Staatsburgh State Historic Site
Another fun place to visit in this region is the Staatsburgh State Historic Site for the Gilded Age Christmas Display. Built from 1895 to 1896, this mansion is designed in the styles of 17th- and 18th-century France and overlooks the Hudson River. It's open now through December 31 from 11 a.m. to 3 p.m. most days.
3. Santa's Magical Express
Located minutes from Albany, the town of Rensselaer offers a unique holiday experience: Santa's Magical Express. This one-of-a-kind holiday show combines a bus ride, a train ride, a theatrical experience, and family activities. It runs through December 23, with five or more shows daily; discounted tickets are offered online.
4. The New York State Museum
The Kwanzaa Celebration at the New York State Museum in Albany takes place on December 25 at 5 p.m. and includes an African Marketplace, candle lighting, performances, and children's activities. Admission is free.
The Adirondacks Region
1. Lake Placid's Holiday Village Stroll
It's farther north and colder, but you have a much better chance of seeing snow up in the Adirondacks. One of its best-known cities is Lake Placid, and this charming village has a lovely Main Street full of shops and restaurants. From December 13-15, they have their annual Holiday Village Stroll where you can find holiday discounts and see Santa Claus. Santa can also be spotted on area ski slopes and skating rinks. (He'll be at the 1932 skating rink on December 13.)
2. Visit Saranac Lake
Saranac Lake is about 20 minutes from Lake Placid, and it's also near ski mountains, bed and breakfasts, and winter resorts. Their Harrietstown Town Hall Auditorium is the site for their Sparkle Village Arts & Crafts Fair on December 7, and you can find one-of-a-kind gifts like handcrafted jewelry and original artwork. The Hotel Saranac also has an annual New Year's Eve Party that features a DJ, hors d'oeuvres, and a live stream of the NYC ball drop.