Many active adults can picture themselves living in an active adult community, and that includes single retirees who want to find their next home in a small town that supports an active physical and social lifestyle. Some 55+ and active lifestyle communities are particularly well-suited for singles who want to find a sense of community with plenty of neighbors, friends, and things to do. With this in mind, we found the 25 best small towns for singles to retire.
To create this list of 25 small towns where singles can enjoy retirement, 55places.com looked at over 29,000 cities designated by the most recent census data, focusing specifically on major areas with a population of 20,000 or under. We then broke down each area by how many single or unmarried people made up the total population. Additionally, we added in a median price to income ratio from the census data to target areas where one can reasonably afford a home. From that data, we curated a final list of areas listed on 55places.com.
Read on to learn the 25 best small towns for singles to retire across the country.
Below $100k – Low $100s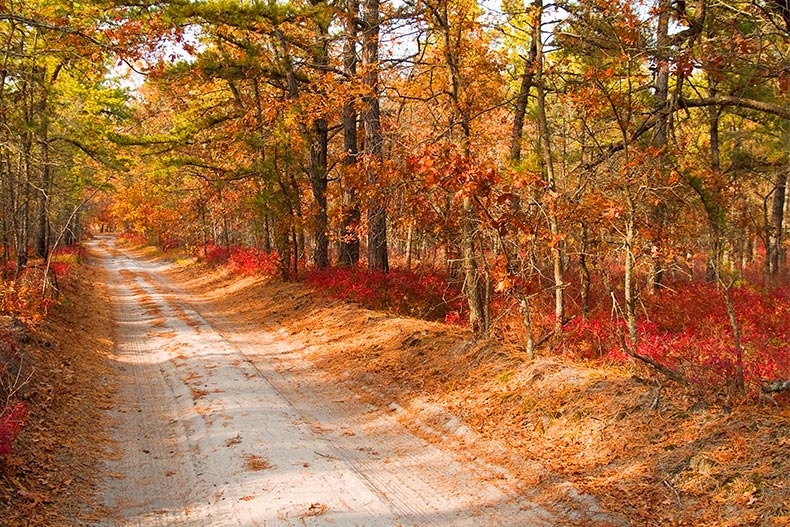 One of the best places for singles to retire in the country is Cedar Glen Lakes, a 55+ community in Southern New Jersey. Cedar Glen Lakes takes the top spot on this list for its large population of single residents, ample activities, and amenities that support an active physical and social lifestyle.
The abundance of clubs, meet-ups, and social events at Cedar Glen Lakes provide an ideal opportunity to meet other singles and new friends. No matter the interest, homeowners in this community can find like-minded neighbors and groups, as well as comfortable single-family homes and attached homes in a variety of floor plans.
Below $100k – Below $100k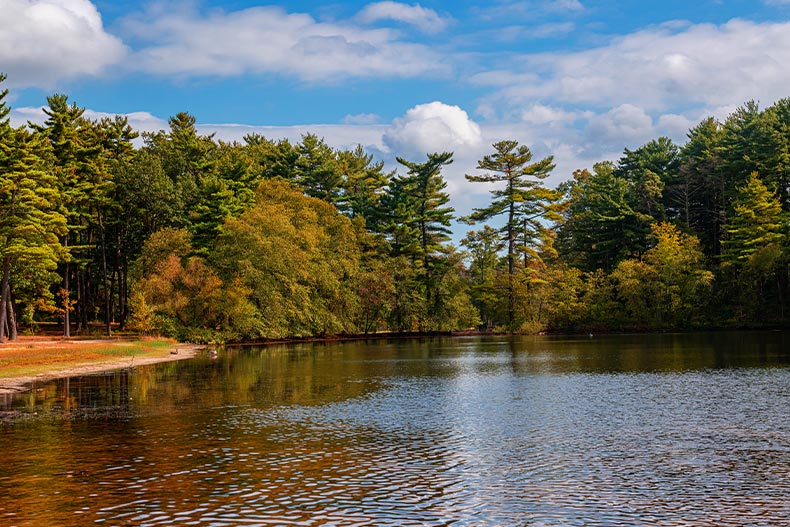 Similar to Cedar Glen Lakes, Crestwood Village is a 55+ active adult community located in Whiting, New Jersey that offers single homebuyers affordable living with plenty of amenities and a busy social calendar. Amenities include a 9-hole par-3 golf course and multiple athletic courts, as well as indoor amenities located in Friendship Hall such as billiards and a card room.
Homeowners in this community meet up regularly for celebrations and clubs, as well as more casual gatherings to play games and catch up with one another. With 1,016 attached homes and a substantial community of singles, Crestwood Village attracts buyers looking to maintain a busy social lifestyle.
Below $100k – Below $100k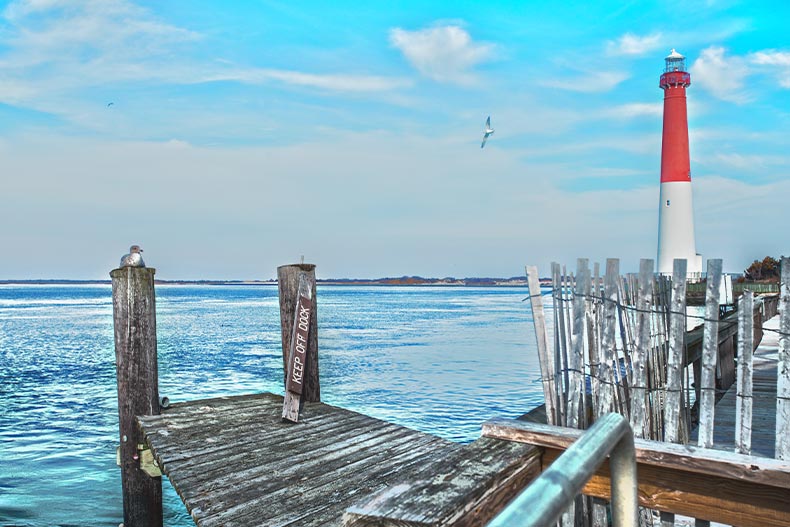 Cedar Glen West makes the list for one of the best communities for singles to retire to because of its prime location 20 miles from the New Jersey coast and its high concentration of single homeowners. Residents of this active lifestyle community find themselves about 90 minutes away from New York City and one hour away from Philadelphia, Atlantic City, and several other major cities in New Jersey. The proximity to the coast also makes day trips to idyllic beaches quick and easy.
With so many fun destinations nearby, going on excursions and adventures with new friends is simple. While homeowners are traveling and exploring the surrounding area, the homeowners' association (HOA) at Cedar Glen West will take care of home maintenance, including exterior maintenance and lawn care.
Below $100k – High $100s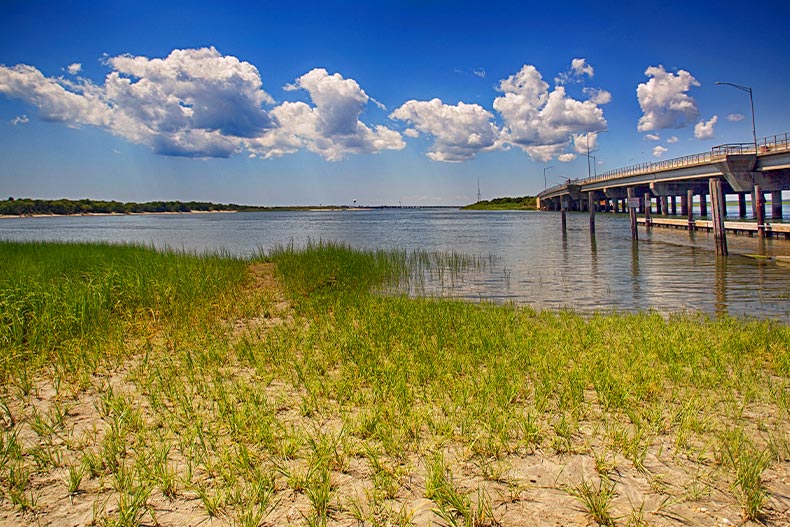 With 2,692 attached homes, Leisure Village West is a large 55+ active adult community located in Manchester, New Jersey. With such an expansive community comes three separate clubhouses, each with its own unique amenities, including art studios, game rooms, theaters, and multipurpose gathering spaces.
Outside, residents can find an abundance of athletic courts, as well as two 9-hole golf courses. In addition to these amenities, residents of Leisure Village West also keep busy with more than two dozen clubs for nearly every hobby, such as a gardening club, camera club, woodcarvers club, and even a singles club. With so much to do within the community and with major cities like New York City only 90 minutes away, there are plenty of opportunities for singles to meet up with one another.
Below $100k – Mid $400s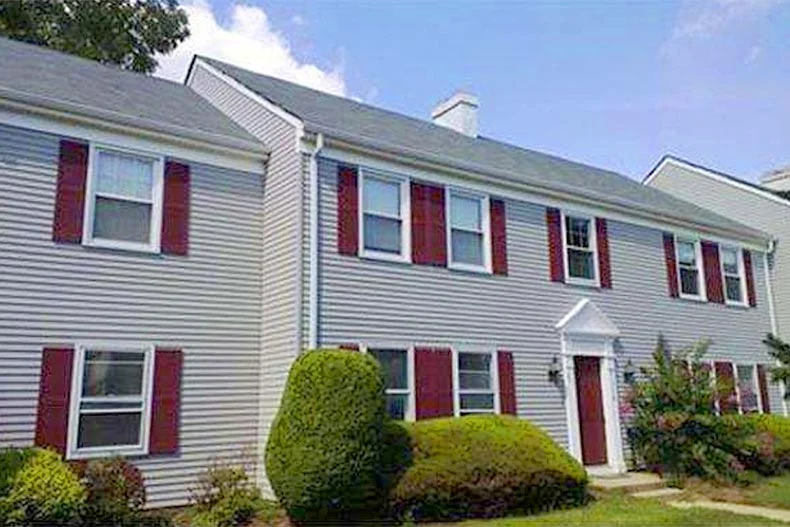 New Jersey has one of the highest concentrations of active adult communities in any state across the country, and the top four communities on this list have all been in the Garden State. Rossmoor Village, a gated 55+ community located in Northern New Jersey, is no exception.
With 2,303 single-family, attached, and condominium homes, and an expansive 30,000-square-foot clubhouse, the 55+ community has an extensive list of amenities and lifestyle activities that appeal to single residents. Art class, line dancing, Tai Chi, and movie nights represent just a few of the dozens of activities and clubs available to members of the community. Singles at Rossmoor Village have ample opportunity to find friends, clubs, and community, and they can stay as busy as they want to be.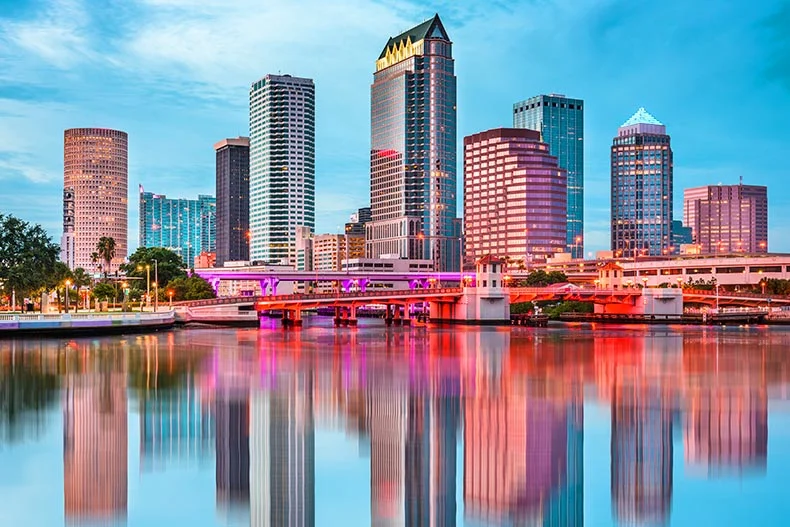 South Pasadena is a small town in Florida located on the Gulf Coast within 15 minutes of St. Petersburg and 30 minutes of Tampa. This scenic coastal city offers two active adult communities: Bay Island, a 55+ community with condominium homes from the mid $100s to the low $400s, and Harbourside Condominiums, an active lifestyle community with condo homes from the mid $300s to the low $500s.
Both of these communities in South Pasadena are filled with resort-style amenities and social opportunities, which makes these communities and the town itself a hotspot for single retirees in Florida. The city's warm weather, proximity to St. Petersburg and Tampa, and miles of scenic beaches along the Gulf Coast make for an easy and entertaining living.
Below $100k – High $300s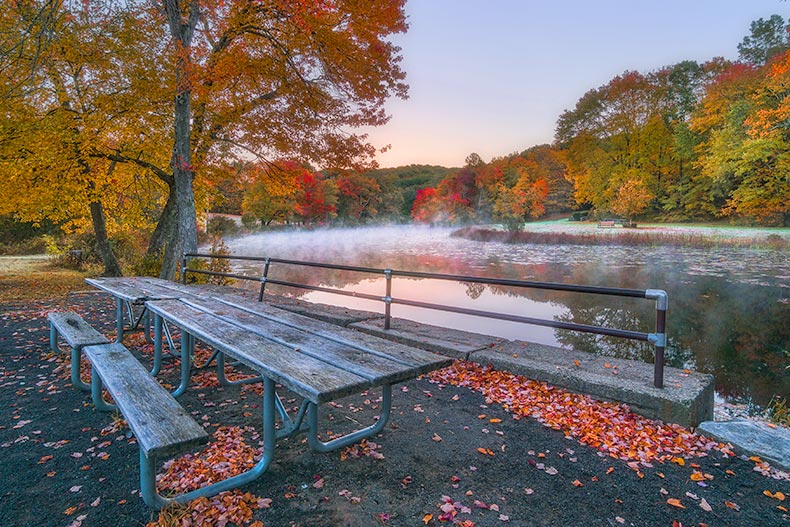 Active adults who want to retire in Connecticut can find a singles-friendly community at Heritage Village, a 55+ community located on the western side of the state. The community consists of 2,580 attached homes with an abundance of resort-style amenities. The amenities range from a state-of-the-art fitness center with an indoor walking track to a 200-seat auditorium to a library with 10,000 books and more.
Heritage Village offers a club, activity, and class for nearly every hobby or activity a homeowner might want to pursue. Single residents looking to try something new or enjoy a pastime can find many opportunities to participate in these activities, such as golfing, performing arts, woodworking, stained glass, language clubs, and hiking clubs.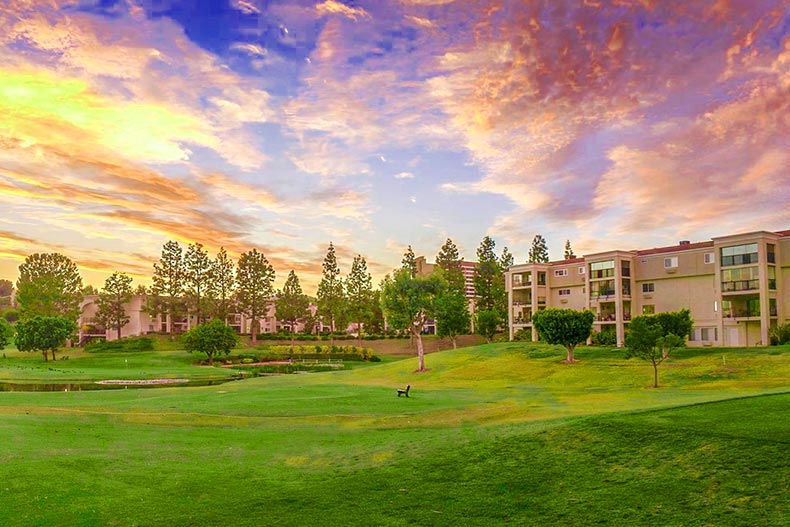 One of the best places for singles to retire on the West Coast can be found in sunny Southern California in the city of Laguna Woods. The town of Laguna Woods is located in Orange County just 15 minutes southeast of Irvine and 15 minutes northeast of Laguna Beach. Residents of Laguna Woods enjoy easy access to the shores of the South Pacific Coast, as well as an abundance of outdoor recreation, dining, entertainment, and cultural attractions.
Laguna Woods also lays claim to the largest 55+ active adult community in The Golden State and across the country. Laguna Woods Village consists of 12,736 single-family, attached, and condominium homes that range from the mid $100s to the mid $1Ms. In addition to a variety of floor plans and home styles, residents can access a world-class lineup of amenities that span seven clubhouses. The amenities feature a 27-hole golf course, an 814-seat performing arts theater, and a library with more than 140,000 books. Laguna Woods and Laguna Woods Village offer an ideal location for single homebuyers in search of an active lifestyle community.
Below $100k – Mid $500s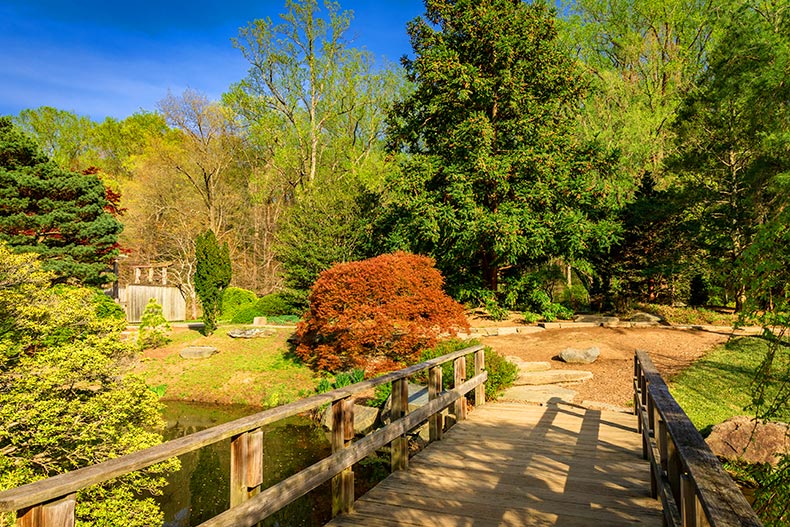 The aptly named Leisure World of Maryland offers affordable living options and a multitude of amenities and lifestyle activities to single retirees looking to settle down in Maryland. This expansive 55+ active adult community with 5,600 homes boasts two clubhouses, an 18-hole championship golf course, a putting green, and a driving range.
Residents of Leisure World® can participate in a range of cultural, hobbies, and fitness clubs, ensuring that new members of the community can make acquaintances easily. For a fun day trip, active adults can reach Washington, D.C. within 15 minutes, providing access to plenty of museums, events, entertainment, and historic attractions.
Below $100k – High $100s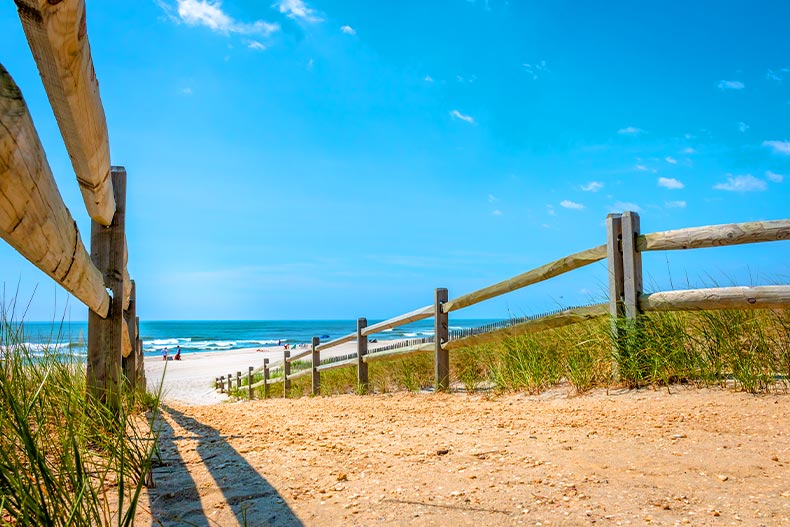 Located just an hour away from New York City and Philadelphia, Leisure Village East is a 55+ community with 1,412 attached homes and a tight-knit group of single active adults. The location of the age-restricted community in Ocean County puts residents within 10 miles of the Atlantic Coast and all of its scenic beaches.
The amenities at Leisure Village East include an 18,790-square-foot recreation center featuring a fitness center, card room, auditorium, and multipurpose spaces. Outside, residents can enjoy a pool with a patio, a 9-hole golf course, natural areas, and walking trails. The activity-filled lifestyle of Leisure Village East attracts single retirees from all over the country.
Mid $100s – Mid $400s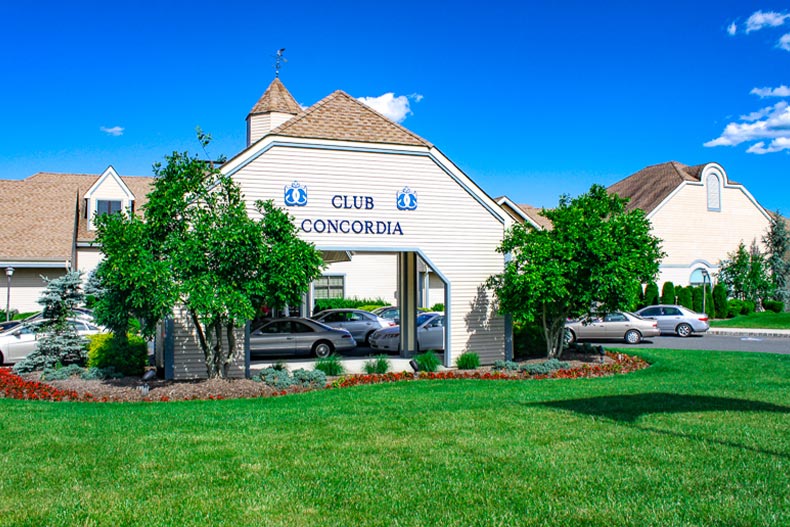 Located in Middlesex County in Central New Jersey, the gated 55+ community Concordia provides residents with a popular and convenient location, an abundance of floor plans, and a range of resort-style amenities. The community consists of 1,757 single-family, attached, and condominium homes designed for first-floor living.
A full-time lifestyle director ensures that residents can find the clubs, activities, and classes that best suit their interests. At the Club Concordia clubhouse, homeowners can meet for book clubs, movie groups, seminars, fitness classes, arts and crafts, cards, and other games. The clubhouse also features e a state-of-the-art fitness center, indoor and outdoor pools, and a ballroom. There's also a golf club with an 18-hole course.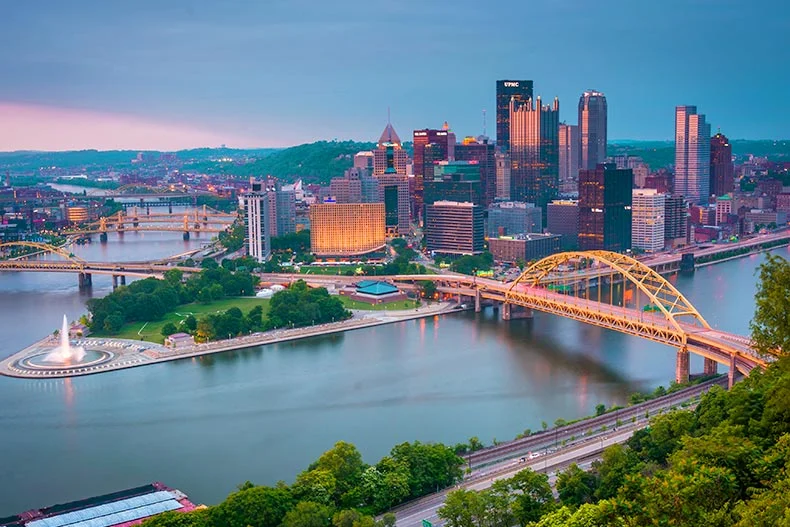 Active adults seeking a small-town retirement in Pennsylvania might find what they're looking for in Valencia, a town with a tight-knit population located 25 miles north of Pittsburgh. Residents of Valencia can enjoy the comforts and conveniences of a small town with easy access to the metropolitan city of Pittsburgh and the surrounding area.
Within Valencia, the active lifestyle community Cobblestone Village provides one option for picturesque small-town living. The community consists of 100 attached homes within the low $300s to high $300s. Residents enjoy amenities and a full social calendar with regular gatherings such as bonfires, pool parties, game nights, holiday celebrations, and day trips.
High $100s – Mid $500s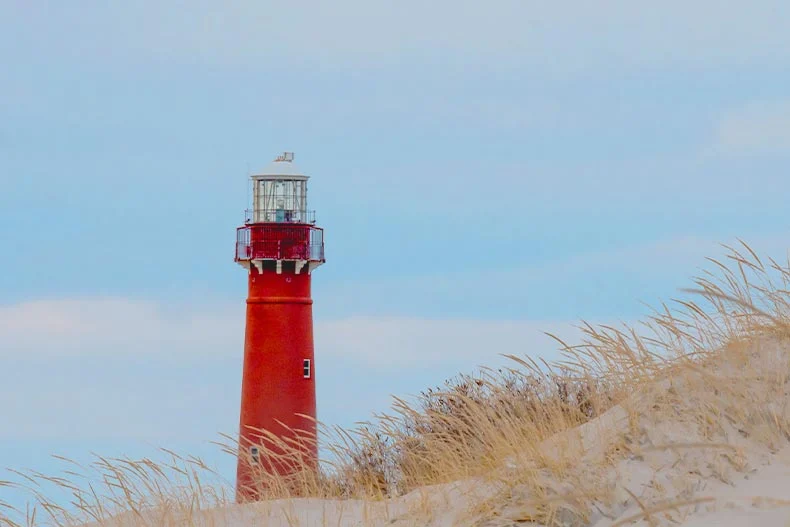 The gated 55+ community Leisure Knoll in Manchester, NJ consists of 1,626 single-family homes. Ideal for those who want to downsize, these homes designed for first-floor living range from 980 to 1,728 square feet. Members of the community can enjoy a low-maintenance lifestyle thanks to an HOA that takes care of all lawn maintenance and snow removal.
By living in low-maintenance single-family homes, residents of Leisure Knoll have more free time to make use of the community amenities and activities. The amenities include a clubhouse with a fitness center and outdoor pool, athletic courts, and walking and biking trails.
Below $100k – High $100s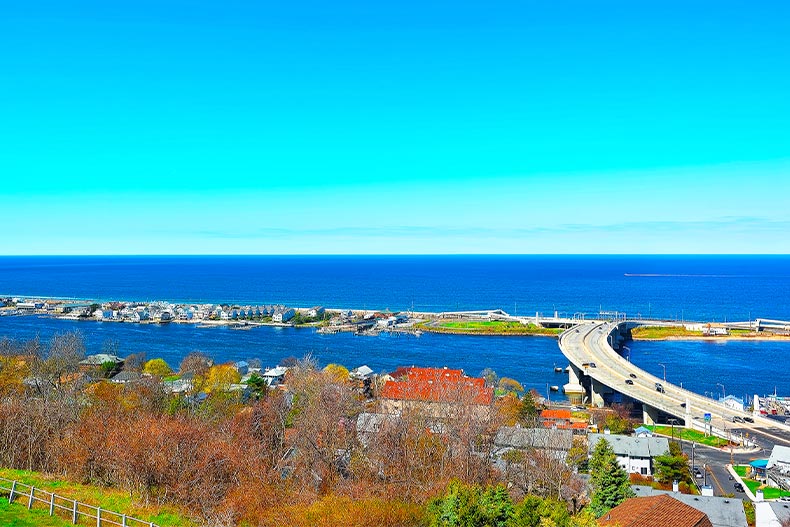 With two clubhouses, two fitness centers, two outdoor pools, and dozens of athletic courts, Leisure Village in Lakewood boasts an abundance of resort-style amenities. This gated active adult community in Ocean County consists of 2,433 attached homes that allow active adults to enjoy a low-maintenance lifestyle for a significant value.
The amenity-rich lifestyle continues with a full social calendar of activities, clubs, and classes. Residents can enjoy more than 40 clubs and interest groups, which include arts and crafts groups, a golf club, card games, a yacht club, fitness classes, and many social clubs. The desirable location in Ocean County puts homeowners within 20 minutes of the Jersey Shore.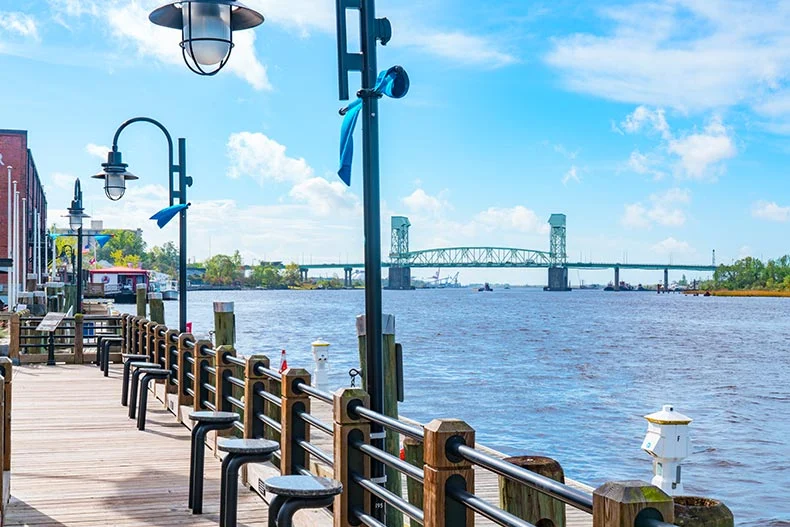 Both South Carolina and North Carolina have emerged as popular retirement destinations. Homebuyers from across the country in search of an active adult community flock to the Cape Fear region of North Carolina for its proximity to both beaches and mountains. One of the most popular small towns in the area is Castle Hayne, located just 15 minutes north of Wilmington and 20 minutes from miles of the Atlantic shoreline.
In Castle Hayne, singles in search of a new home can find amenity-rich living at River Bluffs, a gated active lifestyle community with a waterfront location along the Cape Fear River. Upon completion, the luxury community will consist of 650 single-family and attached homes that range from the high $300s to the high $2Ms. Interested homebuyers can choose from dozens of customizable floor plans to find the home that best suits their needs and lifestyle.
Below $100k – Low $300s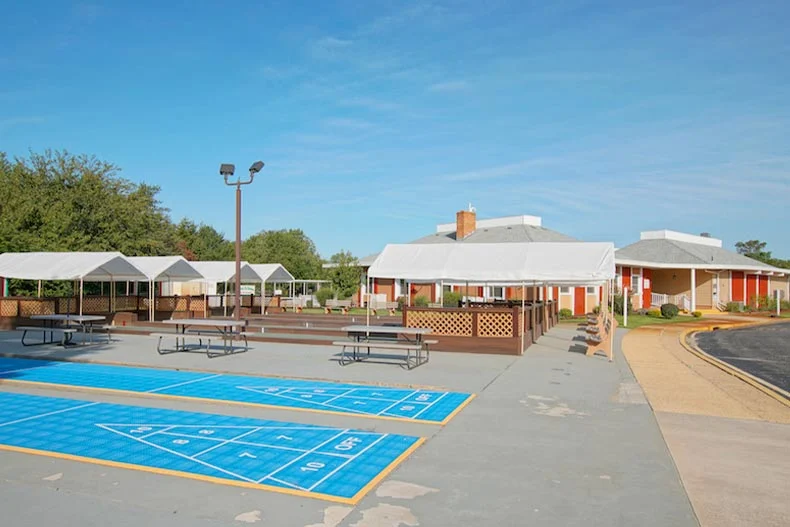 Holiday City at Berkeley is one of the largest 55+ active adult communities on this list with 10,636 single-family homes total. With such a large community comes a matching abundance of amenities and activities, including six clubhouses, dozens of tennis and bocce ball courts, four auditoriums, and plenty of places for fun and games.
Some of the clubs and activities available to single retirees at Holiday City at Berkeley include a singles club, exercise classes, a friendship club, and a dance club, to name a few. This community also borders Crossley Preserve, a sprawling natural area with trails for residents to explore, whether solo or with friends and neighbors.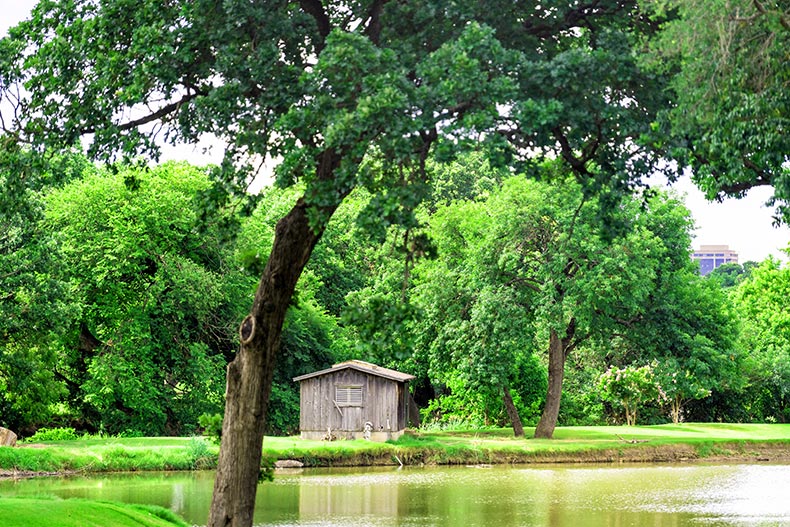 The Dallas-Fort Worth Area attracts retirees across both The Lone Star State and the country who want to enjoy the area's nightlife, sporting events, cultural attractions, shopping, and dining. The small town of Addison, located just 20 minutes north of Dallas, connects homeowners in search of an active lifestyle to everything these world-class cities have to offer.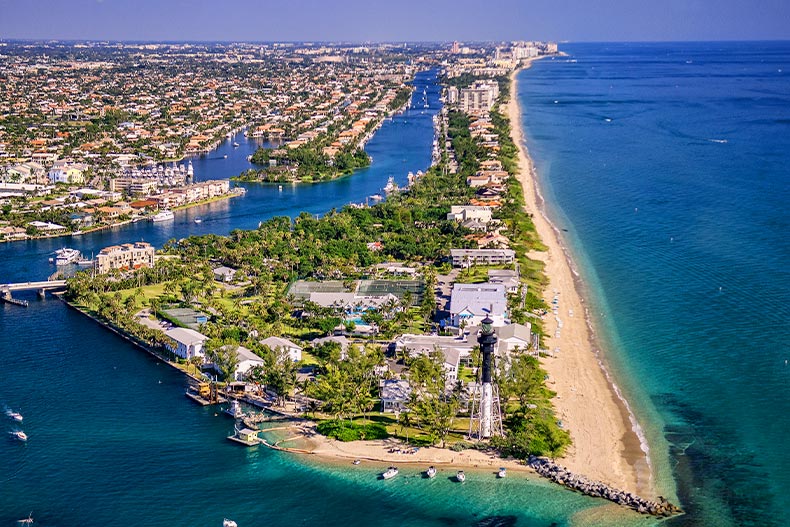 As its name suggests, the small town of Hillsboro Beach primarily consists of long, picturesque beaches on the South Atlantic Coast separated from the mainland by an Intracoastal Waterway called the Hillsboro River. The desirable coastal location puts residents within 15 minutes of Boca Raton and Pompano Beach, and single retirees find no shortage of entertainment, activities, and scenic greenspaces in the surrounding area.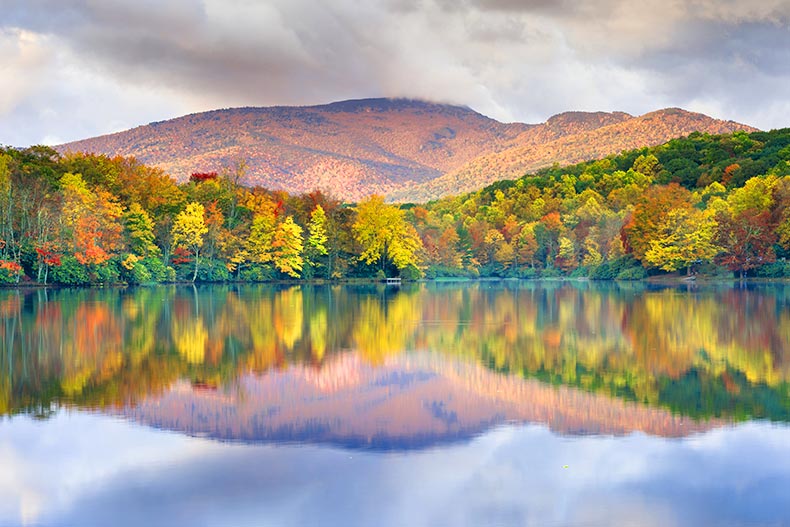 Bordered by the scenic Blue Ridge Mountains in North Carolina, the town of Hendersonville surrounds residents with some of the best outdoor recreation opportunities in the country. Those who enjoy hiking, fishing, boating, biking, and sightseeing can enjoy all of these pursuits and more, whether traveling solo or with friends.
55+ Communities in Hendersonville: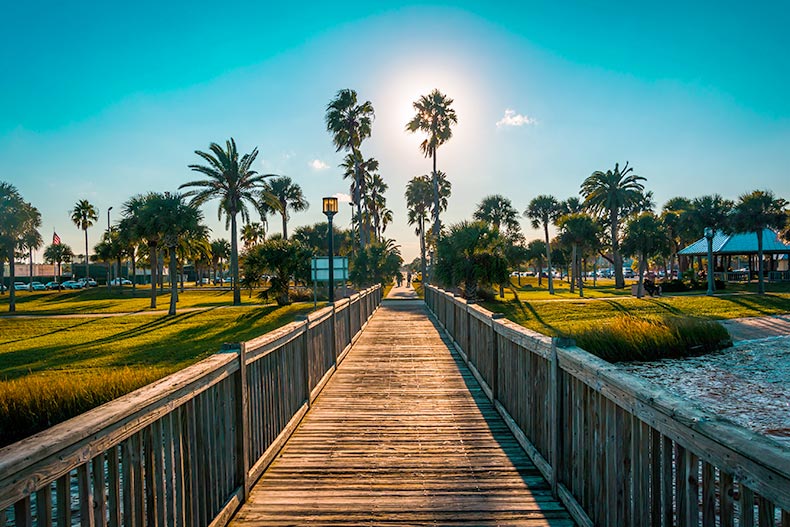 Daytona Beach Shores, located along the Atlantic Coast within one hour of St. Augustine and Orlando, has long been recognized as one of the most popular vacation destinations in Florida. From the Daytona International Speedway to LPGA International to miles of scenic beaches, many active residents decide to stay so they can enjoy these attractions and more all year long.
Single retirees can find a tight-knit active lifestyle community at Oceans Cloverleaf North Condominiums, which consists of 203 maintenance-free condominium homes that range from the low $200s to the mid $300s. The amenities include a club room, indoor and outdoor pools, and access to the adjacent Oceans Golf Club.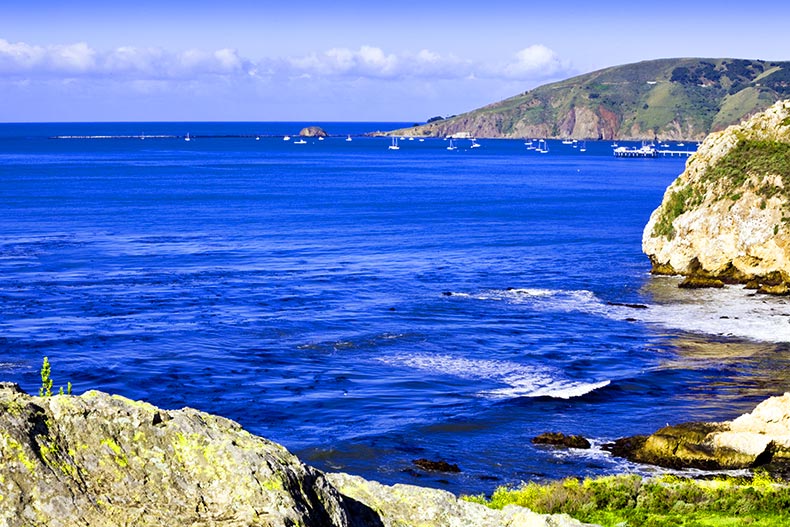 Singles looking for a small, secluded town on California's Central Coast with pristine beaches, a luxury golf resort, a fishing pier, and plenty of dining and entertainment options can check all of those boxes with Avila Beach. This small town has a relatively low population with fewer than 1,500 year-round residents, ensuring a quiet and peaceful lifestyle for singles in search of a relaxing coastal location.
Indian Hill, the only 55+ active adult community in Avila Beach, is an exclusive community with 163 single-family homes that range from the low $400s to the mid $600s. This gated neighborhood offers scenic ocean views, a 5,000-square-foot clubhouse and amenity center, and many casual community get-togethers.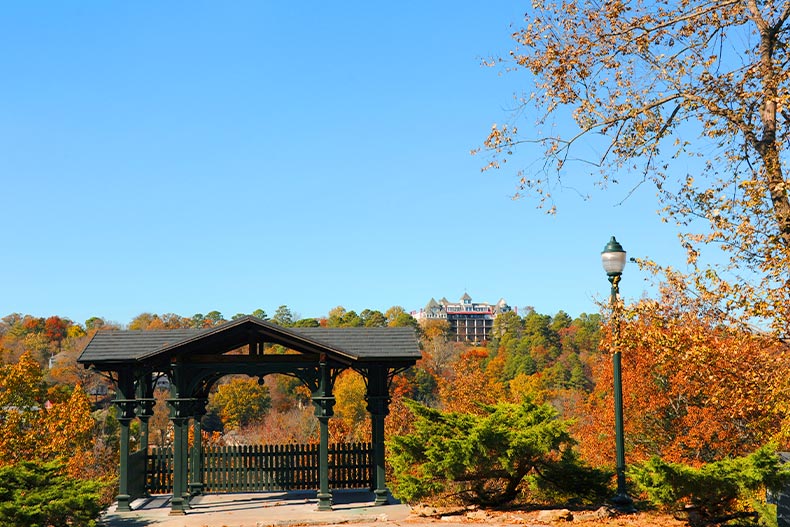 Active singles who want to stay close to family and friends in Northern Arkansas and the surrounding area don't need to look too far to find an ideal place to retire. Holiday Island, in the heart of the Eureka Springs Area, surrounds residents with state parks, lakes, rivers, natural landmarks, and plenty of small towns to explore.
The biggest draw to the area, however, is Holiday Island, an expansive active lifestyle community with plans for 5,000 single-family, attached, and condominium homes, selling from less than $100k to the high $500s. The community boasts plentiful activities and resort-style amenities that include a recreation center, event center, and a country club with an 18-hole championship golf course and a 9-hole executive course.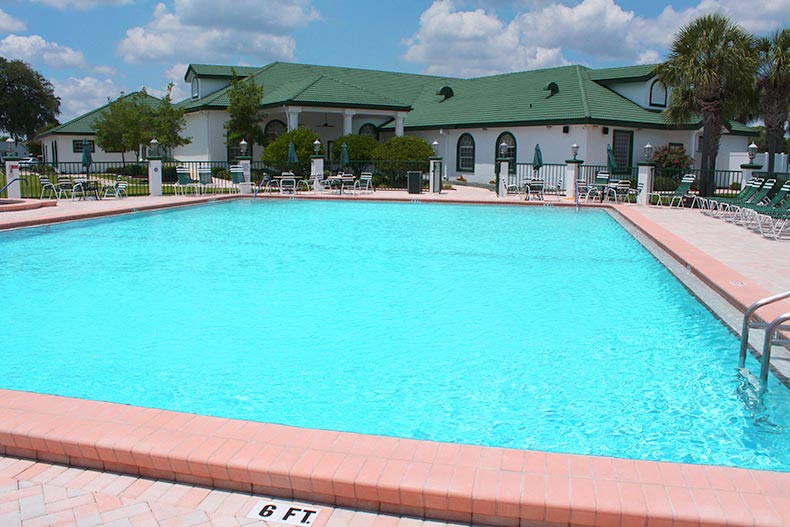 For single retirees who love the tropical landscape of Central Florida and the great outdoors, Dunnellon provides an ideal location for nature lovers. The city is located 30 minutes southwest of Ocala and offers proximity to expansive natural areas such as Rainbow Springs State Park, Halpata Tastanaki Nature Preserve, and sprawling river systems.
In Dunnellon, retirees can find Spruce Creek Preserve, a gated 55+ active adult community with affordable single-family homes that range from the low $100s to mid $100s. This community features resort-style amenities such as an 18-hole championship golf course, multiple athletic courts, and a clubhouse filled with places for neighbors to connect.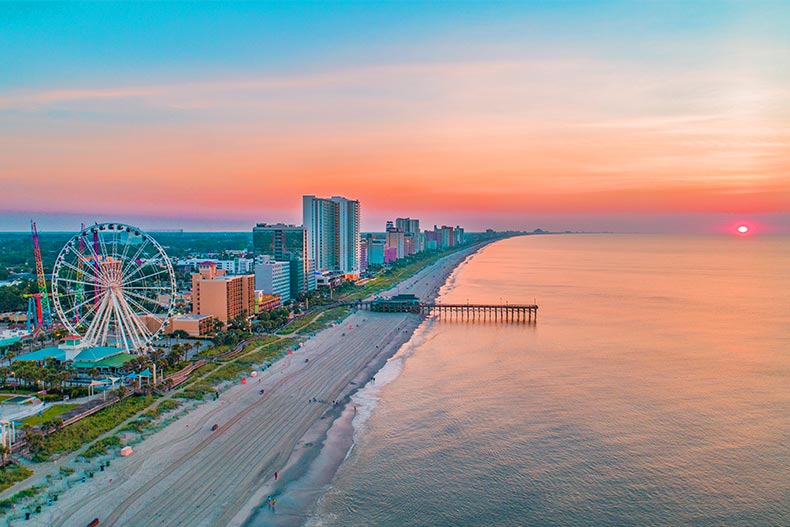 The small town of Calabash, North Carolina benefits from a location just 20 minutes northeast of the vacation destination North Myrtle Beach. The community prides itself on its coastal culture of fishing and seafood. Single retirees looking to get the most out of North Carolina's scenic coastline can appreciate the town's proximity to beaches like Sunset Beach, which is less than 10 miles away.
The area's sought-after coastal location makes it a prime location for three active lifestyle communities:
55+ Communities in Calabash:
Below $100k – Mid $500s

High $100s – Low $300s

Mid $100s – Mid $1Ms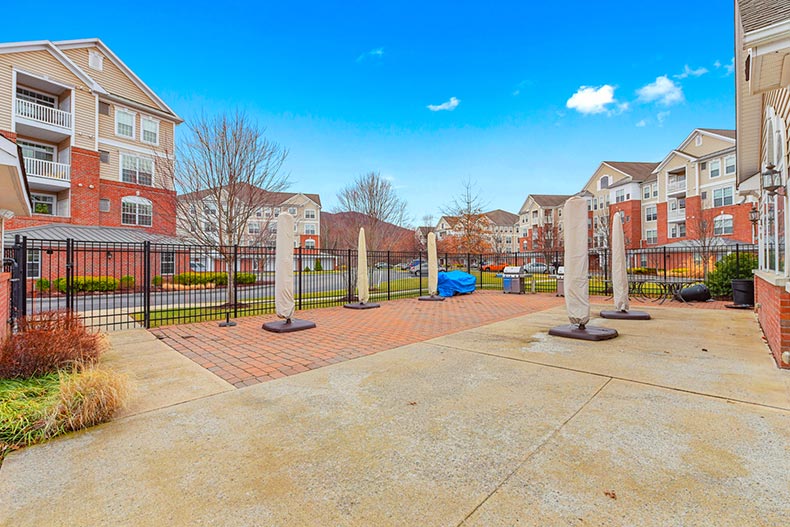 The town of Fishkill — Dutch for "fish creek" — is located in the picturesque Hudson Valley of Eastern New York, which provides a location within 80 minutes of New York City. The heart of Fishkill spans just one square mile and captures the feeling of an East Coast small town with its walkable streets and local shops and eateries.
For singles who want to retire in the area, the popular 55+ active adult community Regency at Fishkill offers a gated community with 164 condominium homes that range from the mid $300s to high $300s. The maintenance-free lifestyle at this community attracts single retirees who want to have ample time meeting neighbors and enjoying a quiet, small-town life.