7 minute read
As winter approaches, warmer climates beckon to those seeking respite from the cold and snow. For snowbirds, the migration to sun-soaked destinations is an annual ritual, a chance to escape to more temperate climates. From coastal escapes with pristine beaches to desert oases rich with cultural offerings, the options are diverse for retirees looking to escape the winter.
If you're having trouble deciding where to migrate to, we curated a list of the top 10 places to snowbird this winter. Whether you're in search of lively entertainment, outdoor adventure, or tranquil retreats, these destinations promise a rejuvenating escape for the colder months ahead.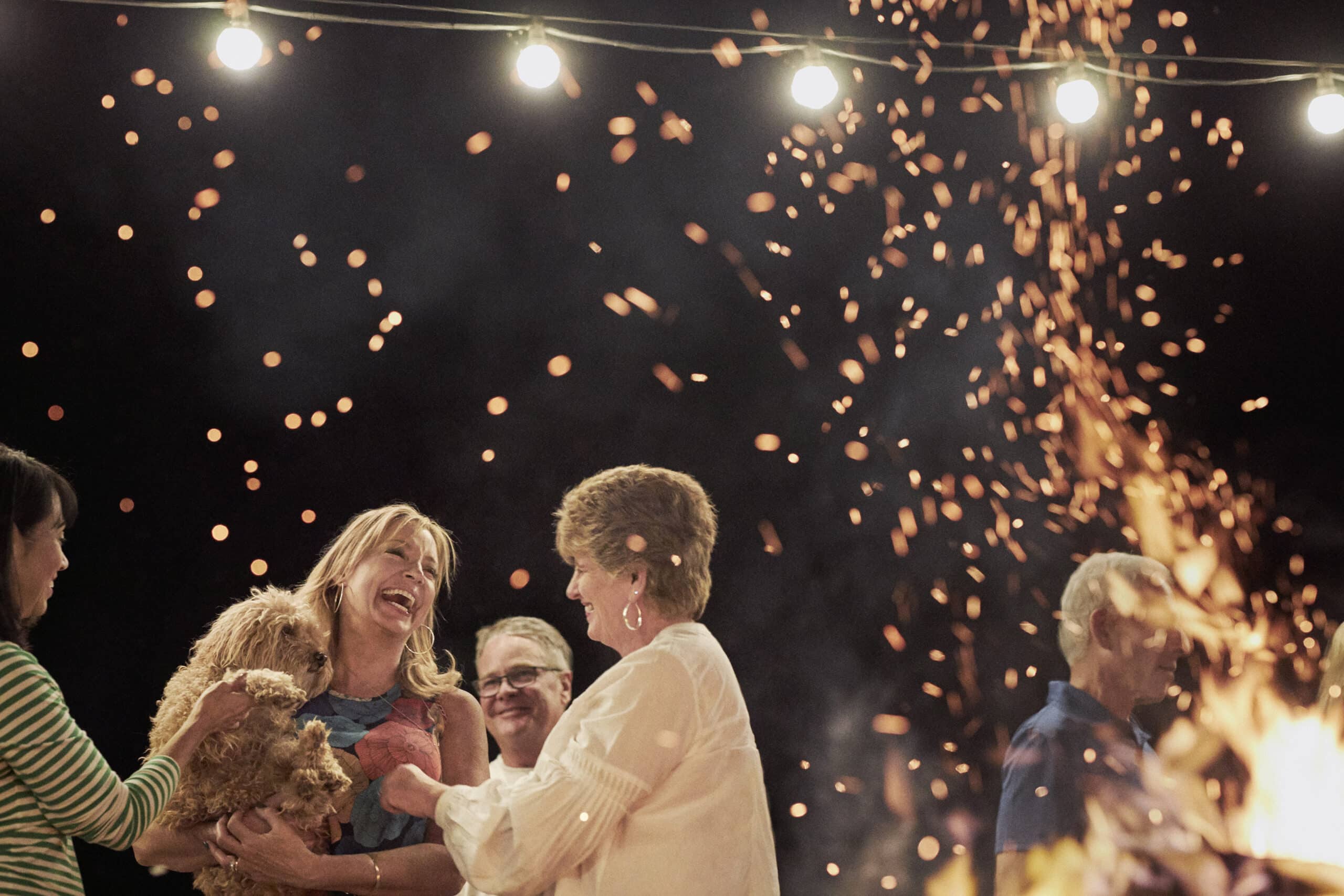 Download Our Homebuying Guide
Not sure where to start? Our homebuying guide can help you take the first step.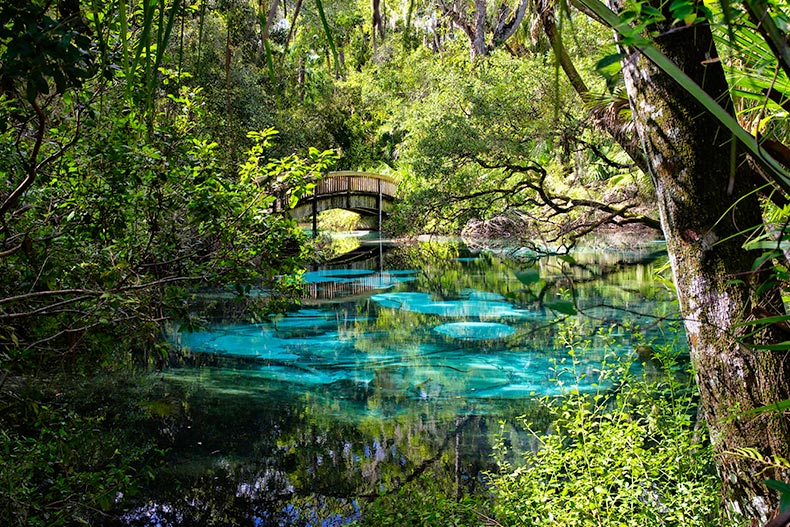 Ocala is a delightful haven for snowbirds seeking respite from colder climates. Nestled in the heart of the Sunshine State, this city boasts a blend of temperate weather, natural beauty, and abundant recreational opportunities.
With its mild winters and an average of over 300 sunny days a year, Ocala's inviting atmosphere allows snowbirds to enjoy their favorite activities even in the dead of winter. The city's lush landscapes—with rolling hills and picturesque horse farms—offer a serene backdrop for outdoor pursuits such as golfing, hiking, and horseback riding.
Also, Ocala's vibrant cultural scene, including art galleries, theaters, and local festivals, provides an engaging experience. For snowbirds in search of a winter retreat that blends relaxation with exploration, Ocala is the top choice to embrace the joys of the season.
55+ Community Recommendations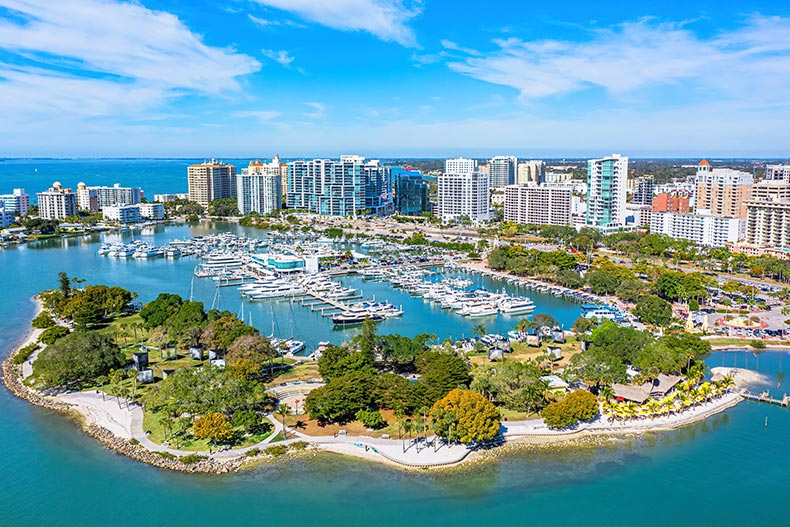 Situated along the Gulf Coast's shimmering waters, Sarasota offers a blend of coastal beauty, cultural richness, and leisurely pursuits. With its balmy climate and abundance of sunny days, this Florida city makes it easy for snowbirds to enjoy the winter.
The city's white sand beaches provide a tranquil backdrop for relaxation, while its thriving arts and entertainment scene—with world-class museums, theaters, and galleries—offers an array of cultural experiences. From strolling down the charming streets of St. Armands Circle to exploring the diverse flora and fauna of Myakka River State Park, Sarasota ensures that every day is filled with opportunities for exploration.
55+ Community Recommendations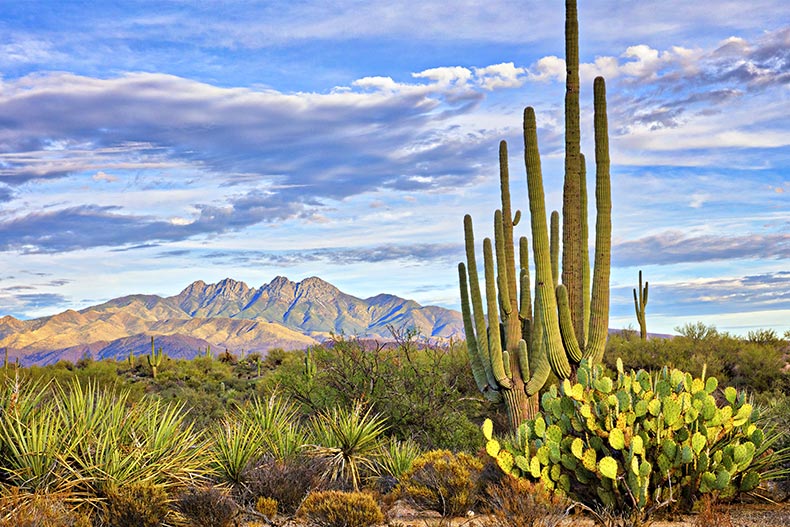 Phoenix, Arizona has been an ever-popular destination for snowbirds seeking respite from cold and snowy climates. The arid desert landscape allows visitors to bask in the warmth while exploring stunning natural wonders like the Grand Canyon and Sedona's red rock formations. Also, the city has numerous museums, art galleries, and culinary delights, ensuring there's always something for snowbirds to explore.
For golf enthusiasts, the abundance of world-class golf courses set against a mountain backdrop is a true attraction. With a welcoming atmosphere, Phoenix stands as an inviting oasis for snowbirds seeking a sun-kissed hiatus during the winter months.
55+ Community Recommendations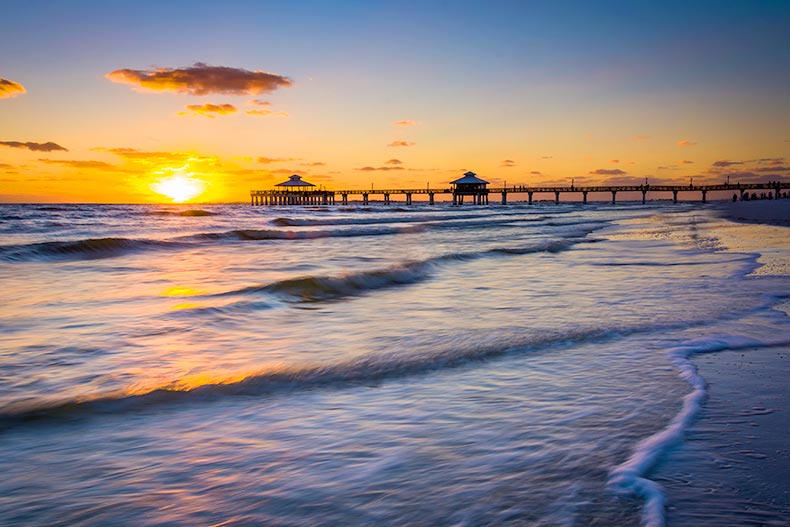 With its balmy climate, sun-soaked beaches, and serene Gulf Coast backdrop, Fort Myers is another Florida haven for those fleeing the frosty north. The coastline offers many opportunities for relaxation and adventure, from shell-strewn shores to water sports to dolphin watching.
Snowbirds can also enjoy the vibrant arts and cultural scene, with the Edison and Ford Winter Estates showcasing the area's rich history. Additionally, the abundance of golf courses, nature preserves, and bustling markets ensure there's never a dull moment. This inviting blend of nature, culture, and leisure establishes Fort Myers as a prime destination for snowbirds seeking solace from the chill of winter.
55+ Community Recommendations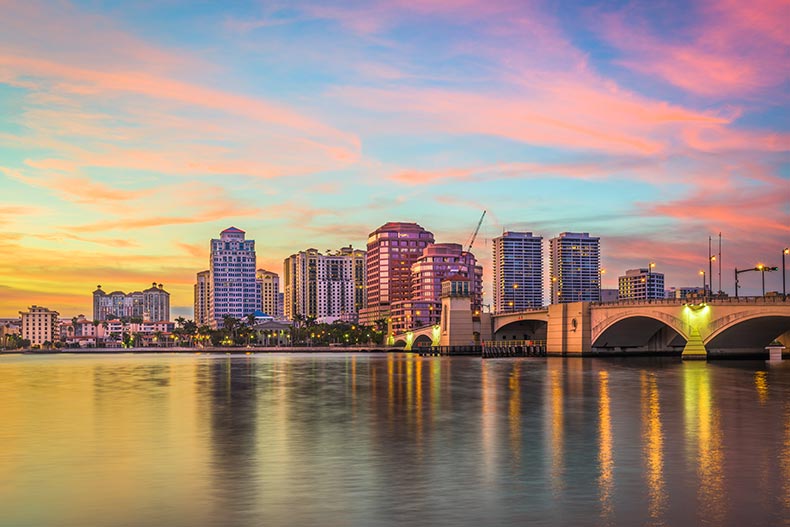 In Palm Beach County, snowbirds can indulge in a world-class shopping and dining scene, with upscale boutiques and gourmet restaurants lining the streets. The county's cultural offerings, including renowned art galleries and theaters, provide an enriching experience for those seeking intellectual stimulation. Also, golf aficionados can perfect their swings on lush greens surrounded by swaying palm trees.
With its luxurious amenities and temperate climate, this region of Florida is another popular destination for snowbirds seeking pristine beaches and azure waters.
55+ Community Recommendations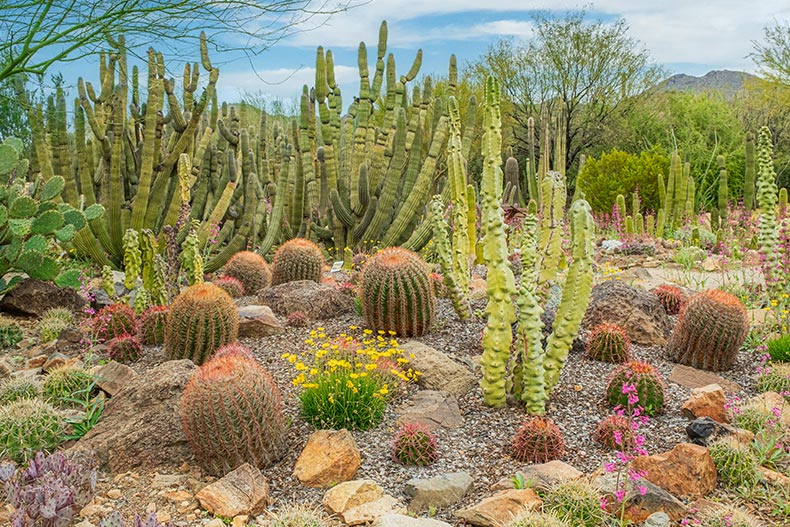 Much like Phoenix, Tucson has also been a long-standing winter getaway for snowbirds. The surrounding Sonoran Desert boasts an otherworldly beauty, perfect for outdoor enthusiasts to explore through hiking, biking, and birdwatching. Also, snowbirds can immerse themselves in the rich Native American and Hispanic heritage that permeates the city, reflected in its art, cuisine, and architecture.
The city's renowned universities, museums, and galleries offer intellectual adventures, while the lively downtown scene brims with entertainment options. And with clear skies and minimal light pollution, Tucson is a prime destination for stargazers and astronomers alike.
55+ Community Recommendations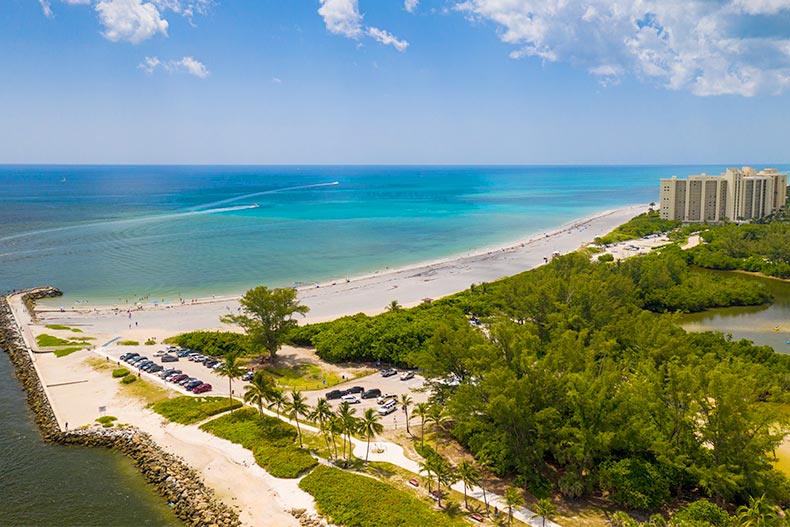 The pristine beaches, framed by swaying palm trees, offer the perfect backdrop for relaxation and seaside activities. Also, Port St. Lucie's emphasis on greenspaces and nature preserves provides ample opportunities for outdoor exploration, from kayaking in the St. Lucie River to hiking in nearby state parks.
Snowbirds can enjoy a friendly community, local festivals, and a burgeoning arts scene. Also, golf enthusiasts will find themselves in paradise with an abundance of championship golf courses. With its laid-back vibe and diverse offerings, Port St. Lucie stands as an ideal destination for snowbirds seeking solace and leisure amid the coastal beauty of Florida.
55+ Community Recommendations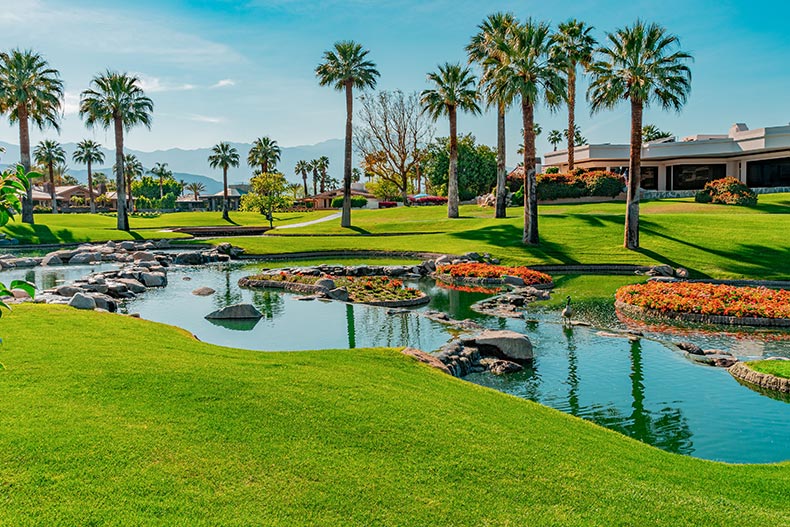 For snowbirds heading to California, Palm Springs offers an iconic desert landscape, a Southern California climate, and a blend of relaxation and entertainment. The palm-lined avenues set against the backdrop of rugged mountains create a picturesque environment for leisurely strolls and outdoor activities.
Golf enthusiasts will find a wealth of world-class courses, while the city's rejuvenating spas and wellness retreats provide the ultimate in relaxation. Snowbirds can explore the city's rich mid-century modern architecture, indulge in upscale shopping, and savor diverse culinary delights. Also, Palm Springs' legendary star-studded history adds an air of glamour to this California city.
55+ Community Recommendations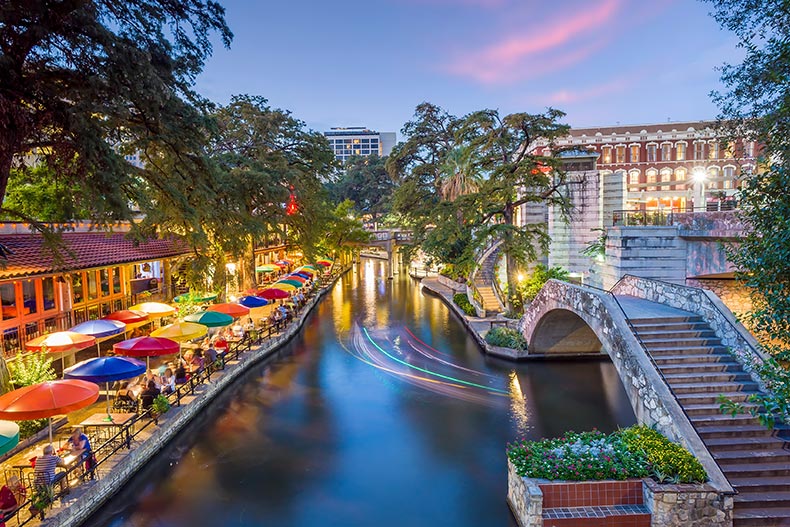 In San Antonio, the iconic River Walk—adorned with picturesque bridges and charming cafes—invites leisurely strolls and boat rides along its meandering path. Snowbirds can also explore the historic Alamo and immerse themselves in the city's multicultural heritage, reflected in its art, music, and culinary scene.
San Antonio's festivals and events add to its lively atmosphere. Also, this Texas city's surrounding natural beauty—from Hill Country vineyards to nearby state parks—offers outdoor enthusiasts a range of activities. With its warm hospitality, cultural depth, and inviting atmosphere, San Antonio beckons those seeking an enriching and dynamic escape from colder climates.
55+ Community Recommendations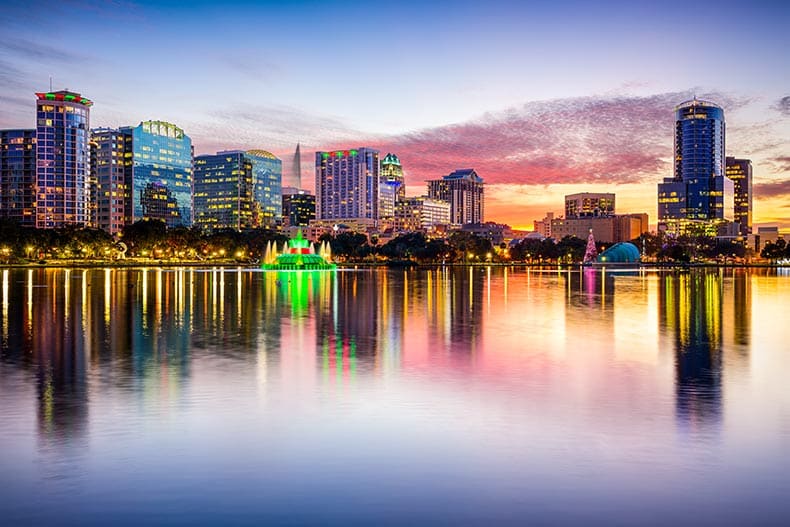 Last but not least on our list of the top spots for snowbirds is another ever-popular destination for fun in the sun—Orlando, Florida. The iconic Walt Disney World Resort, Universal Orlando Resort, and other theme parks offer unparalleled entertainment for visitors of all ages. Snowbirds can also explore a myriad of cultural and artistic venues, from museums to theaters, adding depth to their experience.
The city's pristine lakes and parks provide opportunities for outdoor activities like boating, fishing, and hiking. Also, with its thriving dining scene and shopping districts, there's never a shortage of things to do. Orlando's warm weather and festive ambiance make it an enticing destination for snowbirds seeking both adventure and leisure during the winter months.
55+ Community Recommendations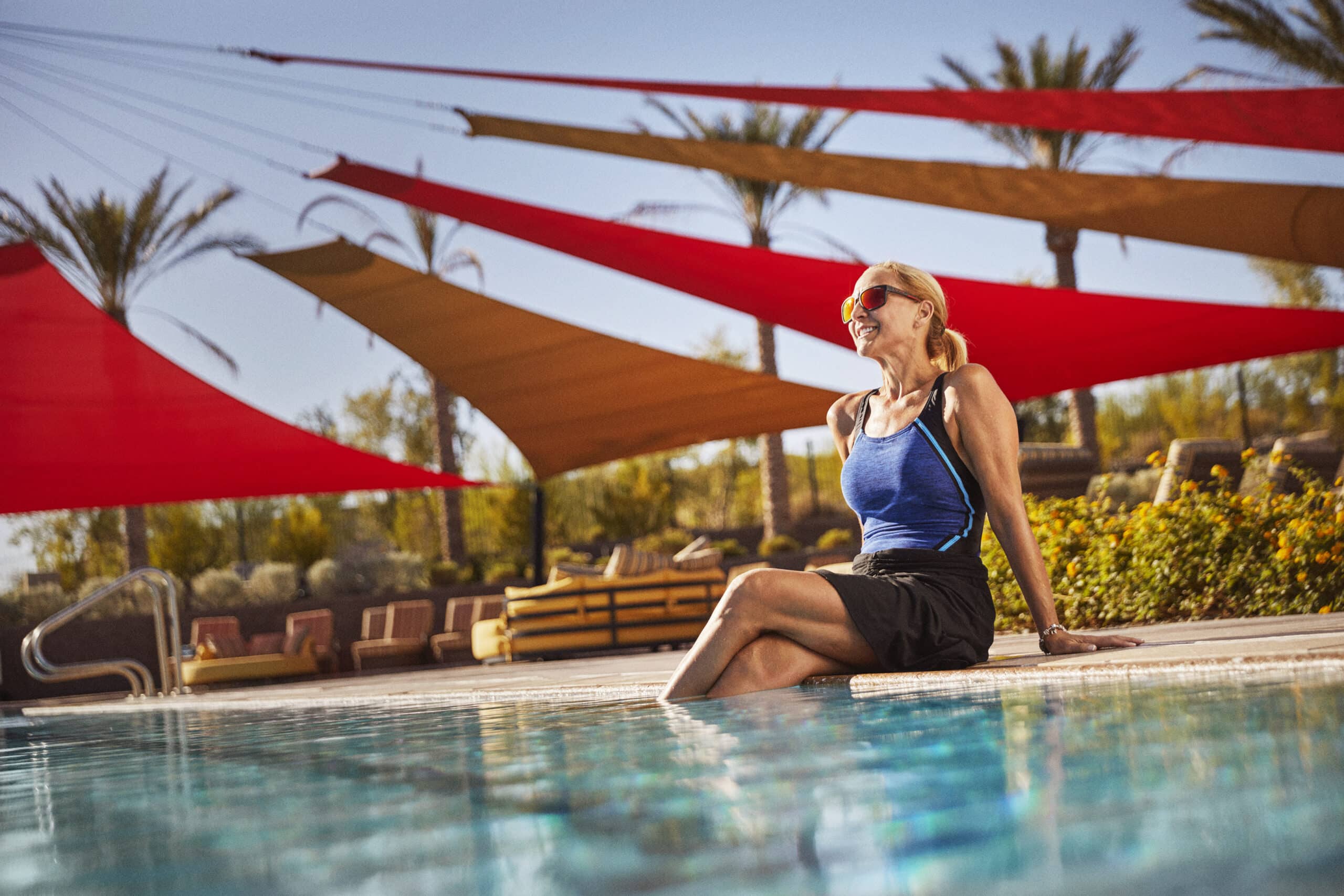 Discover what's next.
To learn more information or connect with a real estate expert, contact us today.