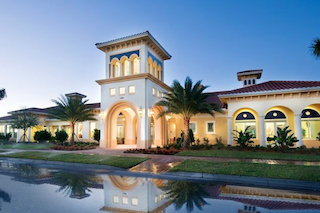 Set along Florida's Gulf Coast, in Sarasota County, Venice is a popular destination for tourists and snowbird retirees. The friendly area offers small-town charm along with hot, sunny weather, beautiful white beaches and diverse attractions that appeal to many different interests. For those looking to relocate, Venice is also home to several impressive active adult communities.
The city of Venice is located about 20 miles south of Sarasota, on the shores of the Gulf of Mexico. It is also about 27 miles northwest of Charlotte Harbor and the popular Port Charlotte area. Venice generally has a hot, humid climate with the warmest weather in July and the coolest in January. Average high temperatures during the summer months are in the low 90s, but they can reach 100 degrees. During the winter months, days are often in the mid-70s, with record highs rising to the high 80s.
With a prime Gulf Coast location, Venice is a perfect place for outdoor recreations. Visitors and locals alike love the Venetian Waterway Park, a linear park that parallels both sides of the Intracoastal Waterway to provide nearly 10 miles of waterfront scenery. The park provides plenty of space for exercise and recreations, as well as the restored Venice Train Depot.
Of course, beautiful beaches are a highlight of Venice. These sunny shores offer an ideal place to swim, boat, fish or just relax on the beach. Venice Beach is home to the popular Venice Beach Pavilion, while South Brohard Park is the only dog beach in the area.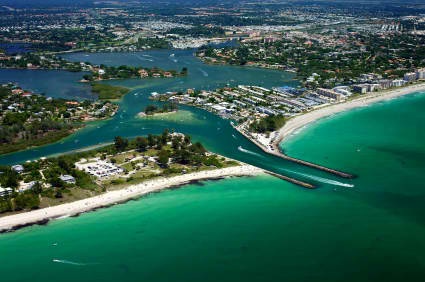 Venice's coastal shores are also known as an ideal place to find fossilized shark's teeth and some have nicknamed the city the "Shark's Tooth Capital of the World." Each spring, the Shark's Tooth Festival celebrates this distinction with a weekend full of food, fun, music and entertainment. Visitors can see shark teeth displays, buy arts and crafts, and enjoy delicious seafood and barbecue favorites.
Other festivals and special events throughout the year add even more excitement to the streets of Venice. Summer brings the annual Miami Avenue Craft Festival, while January celebrates the Downtown Venice Craft Festival. Holidays are also popular times in Venice, with annual events such as the Easter Egg Hunt, Halloween Parade and Christmas Walk.
Historic Downtown Venice is the perfect place to visit unique shops and local restaurants. For history buffs, the downtown area is a prime spot to explore historic buildings and vintage architecture. Many tourists who travel to Florida's Gulf Coast enjoy staying in the relatively tranquil Venice area, while making day trips to other Florida hot spots.
Active adults who choose to settle in Venice can find a wide range of beautiful homes and impressive amenities. Communities like IslandWalk at West Villages and Sarasota National are open to all ages, while Venetian Falls is a resort-style community designed for active adults aged 55 or better.
Whether planning a coastal vacation or looking for a Florida retirement destination, Venice is a beautiful Gulf Coast city with attractions and events that are sure to interest active adult retirees.