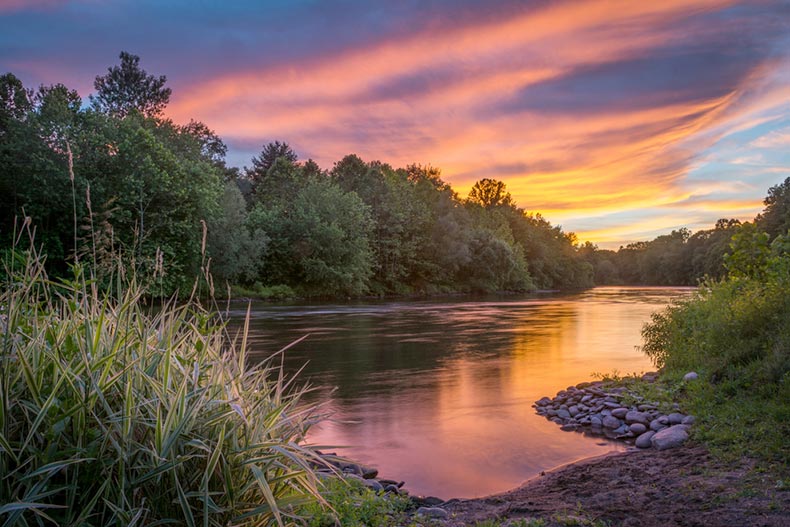 Pennsylvania isn't one of the largest states in the U.S., but it sure has more than its share of major metropolitan areas, outdoor attractions, historical treasures, and other intriguing landmarks. Active adults who choose to live in the Keystone State can find an impressive selection of retirement communities in its central, eastern, and western regions. Philadelphia, Pittsburgh, and Allentown are its three largest cities, and Harrisburg was named the state capital in 1812.
Each of the three regions has diverse landscapes, which produce varying climates. In general, all four seasons make their presence known, and some areas like the Poconos Mountains can get quite a bit of snow each winter. Closer to Philadelphia, temperatures can approach the 90-degree mark in the summer. The Appalachian Mountains cut through the middle of the state, and major rivers include the Susquehanna, Allegheny, and Delaware.
Scenic beauty is definitely one of Pennsylvania's distinguishing features, and there are many landmarks worth exploring. History buffs, cultural aficionados, foodies, shopaholics, and everyone else can also find endless ways to enjoy active lifestyles in Pennsylvania.
Here's a regional breakdown of what it's like to live in Pennsylvania.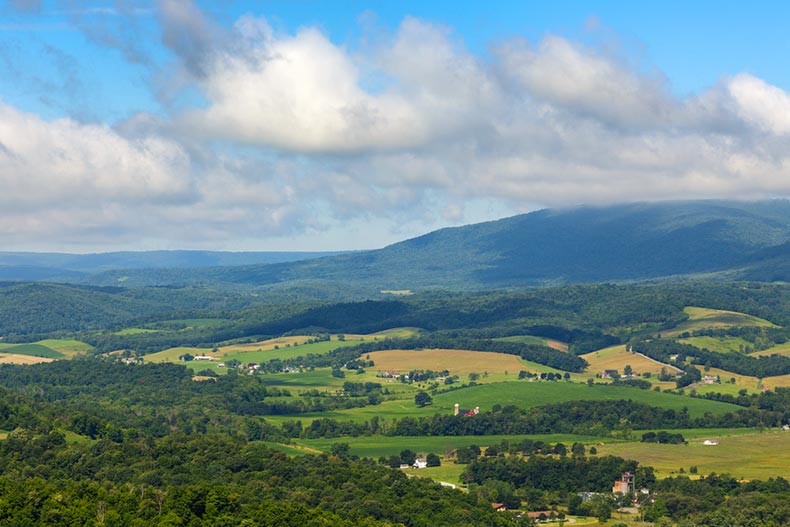 Wide-open spaces, rolling hills, historic battlegrounds, and Amish Country are all hallmarks of Central Pennsylvania. The pace of life is more relaxed out this way, especially in the Lancaster-Ephrata area. This is the heart of Amish Country (also called Dutch Country), where Amish and Mennonite populations fled Europe and settled in the early 18th century. Their simple way of living connects with visitors, who enjoy stopping by the charming farms and markets. Additional local attractions include the Dutch Apple Dinner Theater, beautiful covered bridges, and unique towns like Lititz.
One of the most revered (and haunting) places to visit in central Pennsylvania is Gettysburg National Park, the site of a major Civil War battle in 1863. Gettysburg also has a nice little downtown area and the famous Sachs Covered Bridge.
Harrisburg and Hershey are about 15 miles apart, and they offer urban appeal, outdoor fun, and yes, chocolate. The state's capital is in the Susquehanna Valley, and it's also where you can check out the National Civil War Museum, see shows at the Whitaker Center, and take in the scenery at Harrisburg Riverfront Park. Hershey is known for its large, family-friendly Hersheypark amusement complex, but it also has an upscale resort and spa (check out their delightful chocolate packages), gardens, museums, and a zoo.
Other Cities
Other cities in Central Pennsylvania that have active adult communities include Hanover, Lebanon, York, and State College. The latter is home to Penn State University's main campus, as well as the two championship Penn State Golf Courses.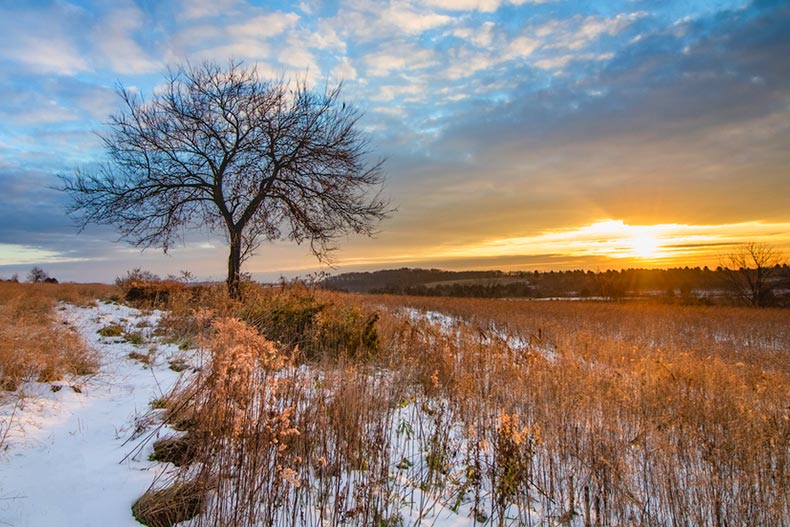 The eastern part of Pennsylvania is more densely populated than its other regions.
Allentown, Reading, and Philadelphia are all in the eastern part of Pennsylvania, which is more densely populated than its other regions. Allentown and Reading are about an hour apart from one another, while Philly is a bit farther. Living around here means that you're close to two major metropolitan areas since New York City isn't too far away (about two-and-a-half hours from Reading).
Part of the Lehigh Valley, Allentown has come into its own recently, with an exceptional parks system that features over 25 spots for folks to enjoy outdoor fun. The Allentown Farmers Market is another big draw as well as the Municipal Opera Company and the vibrant downtown area.
Reading is a smaller city, with a lower cost of living, wide valleys, and forested hills. Like Allentown, it's up-and-coming, with a history highlighted by the construction of the Reading Railroad back in the early 1900s. Its well-respected theatres and museums include Goggle Works and the Miller Center for the Arts. And if you're a golfer, both regular and disc golf courses can be found in Pennsylvania; there are some good ones near Reading such as Flying Hills and Berkshire Country Club.
And then there's Philadelphia, our nation's birthplace. It's known for its historic landmarks, gourmet restaurants, expansive parks, designer shops, and perhaps most important, its iconic cheesesteaks and soft pretzels. To really get to know this city, you'll need extra time since a visit to the Philadelphia Museum of Art or Independence National Historical Park can take the better part of a day. Other highlights include taking in a performance at the Kimmel Center or biking along the Schuylkill River in Fairmount Park.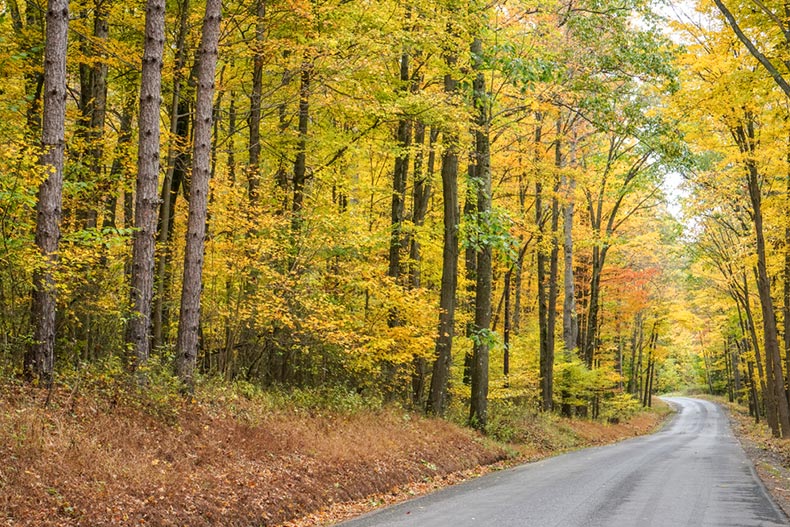 The big city here is Pittsburgh, which is about 150 miles east of the Ohio border. Formerly a blue-collar steel town, it has recreated itself into a top retirement destination with over 2,000 acres of parks and attractions like Point State Park and the Phipps Conservatory and Botanical Gardens. Like Philadelphia, Pittsburgh has many vibrant neighborhoods, and they all have their own personalities and streets worth exploring.
There are plenty of public golf courses in and around Pittsburgh. The appropriately-named Grand View is poised on top of a mountain, and the highly-rated Quicksilver Golf Club is about 30 minutes outside of the city.
As you drive further west from Pittsburgh (approaching Ohio), the landscape becomes more rural, and there are some large state parks like Raccoon Creek and Hillman. Between the two, there are plenty of opportunities for hiking, swimming, boating, fishing, camping, and mountain biking. If you like road trips, it takes about two-and-a-half hours to drive over to Cleveland (where you can visit the Rock & Roll Hall of Fame or the Rocky River Reservation).