Snowbirds always seem to know the best winter destinations, but new and experienced snowbirds alike conduct plenty of research and often travel to several locations to find the best places to go. To help you with your search, we determined some of the best communities for snowbirds.
The 25 55+ communities on this list attract snowbirds year after year thanks to their low-maintenance homes, resort-style amenities, and desirable locations with warm weather. These active adult communities span retirement destinations such as Florida, Arizona, South Carolina, and California as well as Tennessee, Texas, Nevada, and more.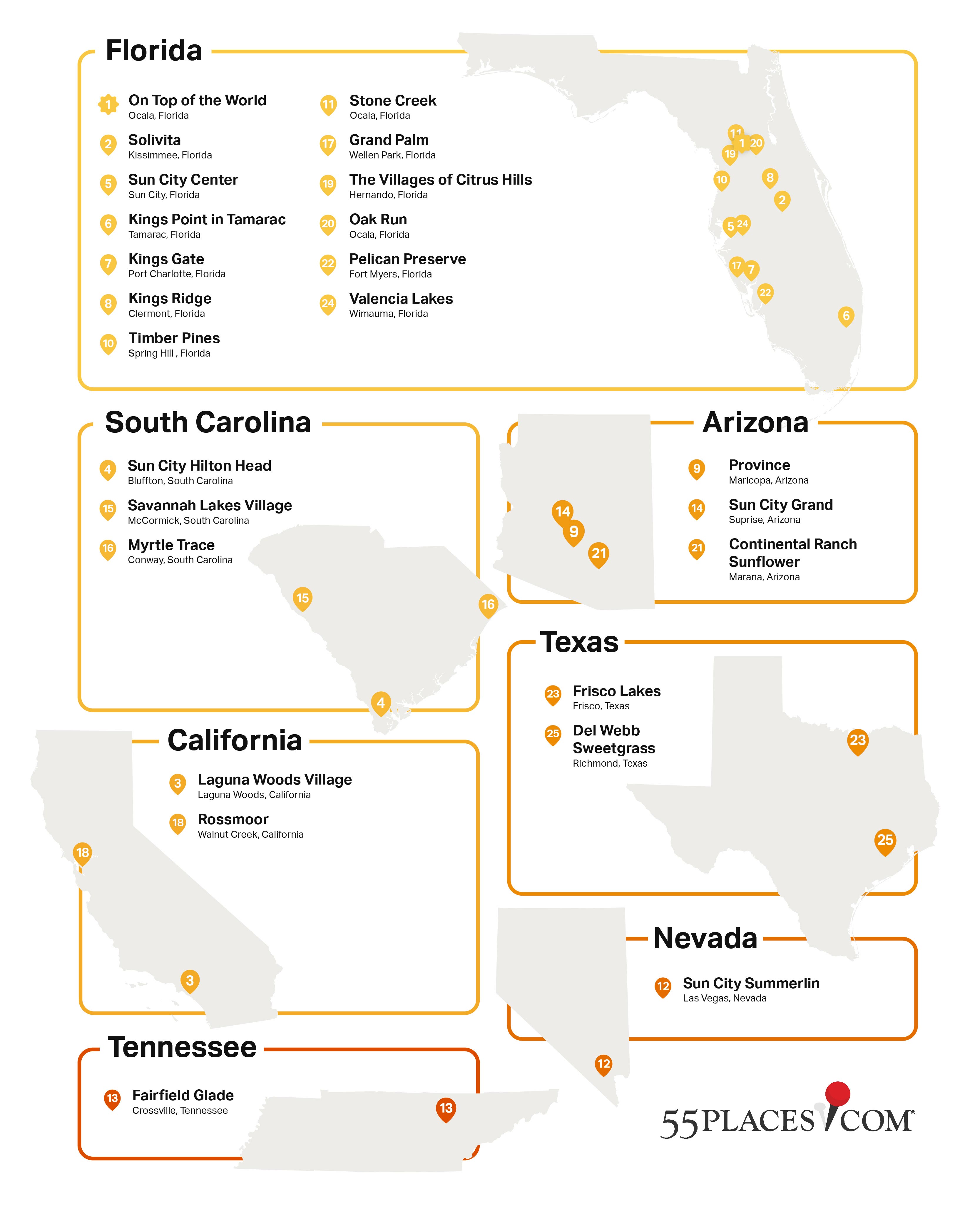 Methodology
Looking through 3700+ active adult communities across the nation, we weighed several data points to determine the best communities for snowbird retirees. The most important factors we took into account for this analysis were:
Weather: Includes average temperature and annual snowfall.
Affordability: Factors in the cities cost of living, and median home price, price per square foot, and average monthly medicare costs.
Popularity: Includes Census population and walk score data.
Taxes: Factors in average property tax and the state sales tax.
After applying scores and weights to each of these data points, we ranked each community by a final score and got the following list. Keep reading to find out what makes these 55+ communities best for snowbirds.
Mid $100s – Low $500s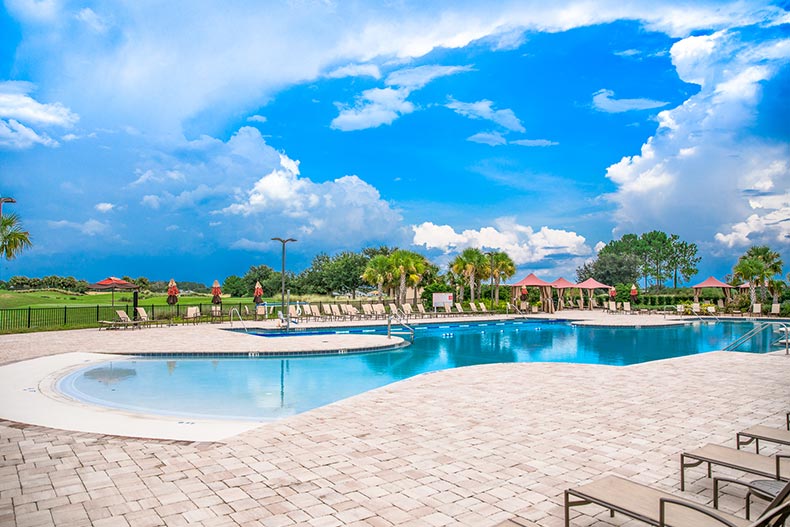 With plans for 10,000 single-family and attached homes, On Top of the World is one of the largest and most well-established 55+ communities in Florida as well as a top snowbird destination. Located in sunny Central Florida, the master-planned community boasts six amenity centers, three 18-hole golf courses, and a full social calendar with hundreds of clubs, meet-ups, and events. The Circle City Commons, a highlight of the amenities, offers a central hub for entertainment with a spa and fitness center, an auditorium, retail shops, and an ice cream parlor.
Snowbirds can choose from a wide variety of single-family and villa floor plans to roost in during the winter months. The low-maintenance homes, along with the assortment of amenities and lifestyle activities, make On Top of The World an ideal home-away-from-home for snowbirds.
High $100s – Mid $600s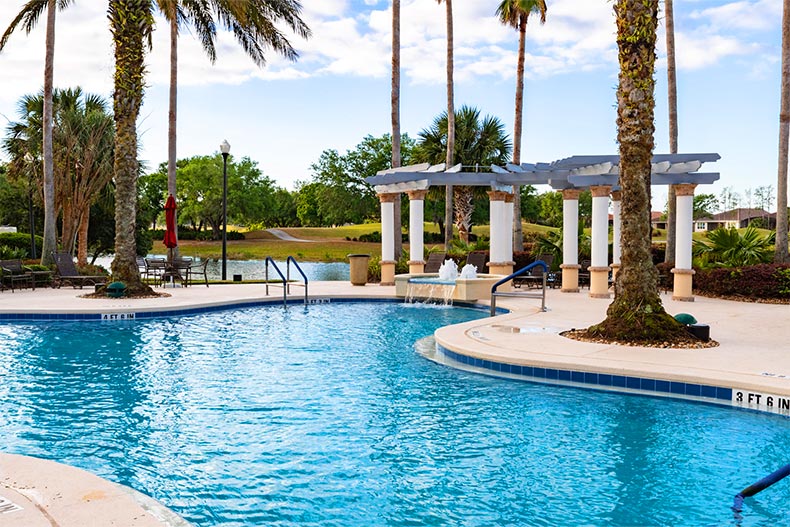 The gated 55+ community Solivita offers snowbirds an abundance of amenities and a convenient location in Central Florida about 40 minutes away from Orlando. The expansive active adult community includes 5,900 single-family and attached homes with all of the creature comforts that make snowbirding a joy.
Snowbirds who like to stay active can enjoy the Riviera Spa and Fitness Center, a 32,000-square-foot fitness center with state-of-the-art equipment, multiple studios for classes, an indoor walking track, and indoor and outdoor heated pools. For active adults looking to explore their creative side, Solivita features Waterfront Galleries, which includes arts and crafts studios and hosts classes for residents to try new hobbies.
High $100s – Mid $1Ms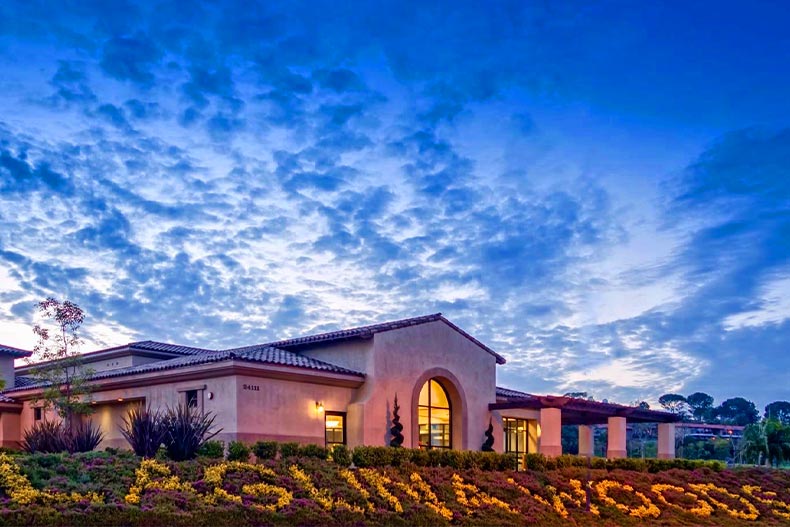 Renowned as the largest active adult community on the West Coast, Laguna Woods Village provides a popular location for snowbirds looking to enjoy The Golden State for the winter. To accommodate its massive size, the community has seven clubhouses, 36 holes of golf, world-class athletic and fitness centers, and a community bus service to bring residents to and from all of these amenities.
Snowbirds can enjoy the community's proximity to the Southern Pacific Coast and its sandy beaches as well as Los Angeles, where residents can find more world-class entertainment and cultural attractions. Laguna Woods Village hosts hundreds of activities and events each year, ensuring snowbirds remain entertained for the duration of the winter, with access to a pleasant, sunny climate throughout the year.
Mid $200s – Mid $1Ms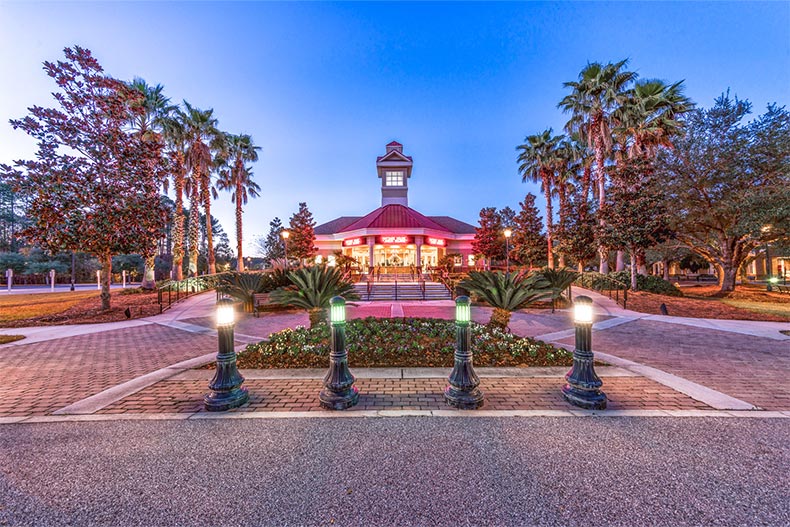 Sun City Hilton Head attracts active adults from across the country with its world-class amenities and warm-weather location along the Atlantic Coast. Golfers rejoice with the community's 54 holes of golf, and fishermen can enjoy the 20-acre fishing lake. Sun City Hilton Head features its own 45-acre city center with dining, entertainment, fitness centers, dozens of athletic courts, and multipurpose gathering spaces where neighbors and friends can socialize.
The location puts sun-loving snowbirds within 30 minutes of Hilton Head Island, a popular vacation destination with scenic beaches and entertainment. The sprawling community consists of 9,000 single-family and attached homes with spacious floor plans, many of which have golf course views.
Below $100k – High $500s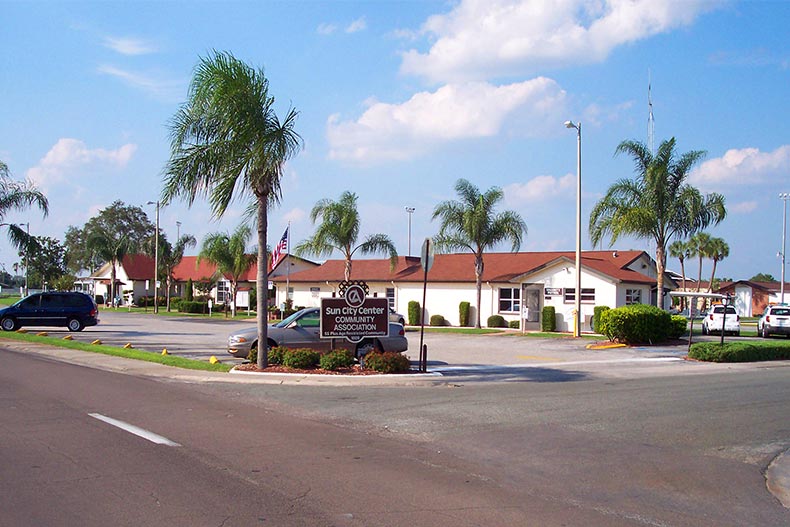 Many people have a preference between the Gulf Coast and Atlantic Coast of Florida, and those looking for active adult communities near Florida's west coast can find one of the top 55+ communities at Sun City Center in Tampa. This expansive master-planned community consists of 9,500 single-family and attached homes in a convenient location less than 30 minutes from Tampa, 20 minutes from the bay, and 45 minutes from the shores of the Gulf Coast.
In addition to low-maintenance homes and a convenient location, snowbirds can enjoy a year-round active lifestyle thanks to the world-class amenities and social calendar at Sun City Center. Residents can participate in more than 200 clubs, activities, and regular events. The amenities feature a 97,000-square-foot clubhouse, and the entire community is accessible by golf cart.
Mid $100s – Low $400s
Kings Point in Tamarac offers snowbirds access to some of the best features that Southeastern Florida has to offer. Located less than ten miles away from world-famous beaches and practically next to the Everglades Wildlife Management Area, the community boasts great options for active adults who like to spend time outdoors in the sunshine.
The 55+ community includes 4,869 affordable attached and condominium homes ideal for snowbirds who plan on spending more time out of the house than in. Residents don't have to travel too far from their doorstep to find entertainment, as Kings Point in Tamarac is filled with amenities such as two clubhouses, a fitness studio, an arts and crafts studio, a cafe, a ballroom, five tennis courts, an outdoor resort-style pool, and gathering spaces that host plenty of activities and clubs.
Mid $200s – High $300s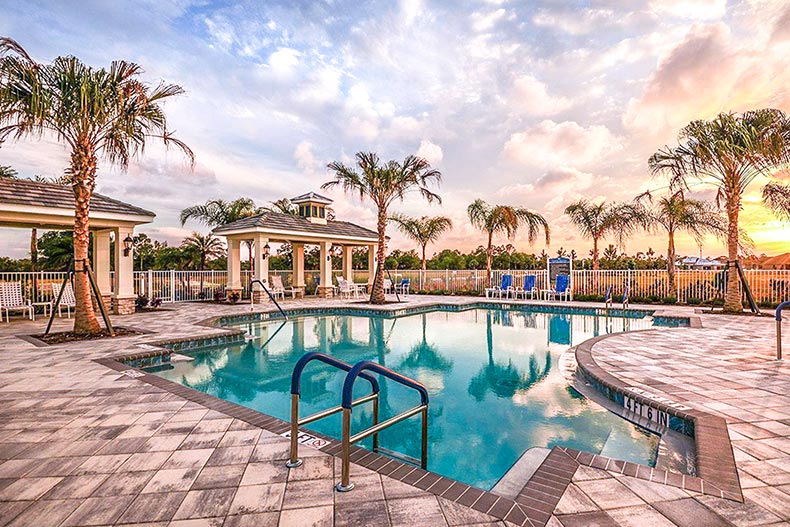 Active adults looking for a snowbirding destination in Southwest Florida can find a community of like-minded individuals at Kings Gate, a gated 55+ community in Port Charlotte. With just 940 single-family and attached homes, Kings Gate offers a more mid-sized neighborhood still stocked with world-class amenities, spacious floor plans, and lifestyle activities.
The amenities feature a 30,000-square-foot clubhouse with a fitness center, a grand ballroom, a restaurant, and multipurpose gathering spaces. The outdoor amenities boast an 18-hole executive golf course, athletic courts, and walking and biking trails. The social calendar includes activities such as book clubs, games, arts and crafts, and cards, and the regular events feature a "snowbird welcome back" celebration.
Mid $200s – Mid $400s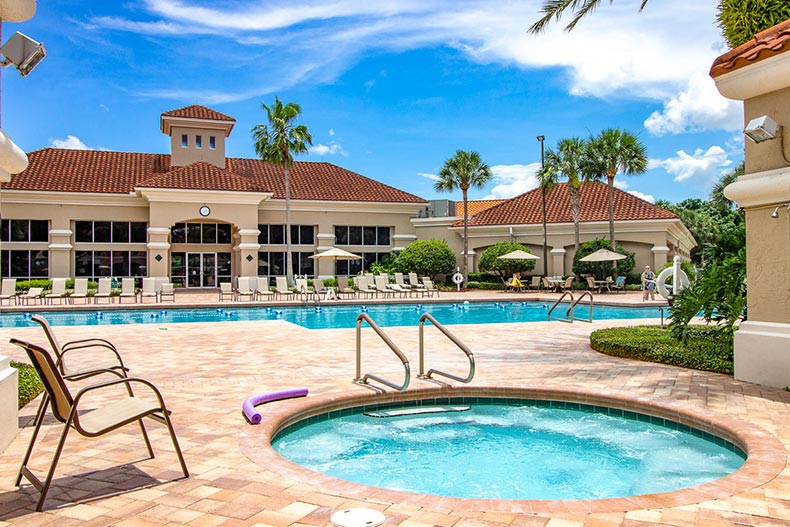 With 2,088 single-family homes, Kings Ridge in Clermont offers snowbirds the opportunity to enjoy a private home-away-from-home where they travel each winter. Residents of this 55+ community enjoy a homeowners' association (HOA) that takes care of all lawn care and exterior home painting, which means that snowbirds can rest assured that their property will be well maintained. Across a range of floor plans, the single-family homes range from 980 to 2,560 square feet, with features such as open layouts, golf course views, and three-car garages.
The community's location just 30 minutes west of the world-class city of Orlando connects residents of Kings Ridge to plenty of entertainment in the surrounding area and even closer to home. The amenities include The Royal Club, a 25,000-square-foot clubhouse, which features a fitness center, library, game rooms, an outdoor pool and spa, and several athletic courts. Another feature that draws snowbirds to Kings Ridge every year are the two 18-hole golf courses at the heart of the community's 15 neighborhoods.
High $200s – High $500s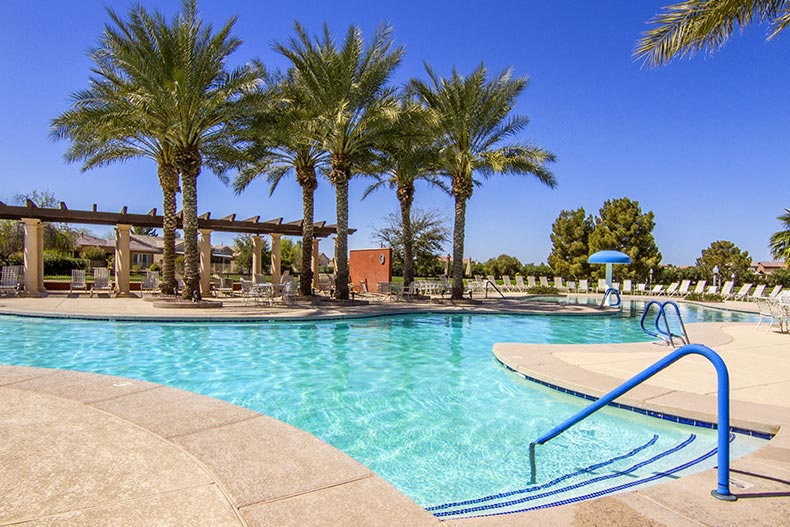 For nature-loving snowbirds who want to spend plenty of time outdoors during the winter months, the 55+ community Province near Phoenix, Arizona might have everything they're looking for. The age-restricted community features walking and biking trails that surround 50 acres of scenic fishing lakes and 125 acres of parks, which represent 30 percent of the community's total acreage. The desirable indoor amenities at Province include a 32,000-square-foot clubhouse, state-of-the-art fitness center, and indoor and outdoor pools for staying physically active.
Province consists of 2,217 single-family and attached homes with many floor plans for snowbirds to choose from. The community's location 35 miles south of Phoenix surrounds residents with all the conveniences residents may need. Province provides an ideal combination of indoor and outdoor amenities, lifestyle activities, and a sought-after snowbird destination.
Low $200s – Low $400s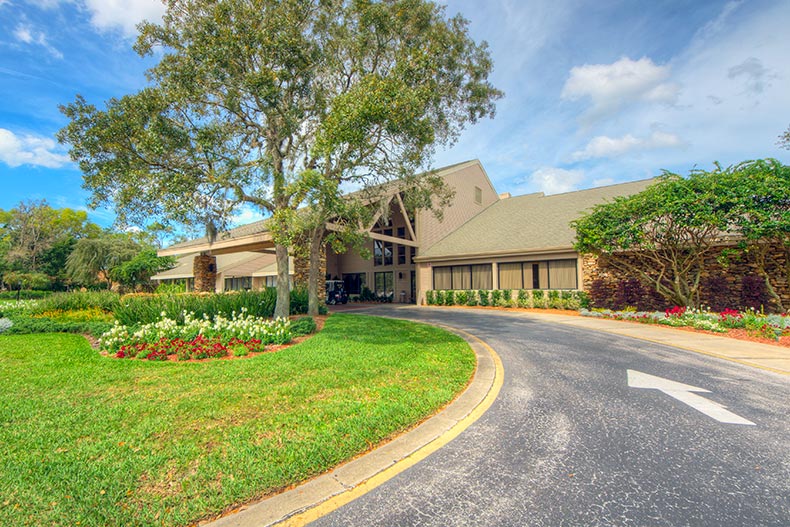 With four golf courses, eight tennis courts, two pickleball courts, and courts for bocce ball, shuffleboard, and horseshoes, Timber Pines boasts plenty of amenities to support an active social and physical lifestyle. The gated 55+ community consists of 3,452 single-family and attached homes, including many snowbirds who return to Timber Pines year after year.
The attached homes offer an ideal option for snowbirds as residents can pay an additional fee for full exterior home maintenance. This provides peace of mind for snowbirds who enjoy travel and may live elsewhere for part of the year. Residents can also easily meet like-minded neighbors and make friends by participating in dozens of clubs, events, and activities. Some of the popular offerings include cards, games, snowbird club, music groups, RV club, and singing and dancing.