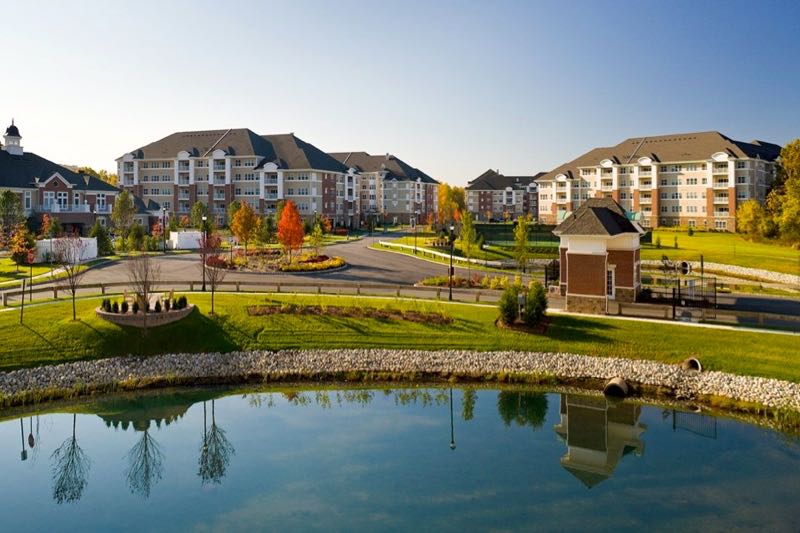 Condominium living is a great option for active adults seeking a true low-maintenance lifestyle. Not only does living in a condo mean that you can say goodbye to the rake and shovel, it also provides an affordable option in areas that typically command a higher price point. If you've always wanted to retire near a large city or an in-demand area without the daunting price tag, condominium living makes that possible.
Active adult developers have long understood the demand for condos among Baby Boomers and have built some incredible 55+ condominium communities all around the country. Here we take a look at some of the most impressive age-restricted condo developments around the country.
Century Village at Pembroke Pines – Pembroke Pines, FL
Not only is Century Village at Pembroke Pines an impressive condominium community, it's also one of the first 55+ developments in the state of Florida, blazing the trail for the condominium communities that would spread throughout the country.
Development began in 1970 and, 25 years later, it was completed with 7,700 condominium units. Residents enjoy access to a massive 135,000 square-foot clubhouse that hosts a fitness center and an indoor pool. The clubhouse also has an elegant ballroom and performance theater for events or shows and all the other amenities that today's 55+ homebuyers have come to expect. Residents are also conveniently close to Hollywood and Fort Lauderdale, where world-class attractions and beaches await.
The Seasons at East Meadow – East Meadow, NY
The Seasons at East Meadow provides low-maintenance living just minutes from the country's largest city. This 400-unit community has a 17,000 square-foot clubhouse as its social center and provides not only a fitness center and indoor pool, but also a dance studio for a unique workout routine. While outdoors homeowners can lounge poolside or let their four-legged friends run free in the dog park.
The Seasons at East Meadow is also a relatively new development, having been built between 2009 and 2012. There were three floor plans available that emphasize highly functional living with sleek features, making this community a hit with active adults in New York.
Oaknoll Villas – Thousand Oaks, CA
At a price point rarely seen in Southern California, 55+ homebuyers can land a beautiful condo and community to call home. Stainless steel appliances, laminate wood flooring and private balconies come in most of these units, although residents here don't spend much time at home considering the community's top-notch amenities and location. Within Oaknoll Villas there is a clubhouse with an exercise room as well as an aerobics and dance studio. There is also a library and billiards area for a more relaxing afternoon.
The sun always shines in Southern California and residents here have plenty of ways to make the most of it with a pool, spa, and patio just outside of the clubhouse. Everyday shopping couldn't be easier as the community is surrounded by shopping centers, a mall, and grocery stores. The Santa Monica mountains and Malibu beaches are also just a half-hour away.
Lansdowne Woods of Virginia – Lansdowne, VA
For a community of 1,200 units, Lansdowne Woods of Virginia is remarkably compact. All condos here are spread across a handful of buildings, ensuring that new neighbors aren't strangers for long. The sprawling 50,000 square-foot clubhouse keeps residents here busy all year long. Not only are there meeting rooms, a state-of-the-art fitness center, and art studios, there are more unique amenities including massage rooms, a woodworking shop, theater, and even a convenience store.
Units in this community are on the larger side for condominium living, ranging in size from approximately 1,513 to 2,282 square feet and can have up to four bedrooms. The nation's capital, having experienced a cultural resurgence in the last few years, is only 35 miles away and is also accessible via public transportation.
Another successful project from the company that created the original 55+ community, Wanaque Reserve brought Del Webb's distinctive brand to Northern New Jersey when it opened in 2004. Wanaque Reserve boasts all of the amenities that has made Del Webb a household name in the industry in the 20,000 square-foot clubhouse, called The Lodge.
The clubhouse is luxuriously appointed with an indoor pool, fitness center, billiards area, and even a movie theater. An outdoor pool, tennis and bocce ball courts, and walking trails not only make Wanaque Reserve a beautiful place to call home, but also make it easy to stay active.
The 755 units in this community range in size from 1,768 to 2,119 square feet and all have two bedrooms and two bathrooms. Flanked by the Ramapo Mountain State Forest and Norvin Green State Forest, exploring the great outdoors is very convenient. If you're in the mood for a more urban experience, New York City is just an hour away.
Would you consider retiring at any of these condo communities?