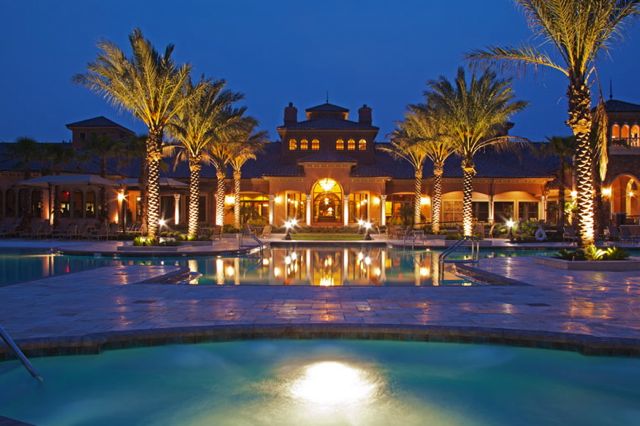 Active adult communities come in many sizes and styles. Smaller, more intimate communities certainly have their own picturesque charm, yet the grandeur of some of the larger developments makes quite an impression with lush appointments and sought-after resort-style amenities. Here is a look at some of our favorite luxurious amenity centers.
1. The Villages, Florida – Sumter Landing Though The Villages offers dozens of clubhouses, the Sumter Landing facility is sure to impress. This colorful waterfront marketplace has the charm of a seaside village with numerous shops, restaurants, a movie theater, and even the Old Mill Playhouse. On a recent visit, we particularly loved to see the buzz of people enjoying the marketplace's many offerings.
2. Trilogy at Encanterra, Arizona Shea Homes' Trilogy communities are known for luxurious amenities, but Trilogy at Encanterra ups the ante with its 60,000 square-foot La Casa Club. This upscale clubhouse contains the full-service Alvea Spa, steam rooms, saunas, a state-of-the-art fitness facility with an indoor pool, and an elegant fine dining restaurant. The lavish patio opens to beautiful grounds and an outdoor resort-style pool.
3. Lely Resort Golf & Country Club, Florida With its azure lakes and pristine preserves, Lely Resort Golf & Country Club attracts many discerning homebuyers. The community's main clubhouse, the Players Club & Spa, encompasses a 9-acre tropical retreat. Indoor amenities feature fitness facilities, hobby and game rooms, and a full-service spa, while outdoor recreations feature highlights like a poolside Tiki bar.
4. Del Webb Ponte Verde, Florida Del Webb Ponte Verde has many exciting amenities, but we are particularly enamored with The Anastasia Club which opened in 2011. This 37,800 square-foot clubhouse has impressive indoor amenities such as its arts and crafts studios, and fitness facilities. Yet its resort-style outdoor recreations span an additional 15 acres.
5. Sun City Anthem, Nevada High above the Las Vegas Valley, Sun City Anthem boasts three fabulous amenity centers. Its main clubhouse, The Anthem Center, includes 77,000 square feet of indoor amenities, including a state-of-the-art fitness center, multipurpose meeting rooms, a full-service spa, and a gorgeous restaurant which offers truly impressive views.
6. SaddleBrooke Ranch, Arizona Just 28 miles from downtown Tucson, SaddleBrooke Ranch features a spectacular new clubhouse which opened at the end of 2010. La Hacienda Club is a 37,000 square-foot facility which offers beautiful appointments, numerous indoor and outdoor resort-style amenities and spectacular mountain views.
7. Sun City Lincoln Hills, California With over 6,700 homes, Sun City Lincoln Hills is the largest active adult community in California. Its magnificent main clubhouse, the Orchard Creek Lodge, lives up to this designation with 68,000 square feet of amenities. Highlights include indoor and outdoor swimming pools, a grand ballroom, and state-of-the-art fitness facilities.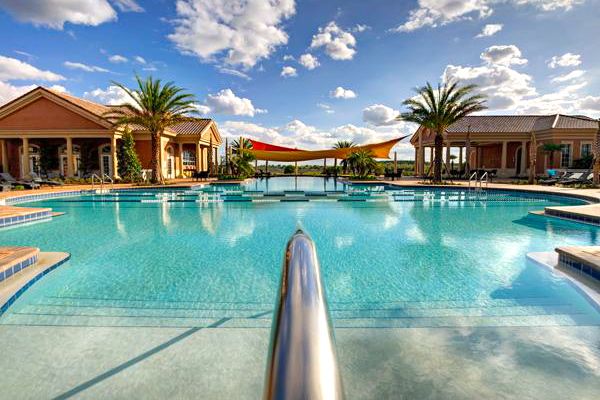 8. Valencia Reserve, Florida Set in Boynton Beach, Valencia Reserve appeals to active adults for both its popular location and impressive amenities. Its 41,000 square-foot amenity center sits amid 9 acres of resort-style recreations including nine tennis courts and a lagoon-style pool. Indoors, the typical community amenities are joined by special touches like the Wii interactive gaming studio.
9. Regency at Monroe, New Jersey Regency at Monroe is a luxurious Toll Brothers community which boasts an award-winning clubhouse. This spectacular facility features many of the most popular indoor and outdoor resort-style amenities. It is also well-prepared for socializing year-round with a cozy fireside clubroom, a coffee lounge, and a state-of-the-art multimedia theater with a performance stage and dance floor.
10. Trilogy Orlando, Florida Although Trilogy Orlando's new state-of-the-art amenity center is still under construction, 55places.com was given a sneak peek preview on a recent tour of Central Florida. With an impressive line-up of recreations and an exquisite attention to detail, Shea Homes will surely set a new standard for luxury amenities with this amazing 57,000 square-foot facility.