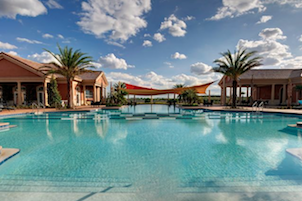 Buying a home in an active adult community also means choosing a development which has the amenities which appeal to your interests. While the idea of a perfect line-up of amenities varies from one resident to the next, the following communities impress with spectacular clubhouses that prove bigger can certainly be better.
At Trilogy Orlando, residents enjoy a spectacular line-up of amenities at Magnolia House, a 57,000 square-foot clubhouse. Magnolia House welcomes residents with cozy gathering areas and modern décor.
In addition to the typical resort-style amenities—such as a fully-equipped fitness center, hobby and game rooms, swimming pools and sports courts—Magnolia House puts its own spin on amenities such as the Explorations Connection Lounge Internet cafe, The Crow's Nest sports retreat, and Emma's Culinary Garden which combines a working garden, a high-end kitchen and a dining room.
While Sun City Anthem has multiple clubhouses, new residents are sure to be impressed by the main Anthem Center facility. This 77,000 square-foot facility houses some of the community's most popular amenities, such as the state-of-the-art fitness center, hobby and craft studios, a computer lab and the grand ballroom.
The Anthem Center's Serenity at Anthem day spa provides full-service treatments, while the Anthem View Restaurant serves up a delectable lunch and dinner menu.
Lely Resort Golf & Country Club's Players Club & Spa is a spacious facility that lies at the heart of the community. This beautifully appointed clubhouse is designed as a tropical retreat boasting a wide range of exciting activities.
The Players Club & Spa features a club room for socializing, a billiards hall for friendly competition and an arts and crafts studio where residents can express their creativity. Its 3,500 square-foot fitness center lets residents work out with high-end equipment or join a fitness class, while a full-service spa is the perfect place to unwind. Just outside the clubhouse, residents will also enjoy outdoor recreations including a lagoon-style pool complete with waterfalls and a Tiki bar.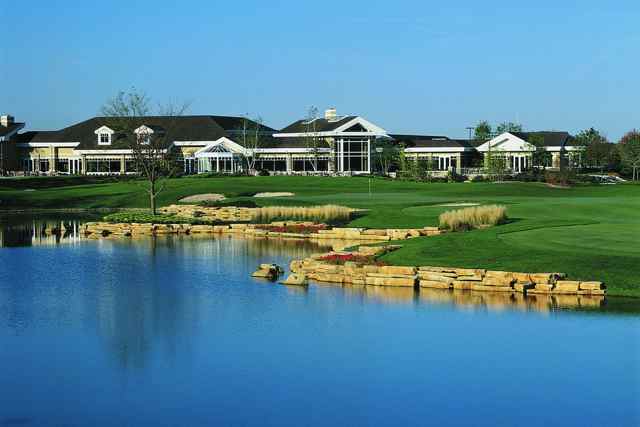 With 94,000 square feet of amenities, Sun City Huntley's Prairie Lodge is one clubhouse that will please many diverse residents. This fabulously designed amenity center has a spacious state-of-the-art fitness center with high-end equipment, an aerobics studio, an indoor walking track, an indoor lap pool and a spa. Hobby rooms feature studios to support pastimes like arts and crafts, ceramics and sewing, while game rooms provide billiards and card tables.
Jameson's Charhouse serves lunch and dinner daily, and the Drendel Ballroom doubles as a performing arts theater. The community also has additional clubhouses and recreations spread throughout its grounds.
Featuring 60,000 square feet of amenities, Trilogy at Encanterra's La Casa Club is the hub of social and recreational activity within the community. This impressive facility was designed to support a healthy mind, body, and spirit with a state-of-the-art fitness center, the luxurious full-service Alvea Spa and a private fine dining restaurant.
Hobby and game rooms offer residents a variety of pastimes, and outdoor recreations feature popular activities like tennis and sand volleyball.
As one of the largest active adult communities in California, Sun City Lincoln Hills was designed with a spectacular line-up of resort-style amenities. While the amenity-rich grounds feature multiple clubhouses, the main facility is the Orchard Creek Lodge.
This 68,000 square-foot clubhouse has indoor and outdoor swimming pools, a two-story fitness center with state-of-the-art equipment, numerous multipurpose activity rooms and a spacious ballroom with its own performance stage.
Regency at Monroe residents will enjoy a life of luxury as they relax in their award-winning clubhouse. With beautiful furnishings and 40,000 square feet of amenities, this magnificent clubhouse lives up to the Toll Brothers reputation for elegant living.
Here residents can socialize in a cozy fireside lounge, enjoy a game of card or billiards, make use of the business room's computers, or work out in the fully-equipped fitness center. The clubhouse is also prepared for many different events with several small multipurpose rooms and a large ballroom complete with a performance stage, dance floor, and catering kitchen.
While each active adult community has its own unique charm, potential homebuyers are sure to be impressed with the spectacular clubhouses in these popular developments.