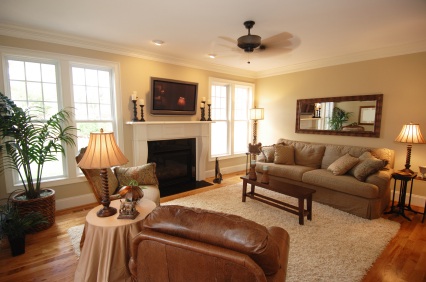 The American dream of homeownership is alive and well, although smaller in square footage than years past. The U.S. Census recently found the average square footage of an American single-family home dropped from 2,541 square feet in 2007 to 2,343 square feet at the end of 2008. In addition, a January survey by the National Association of Home Builders found 88 percent of its members plan to build smaller homes this year.
The trend towards living in smaller spaces is surely no surprise to active adult community builders who know all about the importance of downsizing. While some retirees do look for larger homes to fulfill their lifelong dreams, most retirees are in search of well thought out floor plans that maximize space, are low-maintenance and include energy efficient features. Active adult communities across the country offer a wide variety of housing styles including the most popular among retirees, the one-story ranch home.
A prime example of an active adult community offering a collection of reasonably sized ranch homes in Sun City Huntley by Del Webb in Huntley, Illinois. The new construction homes offered today at Sun City Huntley start at 1,216 square feet and go up to 2,559 square feet. In years past, this Del Webb community offered many floor plans well over 3,000 square feet. Their collection of floor plans today is better aligned with the trend towards smaller space living and all of them are one-story ranch style. The floor plans at the most successful active adult communities have evolved and improved from years of studying the needs and lifestyles of residents.
A well-designed home can actually have less square footage and still feel and live larger than one would imagine. The open floor plan concept has become increasingly popular and is a perfect fit for a one-story home. Active adult community homes typically feature a large kitchen open to a great room and dining space, and many even look out to a garden room or outdoor patio. Forgoing walls and opening up the everyday living spaces maximizes the feeling of spaciousness. According to the above mentioned U.S. Census survey, single-family homes completed in 2009 also had fewer bedrooms and bathrooms.
Empty-nesters no longer need all those extra bedrooms and are gladly willing to trade unnecessary bedrooms in favor of a larger master suite complete with a luxurious master bath and walk-in closet. Active adult homeowners typically utilize secondary bedrooms for overnight guests or for a much-loved hobby. Those still in the work-force seek out floor plans featuring a den or may convert a secondary bedroom into a home office.
Another bonus of the more modern open floor plan design, aside from the spacious living spaces and luxurious master suites, is more natural light. Taking away unnecessary walls to create a more open floor plan also opens the space to more natural light. A nice, bright living space naturally feels more spacious and much more inviting. The numbers game of square footage really hinges on the overall design of the home.
Sometimes a number is just that, a number, and square footage is no different. Just because a home claims to be larger in size on paper doesn't necessarily mean it will live large as well. Downsizing to well-designed home with an open floor plan may actually feel like an upside.