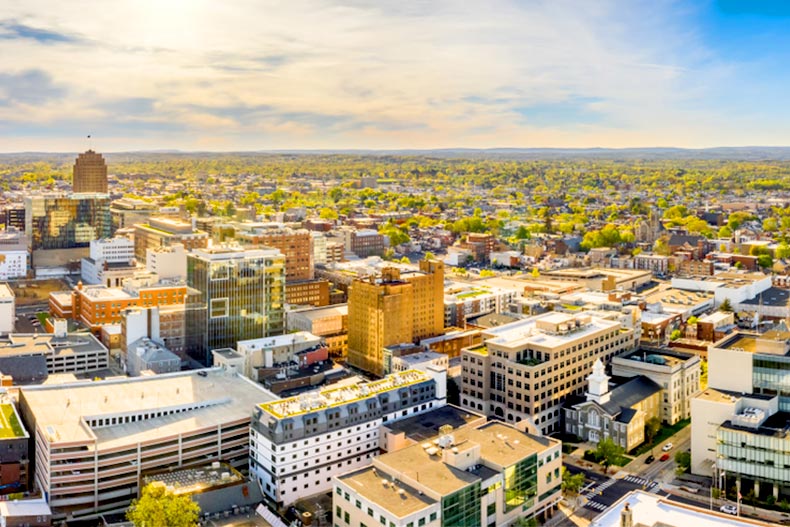 The counties of Northampton, Bucks, and Lehigh are all in Eastern Pennsylvania's Allentown area, and though they offer low-key lifestyles for active adults, they're also close to metropolitan hubs. This means you can live in a low-maintenance home in a quiet development with life's necessities nearby, but traveling into town to see a show or museum, receive care at a top hospital, or dine at a highly-rated restaurant is easy.
Allentown isn't the only decently sized city in this region. Bethlehem and Quakertown are also part of this area, and each has its own share of unique landmarks and attractions for visitors.
Allentown area real estate is budget-friendly, and many 55+ neighborhoods have homes for sale under $200k. Other benefits of living here include less traffic, abundant open space and outdoor recreational opportunities, and a lower overall cost of living. Pennsylvania is known as a retirement-friendly state because it doesn't tax retirement income, such as social security, 401(k)s, pensions, and IRAs. The state sales tax is six percent, and the income tax is a flat 3.07 percent.
High $100s - Low $200s
Part of Lehigh County, the borough of Macungie is about 10 miles south of Allentown. It has about 3,000 residents and an active local government that sponsors community events like fundraisers and farmers markets. In town, you can find the welcoming Brookside Country Club, The Lower Macungie Library, and Macungie Park Pool. Main Street has plenty of shops, restaurants, and services, including a Weis Market, the Pub on Main, banks, and convenience stores.
Millbrook Chase is an active adult community built from 1998 to 2002, with 180 resale attached homes. They have 1,496 to 2,006 square feet with two or three bedrooms, two or three baths, and attached one- or two-car garages. Features include spacious master suites, screened-in porches, family rooms and formal living rooms, and the reasonable homeowners' association (HOA) fee covers community services and amenities.
The community clubhouse here has a fitness center, billiards, and social rooms. Step outside and you'll find a putting green, an outdoor patio, walking and biking trails, and natural space to enjoy. Friends and neighbors spend time together at social events, planned trips, holiday parties, and scheduled excursions. Two nearby golf courses are at Lehigh Country Club and Shepherd Hills. Homeowners can also spend time outdoors at Little Lehigh Creekside Hiking Trail and Danfield Run; both are less than two miles away, and Danfield has a playground for the grandkids.
Request more information about Millbrook Chase.
Mid $100s - High $100s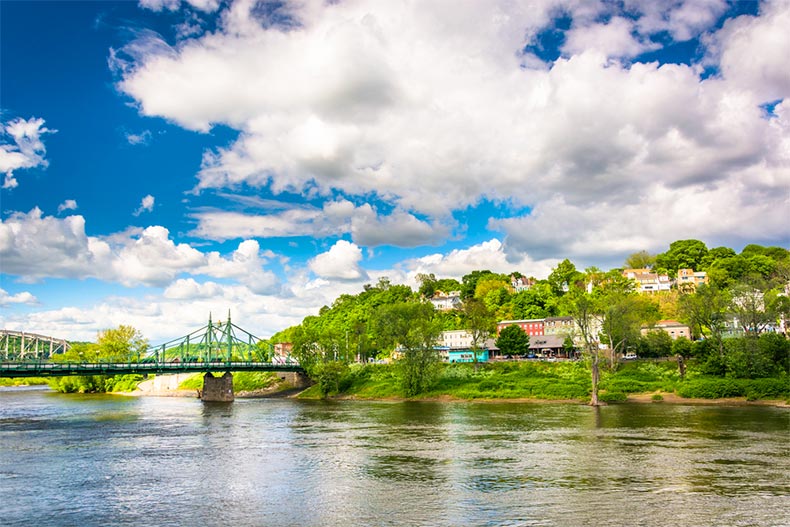 The town of Easton is 11 miles from Bethlehem and 17 from Allentown, and its history dates back to the 1700s; its town square was one of the three original sites for the reading of the Declaration of Independence on July 8, 1776. Its landmarks include The First United Church of Christ, Bachmann Publick House, Lafayette College, and The Crayola Experience. The downtown historic district is also home to locally owned shops, restaurants, and art galleries.
The Village at Upstream Farm is in Northampton County, just five minutes from Downtown Easton. It was completed in 2009 with 124 resale attached homes in three ranch-style floor plans, ranging from 991 to 1,180 square feet. These homes have at least one bedroom, one or one-and-a-half baths, and attached one-car garages. The two larger models include dens that can be used as a second bedroom. Options include patios, porches, sunrooms, fireplaces, and vaulted ceilings.
There's a private clubhouse for residents, which features activity rooms and an exercise room. The Village is also within walking distance of Bushkill Creek and Penn's Ridge Park. Easton also has several fitness centers and challenging golf courses at Green Pond Country Club and Morgan Hill.
Request more information about The Village at Upstream Farm.
Below $100k - Low $100s
Built just half a mile away from the pristine Green Lane Park and Reservoir, Red Hill Estates is an established retirement community with 260 resale single-family homes in Montgomery County. Homeowners can walk or bike over to the park, where they can fish, spend time boating, observe wildlife, or even go camping. Other nearby landmarks include the Upper Perkiomen Valley Library, Red Hill Park, grocery stores, convenience stores, churches, and Sweetwater Golf Course.
Red Hill Estates has two affordable ranch-style floor plans ranging from 1,120 to 1,493 square feet with three or four bedrooms, two baths, and carports or one-car garages. Upgrades may include expansive master suites, breakfast nooks, gas fireplaces, large living and dining rooms, vaulted ceilings, and decks. The reasonable HOA fee covers sidewalk repairs, street lights, and exterior home maintenance.
Red Hill's private clubhouse serves as a gathering space for social events like parties and group meetings, and the grounds also have natural space and walking trails. For those interested in a day trip or a night out on the town, driving into Allentown takes just over half an hour.