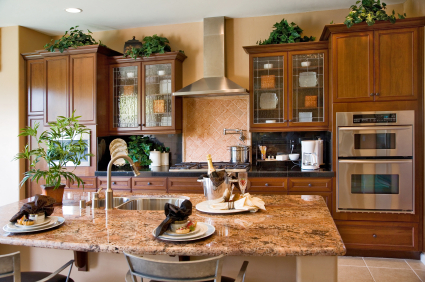 When shopping for a new home, active adults often come across the same buzzwords over and over again. However, these catchy phrases may mean different things to different people. One feature that is commonly mentioned is the "gourmet kitchen." Just what is it about a kitchen that makes it "gourmet" and how is it different from a regular or a "designer" kitchen?
What Is a Gourmet Kitchen?
As the name implies, a gourmet kitchen is designed for those who love to cook. Though a gourmet kitchen will often be beautifully designed, its real appeal should be through its superior function. Both a "gourmet kitchen" and a "designer kitchen" may have upscale cabinetry and lovely hardwood floors, yet the gourmet variety will take it further with higher quality appliances and other special touches. Higher quality appliances (stoves, ovens, built-in microwaves, vent systems, etc.) make it easier to prepare gourmet meals. Cooktops which feature gas burners in several different sizes will bring more versatility and a convection oven will give you more options when baking.
Yet, the choice of major appliances are only one element of a gourmet kitchen. In addition to high quality appliances, a gourmet kitchen should have a basic layout that is designed with each stage of cooking in mind. This often means extra countertop or island space, but could also include elements such as a second prep sink or a built-in butcher block counter. A gourmet kitchen should allow plenty of room for meal planning, food preparation, cooking, and dining.
Though a gourmet kitchen is designed for those who love cooking, it should also make it easier to clean up after a meal. There should be plenty of storage for all of your small appliances, cooking utensils, serving dishes, and other kitchen necessities. A layout that allows two or more people to comfortably work together in the kitchen will help both with meal preparation and with the post meal clean-up.
Several details can go into upgrading to a gourmet kitchen, and these details go beyond simple aesthetics. For example, an extra deep sink and a faucet with a pull-out spout will help with both cooking and clean-up. That isn't to say that a gourmet kitchen can not include designer touches as well. When browsing home descriptions, the phrase "gourmet kitchen" tells you something about the house. Yet, seeing the house in person may make you realize that there isn't as much "gourmet" in the kitchen as you would like. If a gourmet kitchen is at the top of your list of priorities for a new home, make a list of the features you want it to have and talk to your realtor about your needs before making trips to visit potential homes. Knowing just what you want will make it that much easier to find the home of your dreams.