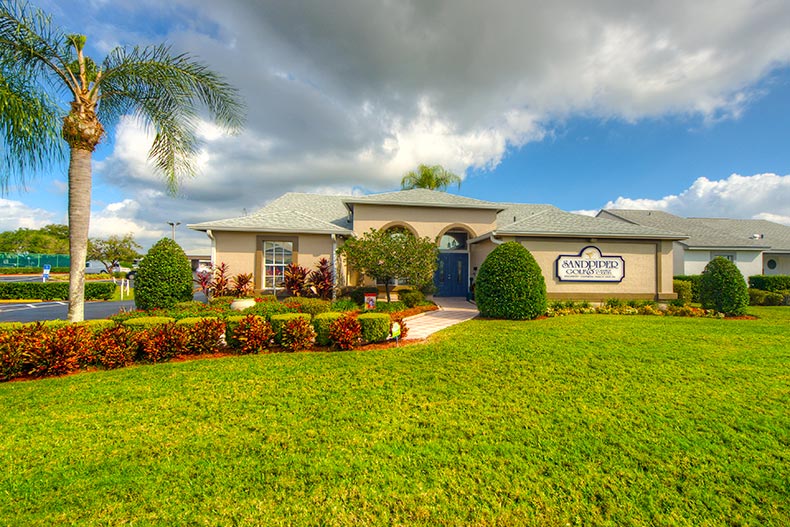 Lakeland is in Central Florida, perfectly located along Interstate 4, between Tampa and Orlando. It's an excellent city for active adults who are downsizing or for homebuyers seeking to enjoy a low-maintenance lifestyle.
Lakeland has all the dining, shopping, cultural attractions, and outdoor recreation opportunities of a major metropolitan area without the parking problems and heavy traffic of a sprawling, unmanageable urban center.
Buyers looking for Lakeland homes for sale that are less work and more fun should consider a property in one of these local 55+ communities.
Sandpiper Golf & Country Club
Golfers looking for low-maintenance living that allows them to spend more time practicing their putts will want to check out Sandpiper Golf & Country Club, a 55+ community offering attached and single-family homes on an 18-hole public golf course.
Residents also have access to the club's pool, tennis courts, and recreation center. Other amenities include a clubhouse, fitness center, and pro shop. There's a library, a ballroom, and courts for shuffleboard and bocce ball, as well as horseshoe pits.
Attached homes have two bedrooms and one or two bathrooms with garage or lot parking. Single-family homes are a bit larger, with two or three bedrooms and two bathrooms as well as attached one- or two-car garages. Single-story homes keep things simple, and residents appreciate the HOA, which takes care of general maintenance as well as all the lawn care and landscaping in the community.
The community is close to Joker Marchant Stadium, where the Detroit Tigers do their spring training and Lake Parker Park, where wintering waterfowl and other water birds can be found.
Lake James
Lake James is a great community for downsizing buyers because it's small and intimate, giving residents an opportunity to really get to know their neighbors and increase their quality of life. There's also an active HOA, which maintains the exterior of all the single-family homes, takes care of trash and lawn care, and keeps up the clubhouse and common areas. HOA fees are paid annually.
Homes at Lake James are available as new construction or resale properties. They are modest in size, from 1,500 to 2,400 square feet. Models have three bedrooms and two bathrooms with attached two-car garages. There are 13 floor plans to choose from with open living areas and plenty of outdoor patio space.
Amenities include a clubhouse, lounge, and fitness center. There's a pool, a lake, and plenty of trails for walking, biking, or jogging. Clubs and activities include potluck dinners, book clubs, and other special events. This community provides a simple, laid-back lifestyle that affords buyers plenty of time to explore Lakeland and the surrounding areas.
Covered Bridge
Affordable and low-maintenance, the 55+ community of Covered Bridge is located in Lake Placid, just outside of Lakeland and close to several freshwater lakes. The community is in the middle of developing its second phase, which means both new and resale homes are available either as single-family properties or attached villas.
Homes begin at under 1,000 square feet with one bedroom, one bathroom, and a den. Floor plans aren't larger than 1,419 square feet, making Covered Bridge an excellent opportunity for downsizing buyers. Most homes have two bedrooms and two bathrooms, and many also have dens and attached garages.
There's no need to give up amenities when you're buying a smaller home. At this community, residents enjoy the clubhouse, billiards hall, library, and multipurpose room. There's also a fitness center, an outdoor pool and patio, a hot tub, pickleball courts, and shuffleboard courts.
Lake Placid has some scenic spots that are popular with locals, including Lake June-in-Winter and the adjoining Lake June-in-Winter Scrub Preserve, where there's great fishing, hiking, and birding.
Colonnades
Buyers who don't want to spend a fortune when they're downsizing can consider Colonnades, a 55+ community in Lakeland that offers comfortable single-family homes from 921 to 2,000 square feet. With two or three bedrooms, two bathrooms, and a combined living and dining room, these homes are easy to maintain and perfect for a one- or two-person household. Most houses have vaulted ceilings, walk-in closets in the master suites, and carports or attached one-car garages.
Lots of amenities and social activities keep residents entertained and engaged. There's a 15,000-square-foot clubhouse, a fitness center, a sauna, and a game room. There's also a library, a ballroom, an outdoor pool, eight shuffleboard courts, a practice golf area, and a fishing dock that overlooks a huge lake. Seasonal parties and happy hours are frequent. There are also flea markets, game nights, and bowling tournaments.
The community is a short drive from the Lakeland Square Mall and Lake Morton where you can visit the population of regal white and black swans.
Foxwood Lake Estates
Another great option for buyers who want manageable living spaces and minimal maintenance is Foxwood Lake Estates, a 55+ community with fishing lakes, an indoor sauna, and other amenities like a pool and fitness center.
Residents enjoy shuffleboard, tennis, bingo, and line dancing. There are pancake breakfasts, potluck dinners, and a monthly newspaper. Top selling points include the outdoor hot tub and the well-maintained outdoor spaces.
Single-family homes are available in resale models ranging from 856 to 1,536 square feet. All homes have two bedrooms, two bathrooms, and an attached one- or two-car garage.
Association dues are around $600 per year and pay for community upkeep and maintenance. Also, the community is close to grocery stores and the Polk Museum of Art. For a walk along Lake Hancock, locals head to Circle B Bar Reserve, where alligators and great blue herons are too numerous to count.