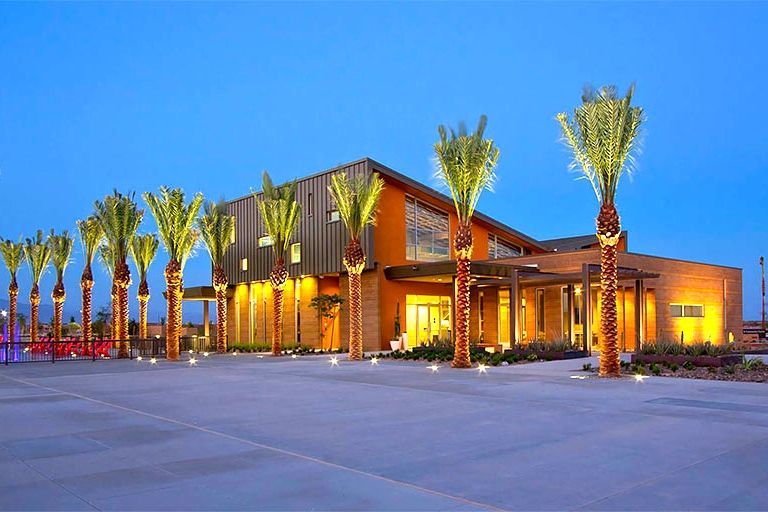 Anyone who has searched for the perfect 55+ community knows that there is no shortage of builders to choose from. Although it can appear as if a handful of developers dominate the active adult industry, there are smaller builders who built a reputation upon building quality neighborhoods instead of merely quantity, who have steadily garnered renown for their consistency, creativity, and commitment to their customers.
This is what AV Homes has accomplished over the last 40 years, developing communities that excite and enthrall their audience, while collecting a number of awards along the way.
Active adult homebuyers have been flocking to AV Homes' communities because their neighborhoods are developed with their needs in mind. Numerous amenities, functional, energy-efficient homes, and plentiful clubs and events in warm climates make AV Homes' communities some of the most sought-after in the country.
Creekside at Bethpage in Durham, NC, although the builder's smallest community with 650 homes, still has planned amenities that any 55+ community would covet, including an amphitheater, lawn bowling green, and on-site retail. It also contains the amenities that today's 55+ homebuyers expect, like a fitness center, social rooms, an outdoor pool, and sports courts.
Solivita in Kissimmee, FL, has an astonishing 150,000 square feet of amenity space in seven separate buildings in addition to the 18-acre Freedom Park that has numerous sports courts and an outdoor pavilion. The 32,000 square-foot Riviera Spa and Fitness Center has an exercise studio, air-conditioned indoor walking track, and indoor and outdoor pools to meet the fitness needs of the community's 5,900 households. Several other amenity centers host plentiful social areas like multi-purpose rooms, a 17,000 square-foot ballroom, restaurants, and even the Waterfront Galleries, hosting rooms for art projects.
AV Homes also incorporates the natural landscape in which their communities are based. Creekside at Bethpage has meandering roads that weave through a vibrant, forested terrain while CantaMia in Arizona has a combination of manicured greens on the golf course and desert landscape. Vitalia at Tradition in Port St. Lucie, FL, has a beach-entry pool, bringing the calming Atlantic Coast beaches to the resident's fingertips.
AV Homes also emphasizes energy efficiency, both in the construction of their communities and the homes they develop. These Energy Star labeled homes feature the latest in appliances, lighting, and plumbing, helping to ease monthly bills. Non-toxic insulation helps fend off extreme temperatures, keeping the home comfortable no matter what month it is. These homes are also outfitted with eco-friendly windows and radiant-barrier roof sheathing, helping to regulate the home's temperature without unnecessary energy usage.
The floor plans are also designed for the 55+ homebuyer. AV Homes specializes in developing ranch homes that are highly functional while never sacrificing style. AV Homes' communities generally offer between two to four bedrooms, one to three-and-a-half bathrooms, and an attached two or three-car garage.
Most incorporate indoor/outdoor living by offering covered patios, with the more elaborate homes boasting open courtyards perfect for entertaining or reading the morning paper with a cup of coffee. Most of the AV Homes options are single family, although a few attached options do exist, especially in their flagship community, Solivita.
Snowbirds looking for a brand new community can scarcely do better than Encore at Eastmark, a 905 single-family home community in Mesa, Arizona. Building on the success of nearby CantaMia, Encore at Eastmark once again brings the popular AV Homes lifestyle to the Phoenix area. A sleek, modern amenity center will host a state-of-the-art fitness center, social areas, resort-style pool, and plenty of sports courts and a full-time activities director will represent a wide range of interests.
It's no wonder that AV Homes has also collected their fair share of awards over the years. Most recently, the home builder walked away with a silver award for Best of 50+ Housing and for Best Clubhouse Over 6,000 Square Feet (Vitalia) from the National Association of Home Builders in 2015. We at 55places.com named Solivita as one of the best active adult communities in the country in 2015.
By meshing the traditional needs and desires of the 55+ homebuyer with modern style, AV Homes pushes the envelope while creating comfortable, low-key communities, making them a builder uniquely positioned to impress active adults and retirees.