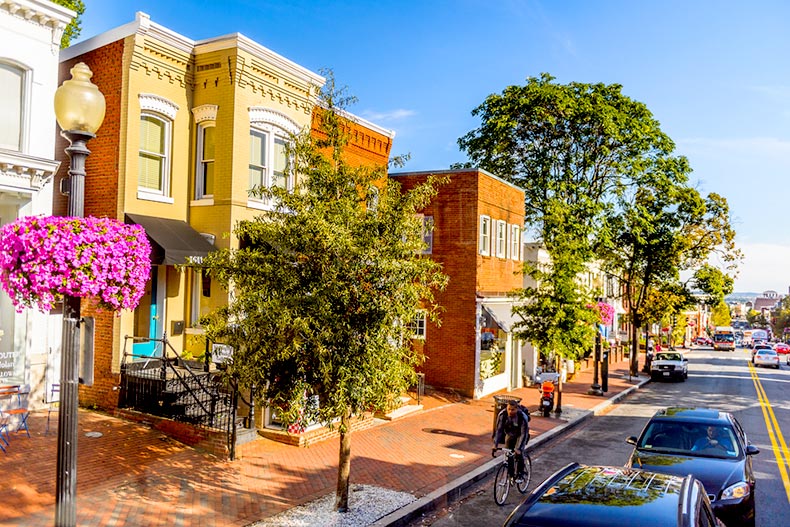 When comparing active adult communities across the Mid-Atlantic, many similarities emerge. Many of the same builders and developers create communities in Maryland, Virginia, and Delaware. Also, many people are drawn to the region for similar reasons, including proximity to vibrant metro areas, easy access to both beaches and mountains, and a moderate climate.
However, the different states also have differences to consider, such as the cost of homes in active adult communities. Although Virginia is home to over 100 active adult communities, only a few communities offer homes under $200,000, and only one community currently offers homes for sale in that price range. About eight Maryland communities list homes under $200,000, while four Delaware communities do.
Here are five communities across the Mid-Atlantic with homes listed at $200,000 or less.
Virginia
Liberty Grove
Liberty Grove is a small condominium community located in the Northern Virginia suburb of Manassas. For some, it may be surprising to find an age-restricted community with such easy access to the Washington, D.C. area.
Prospective residents can find condos with two to three bedrooms in the high $100s to low $200s. While the condo buildings have social spaces, the community doesn't have a clubhouse or other amenities. However, residents are within a few miles of shopping centers, restaurants, Downtown Manassas, and the commuter rail station.
Maryland
Leisure World
For residents looking for a low-priced home with a lot of value in the Mid-Atlantic area, Leisure World is a top contender. This gated community of 5,600 homes is age-restricted and always has homes for sale below the high $100s.
These homes are a bargain, considering Montgomery County has some of the highest real estate prices in the country. These affordable homes are usually one-bedroom, one-bath condos. However, Leisure World offers the resort-style experience of many other active adult communities. Residents take classes, meet with friends, or join interest groups. The multiple clubhouses, fitness center, tennis courts, and golf course provide recreation for any day of the week.
Cameron Grove
Cameron Grove in Upper Marlboro is another best-bet for homes listed under $200K. The two- to three-bedroom condos usually list between the high $100s and the low $200s while some of the cottages and single-family homes remain affordable in a similar price range.
With 740 homes, Cameron Grove is a mid-size (verging on large) community that offers its residents many amenities. The Cameron Grove Resort Center includes everything residents need to stay fit and social. On the fitness side, it features an indoor pool, an outdoor pool, a whirlpool, saunas, a fitness center, a softball field, and a dance studio. Residents also get to know each other in the hobby and meeting rooms, the bar and lounge, the library, and the movie theater.
The Parke at Ocean Pines
The Parke at Ocean Pines is a low-priced option for Mid-Atlantic active adults who want to live on the Delmarva Peninsula or near the Atlantic Ocean. Located just outside of Ocean City, the age-restricted community of 503 homes exists within the larger planned community of Ocean Pines. The Parke includes attached and single-family homes, which can list between the high $100s and the high $300s. However, the attached homes usually list just under $200,000.
Although residents are poised to enjoy the beach, the Isle of Wight Bay, and Ocean City's many golf courses, the community itself offers amenities to keep residents busy. Residents have access to the clubhouse, golf course, outdoor recreation facilities, and marina at Ocean Pines. However, The Parke also features community-restricted amenities including a clubhouse with meeting rooms and common spaces, a fitness center, and an indoor pool. Residents can also enjoy walking trails, crabbing pier, and plenty of natural space.
Delaware
Cedar Bay
Although four of Delaware's 35 communities have homes in the mid to high $100s, Cedar Bay is the only community with an active listing in this price range, and it's right at the $200,000 mark. This is a small, ocean-side community of just 72 condos. Prospective homebuyers can find two- and three-bedroom condos in the 1,500 to 2,000 square-foot range. Within the community, residents enjoy a clubhouse with meeting rooms, an outdoor pool, and a patio.
However, the real benefit of Cedar Bay is the proximity to the Atlantic Ocean. Although technically located in Ocean View, homes are just two miles from the beach and three miles from the town of Bethany Beach.