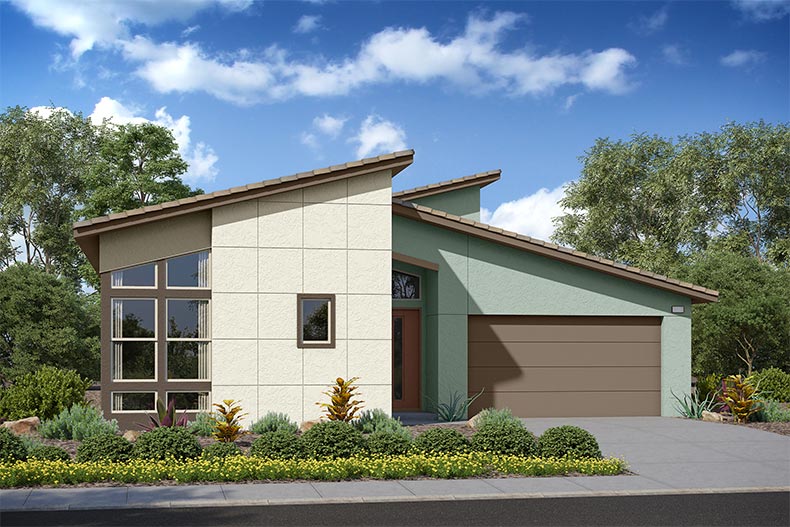 Ever since it was announced last year that Pardee Homes had broken ground on Altis—a highly anticipated 55+ community in Beaumont, CA—homebuyers have been anxiously awaiting more details.
In a press release issued by Altis, it was revealed that construction is now underway and that buyers will be able to choose from four unique home collections. As the development approaches its fall grand opening, check out what homebuyers can expect from this exciting new community in California's Inland Empire.
Thoughtfully Designed Homes that Appeal to Modern Tastes
Once construction is complete, Altis will have 704 homes and pricing is expected to start in the mid $400s. Buyers will be able to choose from four home collections: Vita, Avid, Mira and Elan. These single-story homes will range from 1,473 to 3,094 square feet and will feature two or three bedrooms, two to three-and-a-half baths, and two-bay garages. Select homes within the Elan collection also offer an optional second floor.
Known as the "GenSmart Suite," this second floor is designed to be a separate living space. It is essentially a home within a home and includes a completely separate space for living, sleeping, eating, and bathing. This second-floor option is perfect for multigenerational households or for those who have frequent overnight guests.
All of the homes at Altis will include modern touches and energy-efficient features to keep monthly home maintenance more cost-effective. Called the "LivingSmart® program," this approach includes five different elements of more sustainable home living: HealthSmart®, EnergySmart™, EarthSmart®, WaterSmart®, and HomeSmart™. With energy-efficient appliances, low-VOC interior paint, and sustainable building materials, this eco-friendly approach offers a comfortable and sophisticated living environment.
A Dynamic Approach to Active Adult Living
Altis has generated buzz among homebuyers because of its unique approach to active adult living. Compared to traditional age-restricted communities in Southern California, Altis sets itself apart by cultivating an environment where residents can embrace this exciting new stage in life.
At the center of the community will be The VuePoint, a 16,000 square-foot residents' club that will bring neighbors together for social and recreational activities. The exquisitely designed VuePoint was created so residents can relax, indulge, and socialize with one another in a serene outdoor setting.
Residents will be able to enjoy an immense 4,300 square-foot resort-style pool, a fire pit terrace, a large event lawn that offers views of the San Gorgonio Mountains, a 1,200 square-foot Butterfly Shade Structure with a seamlessly integrated sound system, and an outdoor gathering area with a kitchen and barbecue bars.
Residents of Altis will also be able to stay active with four pickleball courts, a state-of-the-art fitness studio, and an extensive trail system. There will also be art and activity rooms for those who'd like to pursue their creative interests.
But it's not just the world-class amenities that set Altis apart from other communities. This community is designed to truly bring residents together.
Division President Mike Taylor stated, "Modern designs and innovative approaches to shared amenities are just the start. It is the connections made and experiences shared by those who will reside in this one-of-a-kind community that will ultimately define life at Altis."
To facilitate these connections, Pardee Homes has already initiated group meet-ups with potential Altis homebuyers so they can get to know each other before making the decision to choose Altis as their home. Currently, Altis has more than 2,000 people on their interest list, and that number is expected to increase as Altis gears up for the grand opening in fall of 2018.
To request more information about this community, click here.